Jan / Mar 2021No. 152
31st March 2021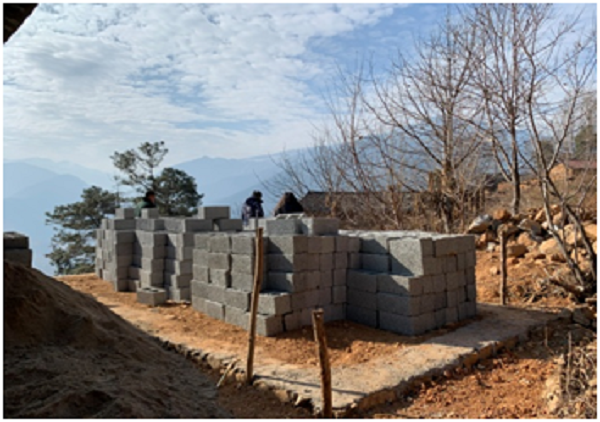 A pigsty is under construction
Project Progress
Integrated rural development projects in Hanyuan Area
Youth Business project in Pianma Township
8 households were selected to participate in this project after a series of household investigation, discussion and priority ranking done by DORS team during Jan 2020 to Mar 2021. Among these 6 households were poor families. Also, DORS staff monitored the project progress and the outcomes for the 26 households from the Youth Business project, and paid for the funding accordingly.
One case in this project: Mr. Zhou lost all pigs which was caused by the African swine fever in 2019. However, he wasn't beaten by this setback and started to raise pigs again with his wife through receiving a loan from this Youth Business project. Starting with several piglets at the very beginning to the current over 30 pigs, he had changed his situation with his determination and we hope his business gets better and better with the assistance of Youth Business Project. We will continue to follow up.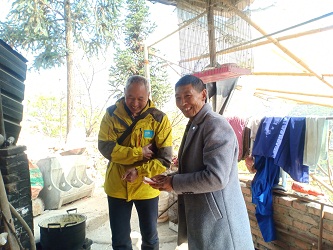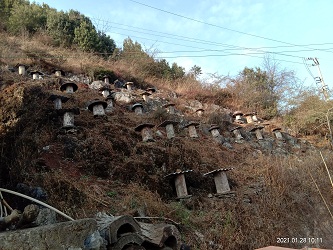 Visited the beneficiary of the Youth Business Project Bee feeding by villagers
Plantation technical training in Pianma Township
On March 30, 2021, technical training for Chinese pepper plantation was carried out in Ranmo village according to their needs, 15 villagers participated. The training was about how to fertilize and pest control Chinese pepper during February to June. The importance of prevention oriented in the plantation management, how to identify different pest during different growth stages, what kind of fertilization is useful to the growth. The training was very useful and necessary according to their feedback. In addition, the effect of the training, about how to manage the walnut during the winter season in the last year was good, and walnuts have sprouted.


Villagers received training The sprout of the walnut
Supported Jianping Village Farmers' Specialized Cooperative in Hanyuan County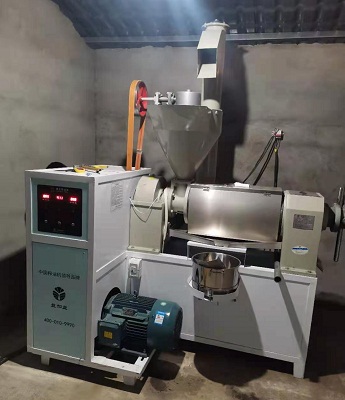 The oil press machine had been returned to the shop as it had broken down, our project team decided to buy a new one and looked for a suitable one. Key team members went to Chengdu and Yaan cities to check the details, such as functions and the after-sales service of the machine. After comparing the two brands and the feedback about the machines, the team decided to buy a machine from Chengdu and signed the contract with the factory. The machine was installed on 23rd March, it runs well, villagers were satisfied with its quality compared to the previous one. The technician A MU Zi from the cooperative learned how to operate the machine. The Jianping Cooperative is ready to invest in the walnut oil extraction business.
Package boxes
We found that there was a large demand for the package boxes according to the evaluation of the villagers' needs. An improvement on the box style and color was made with regard to villagers' suggestions. A total of 5500 boxes were made, among which 2000 boxes were for 2.5kg package, and 3500 boxes for 4kg. These boxes will be distributed to villagers for free, which is aimed at assisting villagers to increase e-commerce sales.
Business and Financial Management Training
Villagers were listening to the training Business experiences sharing
On January 9, 2021, Mr. Zhang Shuping, who is from Dayi Rabbit Poverty Alleviation Research Center was invited to provide training for villagers. The training covered business policy, how to expand sales channels, how to work with sales agencies, how to calculate costs, how to find out your own potential business advantages instead of changing yield in order to adapt to the market. 4 villagers shared their business experiences: the first one was about Android iOS (like TikTok, making short Video) business, the second one was selling agricultural product through e-commerce and received a fund of 30000 RMB. The third one was to plant plums and gained a profit of at least 10000 RMB per year. The importance was that he also helped other poor families to plant and expand their business together. The fourth one was to grow herbs for over 20 years, which was successful. These successful cases were generated from different fields, which also indicated that all businesses have the opportunity as long as you persist and work hard. After the case sharing, 17 participants talked about their own situation and their feedback about the training. All of them said that they had learned a lot, not only on the knowledge but also the minds of opening up and experiences of doing business.
Soil disinfection test for Konjac field
Konjac plantation has been facing root rot and other diseases, which affected its yield and economic benefit in Pianma township. As the same land can't be cultivated to grow konjac continuously, 6 households were selected to participate in the project to conduct the soil amendment test in 2021. After we ensured the numbers of participants and the size of land area, the soil treatment materials were purchased by the technician and project team. All related materials were delivered to participants on 3rd March and it was explained to them in detail how it should be used and the safety conditions. By the end of March, villagers had finished the soil disinfection and then planted the Konjac. We are looking forward to the success of the experiment, and to replicate the project to benefit more villagers.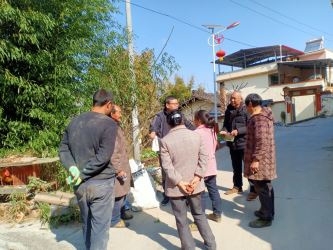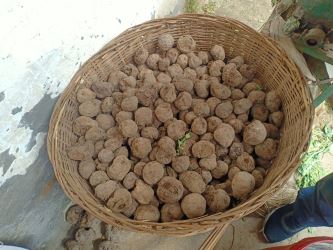 Showing people how to use the soil amendment test materials
Wall calendar of Pianma Township
During December and January 2021, our project team collected and sorted out all project photos to design villagers' own wall calendar. 360 copies of wall calendars were printed out and sent to villagers of Pianma village and other project related department and persons. Villagers liked the wall calendar; it not only represented the plans for the whole year, but also presented their own projects and effects.
Integrated Rural Development Project in Xide Area
Pigsty construction Project
From February 22 to 26, 2021, the project team completed the acceptance of the pigsty construction in accordance with the acceptance standards. A total of 45 households applied for the project funding, 41 of which were completed, with a fund of 130000 yuan. By the time of the project acceptance, 70% of the pigsties had been put into use. After one month, we went back to check the pigsties, all had been put into use and villagers have increased the numbers of pigs and therefore increased their income through this project, which had been very well demonstrated in the village. The project team will continue to follow up this project.
The project has brought the following effects to the local community:
First is on economic aspects: each household built 3 pigsties for 3 sows, each sow could give birth to at least 8 piglets, which is a big income for the family. And villagers used the local grass and potato or corn, which are produced locally to feed the sows to reduce the feeding cost.
Second is on social effect: II. Social effect: the project breaks the traditional average distribution method, pinpointing those households in need which later serve as pilot. This allows the community to engage in the new project plan without causing any conflicts within the community, trying to get rid of the mindset of waiting for help. We encourage the community to respond to the government's call for "Rural Revival" by self-developing.
Third is about demonstration effects: only 41 households were selected to receive support, which is a small number considering the size of the whole village. This didn't cause any dispute or contradiction within the community, the rest of villagers didn't complain or argue with the participants as the aim of the whole process was openness and fairness, and also the project staff conducted the investigation and discussion with all villagers, in depth.
Fourth is about ecological effects: building a standard pigsty could change villagers' traditional way of raising pigs outdoors, therefore to reduce the pollution to the soil and river due to the pig manure. In addition, the pigsty could collect the pig manure to produce fertilizer.
Income Generation Development for Poor Families
According to the community survey DORS conducted in December 2020,there were some disabled, critically ill and single parent families living in a very vulnerable condition who lag far behind in the village regarding income situation. This required special attention.
After conducting the preliminary investigation and the project planning and design, this project was successfully launched. 30 households of disadvantaged families in 2 villages participated in this project. We will support them with technical training and other support based on their ability and interest, therefore to improve their income generation. This is a long-term project for these poor families, to assist them find out their own opportunity and a better way to get rid of their poor living condition. In addition, we will also provide them with health care.
Building women's activity venues in Machang Village Hamlet 3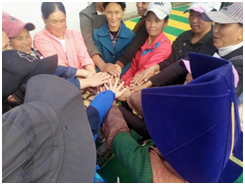 Project team and womens' groups worked together to discuss the project action plan concerning the site selection, budget design and the potential risks and to find out the countermeasures. The action plan was confirmed after 4 times discussion in details in December. The construction started in December and lasted for one month and was completed in January, 2021.
In February, we hold a meeting together with women to conclude the project:
First, is that women have their special activity avenue to dance or doing something else together.
Second, is that this was the first time women were organising their own project by themselves. They were proud of that.
Third, is that women learned from the project the importance of team work to make things better and more efficient.
Fourth, is that their husbands also helped them conduct some works, which made them feel good.
Fifth, is that women have the willingness to unite and help each other in their daily life through this project.
Women Income and Health Project in Yi Minority
Women carry out activities regularly
Women arranged group activities regularly in Machang village hamlet 3 and Siguojue village, the activities covered: dancing, meeting, singing, picnics and so on. Women found this more relaxing and good for their health taking part in these activities. Beside that, they are more active and confident through these activities, which have very positive effects on project implementation.
Income Generation Project preparation
How to use the limited resources to benefit more people and improve community development system therefore to reach the sustainability, is what our project team work for. The setting up of a women's group in Machang Village hamlet 3 and their activities showed that women can be the key stakeholders to work in the participatory project. Our project team worked with womens' groups to identify their current advantages and disadvantages in the village, and discussed how to carry out the livestock project. The action plan was under improvement and will launch in March.
Women Health Training- Cognition and prevention of gynecological disorder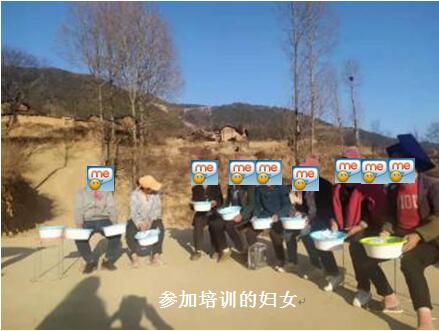 Women in the two villages have personal hygiene problems and gynecological disorders to varying degrees according to the village baseline study. There was a strong need to improve their hygiene awareness. DORS project team conducted training sesions on the gynecological disease prevention and cognition for local women in January. At the same time, we also explained to them how to prevent the COVID-19 pandemic during the training. The training was carried out online due to the COVID-19 pandemic, and was divided into 3 phases. Each phase had 10 participants and lasted for one hour. In total, 30 women attended the training. After the training, we also bought underpants, basins and soaps for them (as we found that most of women didn't wear underwear and wash their clothes regularly according to the survey). When we visited the village again in late February, all women were wearing underwear and taking showers everyday. The basin and soap are very popular with them now. They also shared their learning with other people and more women were expected to participate in this project.
Fuel Efficiency Stove Project
A new project village- Shaping village of AnLe Town in Hanyuan Count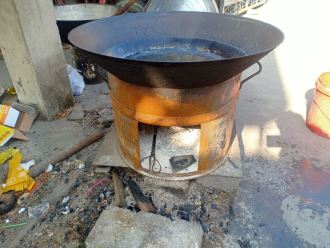 From January to February 2021, DORS staff conducted a village survey in Shaping village. The whole village has 7 hamlets, about 700 households with the population of 2000. We drew the village map, and a seasonal calendar with local villagers. Most of villagers relied on electricity to cook and keep warm, only a few villagers used a traditional stove. And many people used the very simple and crude stove to cook swill, which required a lot of firewood. We wanted to build the fuel efficiency stove to save firewood therefore to protect our environment. In addition, the new stove is clean and smokes very little which is also good for villagers' health. As the Shaping village is a new project size, many people didn't know about the fuel efficiency stove. We discussed the project with them and built 3-5 new stoves to show them what it looks like, at the same time to train a local stove technician. We will decide whether to continue this project after evaluating.
Launched the Fuel Efficiency Stove project in Dawei village of Dashu Town in Hanyuan County
In Jan-Feb 2021, according to feedback of villagers' needs, and villagers building new houses, there were still many households which wanted to build the Fuel Efficiency Stoves. We decided to conduct the second phase of this project; 75 households applied for a stove and a contact person was selected by villagers themselves. The second phase project will assist the 75 households to build the stove and plan to complete in 15th July 2021. We will evaluate the quality of the project with village committee together and pay for the subsidy accordingly. Two particularly poor families were selected by villagers themselves and will receive more funding to build the stoves from this project.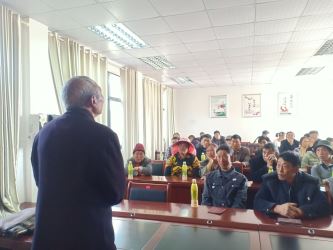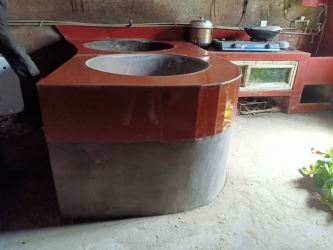 Introducing the project procedures and requirement A built stove
People in the villages
[A strong Woman-A Xi Zuo Ze]"Do you really want to support us to build pigsty?" Can I join in? "Do you want to support poor families to develop livestock? What about my situation? ""What do you have in the health training? "...The above questions came from the same woman, A Xi Zuo Ze,whose name is easily associated with "writer" in Chinese. Actually, A Xi is a normal woman of 41 years old, but she looks older than she is, due to the hardships in life. But she is strong to face the difficulties, this is why we chose her and wrote down her story. Her husband died when she was 29 years old, left her with 2 kids, the daughter was 5, and the son was only several months old. This was very tough to the Yi Minority. She had to do everything by herself, such as cutting trees to build house, ploughing, planting and harvesting, all the farm work she had no one to rely on. She also had to do the construction work when she needed money urgently ... and so on. Lots of people asked her to marry again, but she refused and raised 2 kids by herself.She is now very proud of her children: the daughter is 20 years old, after graduating from the high school, she went to work in the downtown and sent money back to support her. The son is now studying in high school. She will support him to go to school as long as he can. She started to tell us about her life when she felt comfortable talking to us. As a mother, she has tried her best to raise the 2 kids and keep them healthy. Although the life was hard, she was very optimistic and independent. She is also a member of the women's group in Siguojue village, and she is very active to participate in the DORS project and work with other village women. She is the good case to show us how to face difficulties and get through it: 'Tomorrow will be fine'.
About us
DORS has been adhering to using the participatory approach throughout all projects, focusing on the village sustainable development since its establishment. DORS works closely with local villagers, provides the opportunity and encourages stakeholders to make design decisions, plan, implement and manage project on their own. The projects funded by DORS will try to benefit the whole community, especially the women, children, disabled people and poor families.
DORS has built a project implementation system: project staff are the key persons, office staff are the back up and volunteers support the work for a project. All members of this big family have their own duties and there is good cooperation to work for the local villagers.
2021 will be a special year under the COVID-19, but we will work together to reach our goal. Hope the world be more beautiful.