Apr / May 2015No. 127
31st May 2015
Project Progress
The women's health and livelihood project
Project symposium
On 9th April, in Yingjing County poverty alleviation immigration conference room, DORS to introduced Yi women project content, expressed that the joint efforts of local departments engender the successful completion of the project. All the attendance are willing to coordinate the various units to provide assistance to the project integration of this 2 communities.
Participants: Wang Sitie,the director of Sichuan Provincial Foreign Investment center,;Zheng Chiping,the director of the Sichuan Provincial general office;Yang Jianming,the secretary of the Yaan PUC authority Party;Meng Guocai,section chief of poverty alleviation; Ren Dingqiang,Yingjing County deputy magistrate; Zhou Lvhui,director of Yingjing County poverty alleviation Bureau of immigration;Guan Xiong,deputy director;Chen Xinmin,the secretary of discipline inspection commission; Ni Jianlin,MinJian Township Mayor. After the meeting, all the attendance arrived the Chaxiang Yi-settlement, talked to the local people, comprehended their income in the tea garden.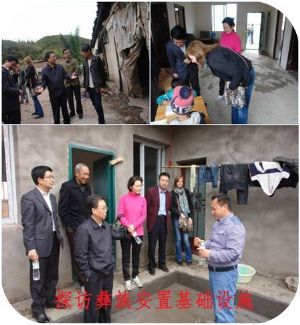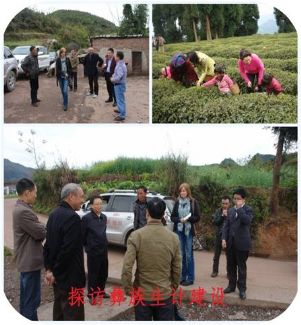 Project started in Daping Yi-village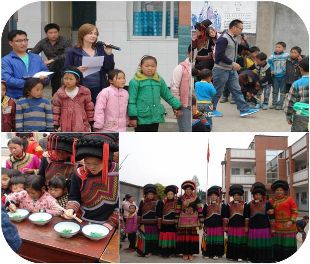 On 12th April 2015, DORS held the launching ceremony of the women's health and livelihood project in Daping village, Yingjing County poverty alleviation immigration, Minjian township government, the local village cadres and villagers participating in. Over 100 children and 50 women got involved in the activities. The main objective of the project is to improve the community health lever, the development of community livelihood, the enrollment rate of girls, and the implementation of the ability of women and community active members.
Tashan Yi-village kitchen Facilities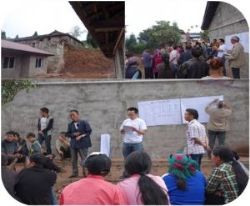 In May, DORS completed Tashan community energy-saving stove including the design, budget and quotation; considered unified planning and aesthetic factors, and discussed to resolve the scheme with villagers, the project team; reached an agreement with the township government. Project preparation started in June.
Craft Training started
In May, DORS contacted Chengdu Wenjin handicraft school. After discussion with the teacher, DORS decided to start from the fast peral string which Yi women could practice after tea-picking.
On 27th May, project team participated in the training of peral string inShimian county. Our 2 students get started faster with good savvy. DORS planed to discuss the marketing of handicrafts and help the Yi women to increase income with the school principal.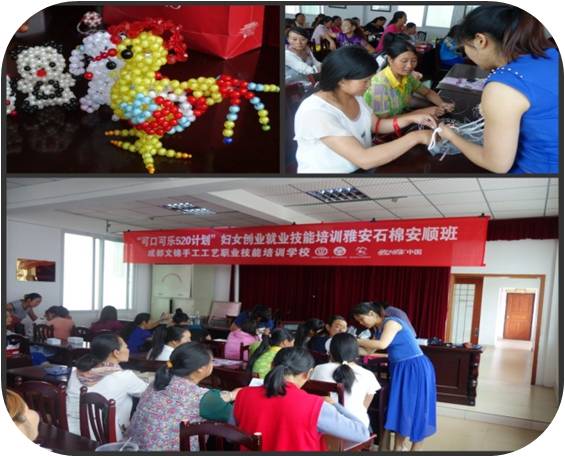 Cooperatives and Marketing
Ranmo organic walnut E-commerce Crowdfunding
After the cooperative training on March, Chalin,Wanping,Ranmo villages have started to set up cooperatives, deal with related procedures. On June 2015, however, Wanping,Ranmo,Daying villages have established cooperatives.
In June , DORS carried out the research on E-commerce Crowdfunding for Ranmo Jinsui cooperative;initially formed 50000 yuan organic walnut E-commerce Marketing plan for the cooperative 50 peasants.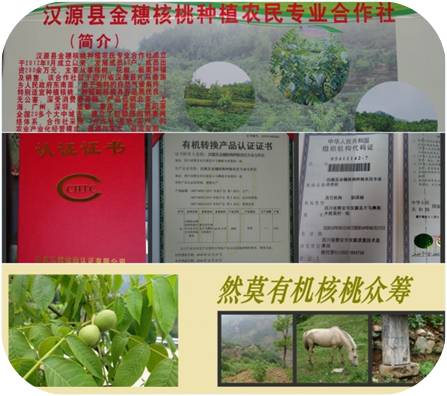 Quinoa planting Test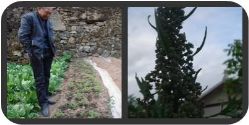 In April,DORS contacted snowy quinoa company to get the quinoa seeds planting in Songpan,granted to peasants to plant.
In May ,the peasants observed the second stage of planting quinoa in winter and January with good result, which had blossomed and borne fruit. The next step is to study the quinoa marketing and cooking experiment, for the implementation of quinoa sales and promotion.
Vulnerable groups
Acceptance of Pianma pig-raising project
On 16th April ,DORS issued pig-raising funds in Pianma, a peasant informed us about pig death. To understand the prevention and cure of disease in Township animal husbandry station, Our next step is to organize the cultivation training or issued related leaflets.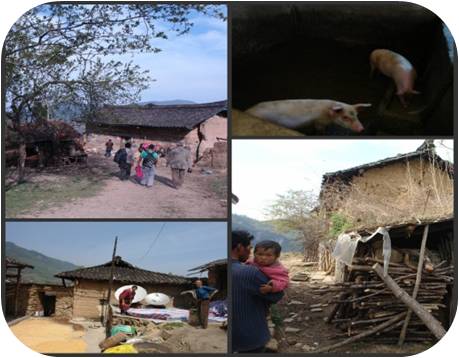 Youth charity training
On 13th May, DORS subsidized 2 girls from Pianma to participate Chengdu Biaobang cosmetology training. DORS will continue to focus on their learning pace, especially the younger girl, further comprehend their needs, and help to develop their working life skills.
Help the old in Maping
On 21st April, DORS provided 27 old persons of over 70 years, with the physical examination and basic health care knowledge training. There are also some absent old people who didn't want to move with feeling unwell, or got sick in the hospital, or lived with relatives in the county town. DORS made a preliminary plan to set up a group in Maping village, which would confirm and solve the problem for the old, visit the old regularly, help the old to do some housework,meanwhile provide the clinic, barber, chat and other volunteer services.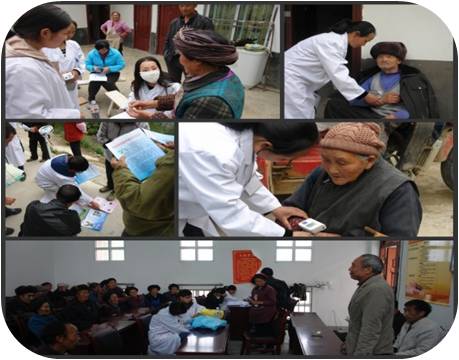 Rual energy
Fuel efficient stove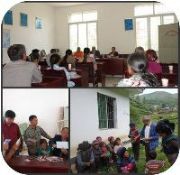 On 21st May,DORS made a survey of 3 villages in Ganluo county, found the local villagers' domestic installation in need of being improved. Nijue village had written the application, as the demonstration to promote energy-saving stove building.
Sanping,Sugu villages also made application.
Total: currently signed 375, finished 369, 6 unfinished in Shanshu village.
Biogas tank
After technical training on 5th May,22 households have signed in Jianquan village. 1, 2, 4, and 8 groups of demonstration would started.
Total: currently 134 signed, completed 111, 23 unfinishe.1tank need to cooperate with the government's glass steel project in Shanshu villages.Wanjia and Shanshu begun to evaluate.
Exchanging/Contact/Visiting
In Early April,DORS Director Rose Acock Visited China.
On 10th April, Rose met Shimian county poverty alleviation immigration, investigated Yi migrants livelihood condition in Yuejin Village of Tianwan Township.
On 12th April, Wang Sitie ,the director of Sichuan province poverty alleviation foreign capital center; Zheng Chiping,the director of the Sichuan Provincial general office;Yang Jianming,the secretary of the Yaan PUC authority Party;Meng Guocai,section chief of poverty alleviation; visited DORS.
On 26th May, the director of Mercy Corps China Branch visited.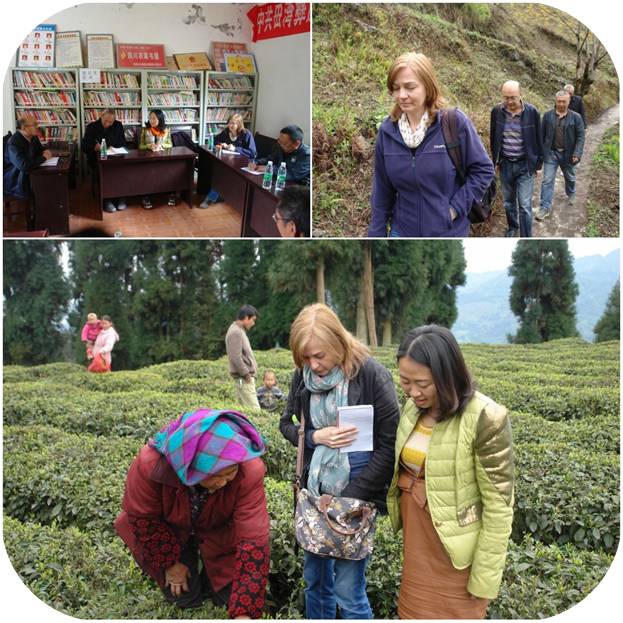 Welcome new staff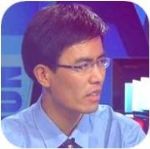 Tu Guodong: project assistant, from Shandong Province,graduated in Ocean University of China, and has experienced on children education. In April 2015 joining DORS, he took charge of assisting Misereor project and energy projects.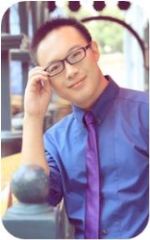 Chen Ganlin: Tujia minority, project officer, from Chongqing, graduated from the Jiangsu University of Science Technology. Joined the DORS in April 2015,with international agency working experience, he hoped to penetrate into rural community development work, explored to exploit, help and support the comprehensive and sustainable development of the spontaneous minority immigrant community.
News and Information
With the summer season coming, welcome friends to Hanyuan to enjoy Cherry,Peach, apricot.
Mountain Premier, Mountain Palanquin, the Acient tea horse Road, are clean and quiet for hike;Far in the distance lies the Hanyuan lake, the Dadu River ,we could experience upon the rainbow.
Summer is also a raining season in Hanyuan, DORS wishes you a safe journey through life and happiness everyday.