Jun / Jul 2017No. 138
31st July 2017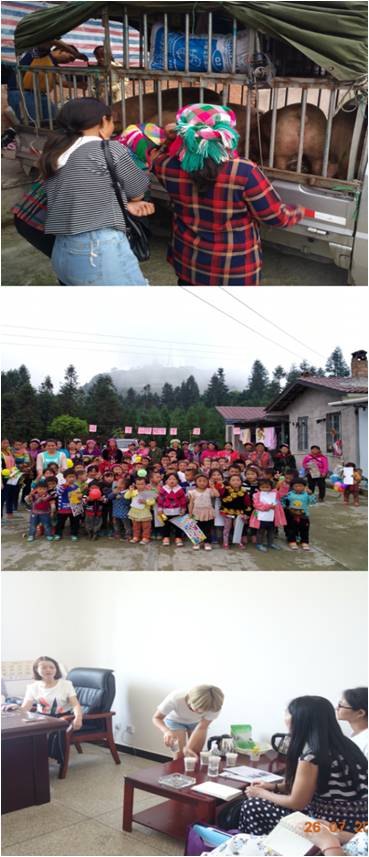 Sustainable Income Generation Project
Income Generation Project Progress in Daping Village of Yingjing County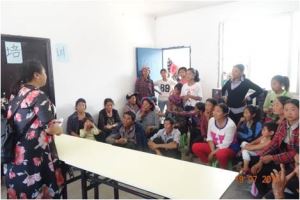 On 29th Jun 2017, DORS carried out an Income Generation Training in Daping Village of Yingjing County. 42 villagers participated in this training, which covered the SWOT analyse, how to find out a suitable income micro project according to their existing resource and ability, how to sovle problems and reduce risks and so on.Participants who applied for project fund and passed the selection procedure will receive a ceiling of 5000RMB from DORS.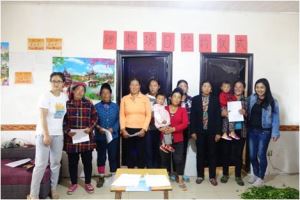 On 12th July, an evaluation team with Village party branch secretaries and 3 staff from DORS had decided that priority for funding will be given to projects which come up with less risks and increasing household income and women participation. The first batch of 24 households who met the criteria will receive the fund. Among 7 households raise pig and 17 households raise chicken. The rest households will adjust their application content and participate in the next evaluation.
Project Progress in Tazishan village of Yingjing County
On 5th June 2017, the project beneficiaries signed the grant project agreement of sow raising with DORS staff. Each family received a ceiling of 5000 RMB for the project, which was mainly for sow purchasing and pigpen construction. Villagers and DORS staff together have bought the breeding sows on the same day and kept in the old pigpen, which was not well constructed and not very good for sow growing. Villagers will build new pigpen when they are back from town in October. Villagers would buy some corn and look for pigweed for sows as they are lack of maize. Two sows have pregnant after 1 month' raising.
On 12th July, Guoyumei and project staff from DORS visited the deputy manager Ms. Yangmei and had a discussion on raising chicken in the tea garden issue. As the tea garden is owned by the Tashan Tea factory, villagers who wanted to raise chicken should have the factory's approval. We had discussed this issue in last July when the demonstration project first launched in the tea garden, we now visited the factory again as we wanted to expand the raising chicken scale in the tea garden. Ms. Yang worried about that the tea quality may be affected by the raising chicken in the tea garden, she suggested that the chicken house should build according to the environment requirement if villagers want to raise chicken in the tea garden, but it would be better if villagers can raise chicken in the forest. DORS will work with local villagers to find out a better chicken pen design to meet the requirement.
On 11th August, we held a meeting in Tazishan village to select the project beneficiaries. The selection committee of 6 members are from Minjian township, Jianle village party secretaries and DORS. Due to current environmental protection activities carrying out by government, we had decided to slow down the project progress and only 6 households were selected to participate in the animal husbandry project. We will fully take the environmental issue into consideration and conduct all protection measurement before starting the animal husbandry project.
Income Generation Project Launched in Pianma Township
In July, DORS held an income generation project commencement garden party in Daying Village of Pianma Yi township. The aim of the Income generation project was to promote the funtioning of the township association to expand local agricultural produces selling channels so that to increase villagers' income. More women also could participate in the communities social affairs through this project. There were over 200 people from Poverty Alleviation & Immigration Bureu(PAIB) of Hanyuan and Xide County, Pianma Township government, Siguojue and Machang Villages of Xide County, 6 villages from Hanyuan county, and associations attending this garden party. Mr. Zhang Guoping from PAIB of Hanyuan and Mr. Jiajuewuga (Yi) from PAIB of Xide, Mr. Puguoyuan (the head of Pianma Township) gave speeches in the garden party. All people expecially women and children were very happy to join in all games. With the Yi song sang by Yi young men, grils were dancing in the open space.
After the garden party, DORS invited 12 associations and 6 village leaders from Pianma township to discuss how to promote the Walnut selling to increase villgers' income.
Baseline studies for Pianma Township of Hanyuan County and Xide County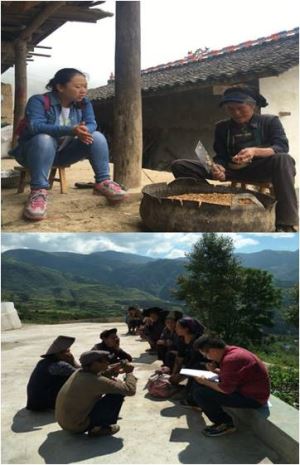 With the assistance of Ms. Xiao from rural development college of Southwest University, DORS finished the Pianma Township association situation investigation in July. Ms. Xiao drew up a community ability training frame work and provided some suggestion for the coming work for DORS. DORS staff also finished the household income resources and component investigation in Pianma Township, which will be the baseline for project final evaluation after 3 years.
DORS finished 2 villages' baseline study in Xide County as well in June, which gave us a picture of the villages' nature resources, agricultural activities calendar, energy consumption, environment situation, current projects, villagers' ability and the constrict, income resources and expenditure and their expectation for DORS' project and so on. Although the cost to work in Liangshan prefecture is much higher than in other areas, the poverty issues and villagers' need of project in this area are the most serious in Sichuan. This is the meaningful for DORS coming back to work in Liangshan Prefecture since we finished Ganluo county projects years ago.
Other Projects
Health Project – Kindergarten family day activity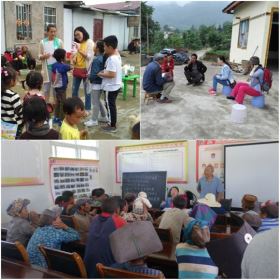 On 8th June, 2017, a topic of " Protect your teeth" was held in Tashan kindergarten. The activities also included "tooth comparison" and some kids games to promote the awareness of the teeth protection starting from childhood, the kids game was to improve parent-child relationship and good for parents to know about their child's good behavior in the school so that to realize the importance of the education and sending their children to school.
Micro Credit Project For Poverty Alleviation
By end of July 2017, DORS has delivered 70 loans of 183,700RMB to villagers. And received the principle of 1,593,530 RMB.
Fuel Efficient Stove Project
Project progress in Siguojue and Machang Villages of De County: DORS finished the fuel efficient stove project baseline study in late June, and held a meeting to introduce the project to villagers in the two village separately. DORS signed project agreement with the two villages in late July, 67 households from Siguoju village and 11 households from Machang village participated in this project. Due to part of the road to Machang village was collapsed, most of the construction materials couldn't transport to village, only those who live near to the provincial road could get the materials by handcart. As a new project site, DORS invited the stove technician from Hanyuan County to train and help them build stoves. 2 villagers from each village follow the technician to learn how to build stoves.
In Hanyuan County Malie Town: 32 households from 3 villages of Malie Town in Hanyuan County participted in this project. By end of July, 21 stoves completed, which were constructed by the trained villager from last project.
Learning/Communication/Contact/visit
Project participants of Xide visited Hanyuan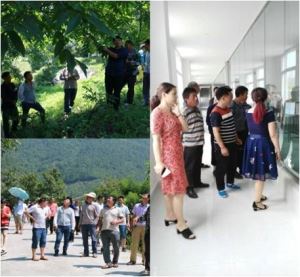 On 12th -13th July, villagers and village cadres of Xide project visited Pepper farm and Pepper oil factory in Hanyuan County, they also visited walnut project, fuel efficient stove project and water supply project in Pianma town of Hanyuan County.
Eagle Plan
Eagle plan is initiated by the China social Entrepreneur Foundation to train the young people for grassroots NGO and leadership in social development field. DORS has been selected as one of the NGO to provide on-job training for young people. In July, 2 young people joined in DORS and will work in DORS for one year rural development.
Visited Minjian Township of Yingjing County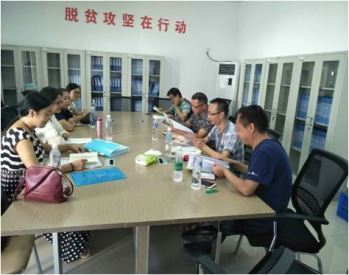 On 26th July, DORS vice director Guoyumei visited Minjian Township, the township party secretary Hurong and Daping village party secretary Yanghong received us. This was the first official visit since the township changed leaders. Guo Yumei introduced DORS work over 20 years in Sichuan and DORS registration situation as well as DORS projects in Yingjing County, especially the women health project. Guo Yumei also presented DORS projects planning in the coming year in Yingjing County. Ms. Hu told us that the government current work are focus on poverty alleviation and environment protection. As Tazishan and Daping villages are the Yi people gathering communities from migration, the task of poverty alleviation is arduous, as well as the environment protection issues. Ms. Hu suggested that it would be a good way for villagers to develop project and generate income in the tea garden as all of them don't have sufficient arable land.