Dec 2014/ Jan 2015No. 125
31st January 2015
Sustainable Livelihood Project:
Quinoa Pilot Project - progressing well

Quinoa is an ancient crop that grows in poor soil, dry climates and even mountain altitudes. It is native to the Andes but is also grown in South America and the Colorado Rocky Mountains. Although it can grow in arid conditions, it thrives best in well-drained soil. The Food and Agricultural Organization of the United Nations (FAO) has officially declared that the year 2013 be recognized as "The International Year of the Quinoa." Proposed by the government of Bolivia and receiving strong support from many Central and South American countries, quinoa has now been singled out by the FAO as a food with "high nutritive value," impressive biodiversity, and an important role to play in the achievement of food security worldwide.
Though not technically a grain, quinoa can substitute for nearly any grain in cooking. Actually a seed, this leafy plant is a relative to spinach, beets and Swiss chard. Due to its delicate taste and rich amounts of protein, iron, potassium and other vitamins and minerals, it is quite popular. It is also a good source of dietary fiber and is easily digested. Shoppers should be able to find the seeds in health food stores and larger supermarkets. We realize that quinoa remains unfamiliar to many people, especially in the practical sense of cooking and recipes. But we hope that situation will change, given the remarkable nature of this easily-prepared, nutrient-rich food. Currently quinoa is only cultivated in Shaan Xi Province in China.
The pilot projects were carried out in Ranmo village, 4 households in 4 different mountain altitudes were selected to participate. However, this pilot project only lasted for half a year, and failed. We have no idea what was the obstacle, although we had tried to plant the seed in spring and summer season. Things changed when DORS technician Mr. Bai suggested that we should change the seed. We then bought some seeds from another company, now the quinoa has grown well. We are expecting the harvest in the coming year.

"Loan for small business development Project" achieved initial success

After one year operation, three project participants went to DORS office and paid the loan back to DORS in mid Dec 2014. The loans helped them a lot, they expressed their gratitude to DORS for offering such a fund when they really needed to start a business.
The second round of the loan will be delivered in Jan 2015 and we are now scrutinizing every candidate's application and their projects. Hopefully the loan will be delivered on time.
Infrastructure:
Tillers were put to use in Daying and Ranmo Villages

A total of 43 tillers were sent to Daying and Ranmo villages in early Jan of 2015 in order to improve villagers' farming efficiency and reduce product cost. We have conducted field studies in these two villages and received a positive feedback from villagers.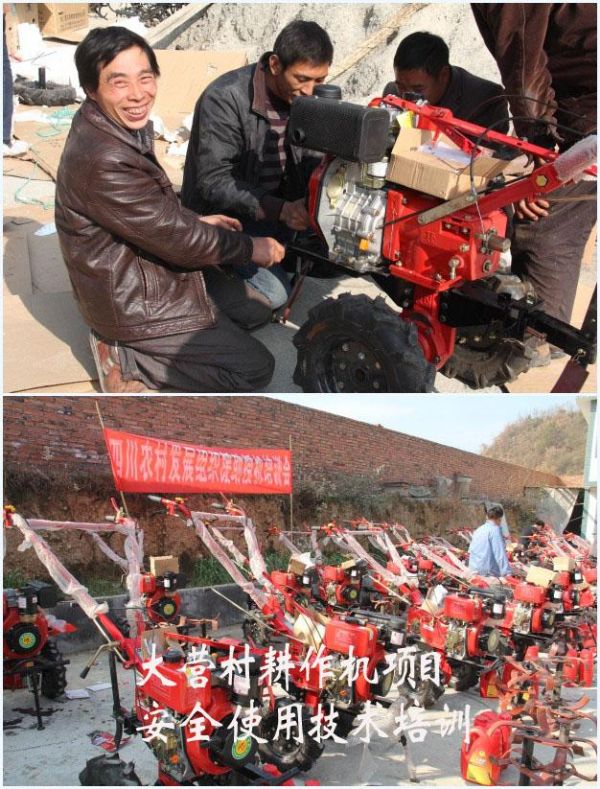 Post-earthquake Reconstruction Project:
Activities of the "Colorful Childhood-The Innovative Micro Fund" in Minjian Central Primary School - Finished

With the Autumn Semester of 2014 coming to an end, the "colorful childhood" activities finished as well. The project lasted four months, but we have witnessed the hard work of the teachers and the changes to the kids. The project was running well, the activities were all done by teachers and students together, which included purchasing books to enrich children's knowledge and to improve their reading and writing skills, and holding some activities such as "build a friendship bridge" between Yi and Han students within the classes, and " the good of hygiene" which is to demonstrate the hygienic ways in daily life, e.g. brushing teeth and washing hands before dinner. Due to most Yi parents working away students are left behind and are not being taught personal hygiene at home. The teachers used the fund to buy washing materials for children.

Educational activities finished successfully in Tashan Community

On 28th Jan, 2015, when we arrived in Tashan community, all children had been waiting for us in the village although it was chilly in the winter air. This was the final educational activity and the conclusion to the project. We invited an expert from the environmental protection field from Chengdu to attend this programme.
The topic of the activity was "Water and Me", which was intended to raise children's awareness about the importance of water for human beings, and the need to protect the water resources and the environment through their action. We first showed the children whereb the community water source is, and leave them to discuss and tell to others what the water looks like in their own way. We invited them to get the picture of what the water looks like from their parent's point of view? In the end, we gathered all the children together and asked them to present their findings and how to protect the water source and the surrounding environment.
The most impressive changes we observed from the children were the improvement of their confidence comparing to the first activity, now they were able to and know how to present their ideas in front of others.
The community educational activities lasted for 10 months and have come to an end. This project did not cost a lot, but hopefully the children might gain something from it. We were glad to see the changes in their behavior in the awareness of hygiene and environmental protection. They also influenced their parents to protect the environment.
We gave each child a New Year gift after the activity and we were happy to see the joy on their faces.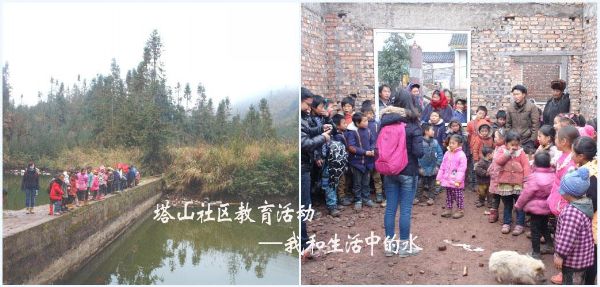 Rural Energy Project

Fuel-efficient stove project in Sanping Village has been finished, and awaits evaluation. The effect of the pilot stoves was obvious when villagers started to use them, therefore all other villagers approached DORS to ask to participate in this project as quickly as possible.
The second batch of bio-gas tank project in Jiatuo Village has completed, and await evaluation.
Bio-gas tank project has been completed in Shanshu Village, and awaits generating gas and evaluation. The construction of fuel-efficient stove project in this village has not started due to the winter season.
Project Progress

save time, labor and energy, protect environment and improve health

Project Name

Village Name

No. of Contract

Finished

Unfinished

Evaluated

Notes

sanping

4

4

0

0

await evaluation

Fuel-efficient stove

shanshu

44

0

44

0

under construction

wanshui

23

19

4

0

under construction

huodi(2nd batch)

25

25

0

0

await evaluation

pianma

8

8

0

8

evaluated

wanping

25

25

0

25

evaluated

chalin

10

10

0

10

evaluated

ranmo

46

45

1

45

evaluated

daying

38

38

0

38

evaluated

bio-gas tank

shanshu

30

29

1

0

under construction

wanjia

42

32

10

0

under construction

jiatuo(2nd batch)

5

5

0

0

await generating gas and evaluation
News and Information
We warmly welcome our new member Mr. Shao Wenquan, who graduated from Jinggangshan University. His 3 months internship in DORS began in Jan 2015. We hope this young guy's interest in charity could contribute to rural development.
In sunny March flowers are blossoming, it's the best time to appreciate Sprintime. We welcome every friend to Hanyuan for sightseeing.
Donation
In Dec, DORS received a donation of 2500RMB from Mrs. Li Caihong who was DORS' former volunteer in 2003-2004, thanks for her contribution to DORS' work.