Sep / Dec 2018No. 144
31st December 2018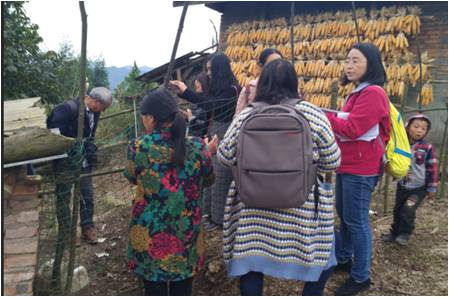 Project Final Assessment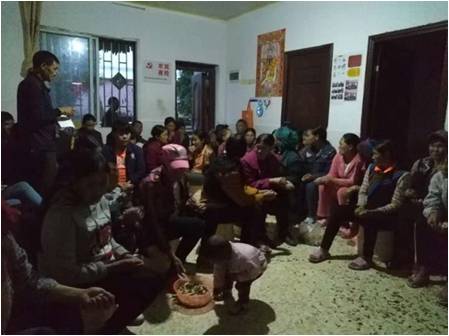 Men's Health Training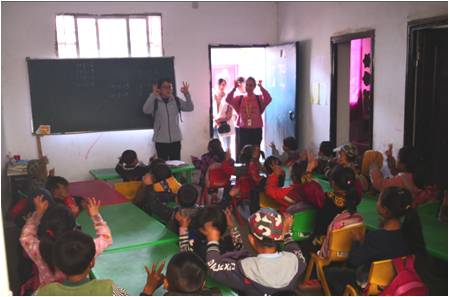 AiDaXun Staff Interacting with Children
Project Progress
Walnut Marketing Project for Hanyuan County
Wechat Shop
After DORS helped village cooperative set the election standards, villagers elected Ms. Wei Shuchun as the sales representative for online sales of walnuts. Having studied how to set up and operate a Wechat shop as well as sales and posting information, Ms. Wei is now capable of running an online shop independently. During September and October, a total amount of 790 kgs have been sold through Wechat shop and circle of friend and the selling price is higher than the purchase price in the village by 3yuan per kilo.
China Post Ule
Ever since DORS got the preferential deal from China Post last year, we have kept in touch with China Post Hanyuan Office. We contacted Vice President of Hanyuan Office, Mr. Zou again this August, through whose introduction we met president Mr. Wang Yong. Mr. Wang first confirmed our charity project and then agreed to contribute to help local people as a state-owned enterprise, providing villagers with preferential post. Meanwhile, they strongly promote walnut on their online platform as well as Yaan City China Post official Wechat account. Despite the sales of 250 kilos, they have offered Pianma Township another online sales platform, on which the sales price is 3 yuan per kilo higher than the purchase price in village.
Nationwide Agriculture and Business Platform
Due to the management of agricultural products issued by certain e-commerce platforms, we currently can't enter giant platforms like Taobao and JD. In order to increase sales channels, we decided to employ Mr. Li Lintao, director of the Fengniao website Sichuan branch to set up online shops for Pianma Township agricultural products on the two nationwide e-commerce platforms and teach villagers about shop management. He also shot some pictures and videos to promote online sales. Mr. Li and his team visited the township three time from August to October to shot pictures and videos and discussed with villagers about shop related issues.
Look for Market in Chengdu
In late September, DORS took advantage of the Mid-Autumn Celebration organised by Chengdu Zhongwang Socialworker at Jinmen scenic spot in Chengdu, taking villagers from Pianma Township to promote walnut at the celebration. The event organizer also offered villagers an opportunity to perform Yi songs. The singer, Mr. Lainaizibu, from Daying Village won the audience's applause with his unique voice, and also made them aware of the walnut in Pianma township. We intended the trip for Wechat sales promotion, so only 150 kilos of walnut were brought, which had all been sold out soon after the celebration started.
Seeking Other Sales Channels
In order to expand market and seek more sales channels, we brought the selected sales representatives from villages to the surrounding agricultural market of Chengdu and the southwest wholesale market. The findings of the trip makes villagers realize that only through finding out the speciality of local walnut and building our own brand can we open the market widely at a proper price. The wholesale market is not a competitive option for our product in terms of volume and price.
On the other hand, through the marketing and e-commerce training, we made the acquaintance of the trainers, Mr. Wang Senwei and Mr. Li Jie. Both trainers had contacted several online clients whose demand is over 50,000 kilos, though no deal was closed due to price problem, the clients offered villagers a minimum purchase price(8.4RMB/kilo), which serves as a price lever, gradually increasing the local purchase price from 9RMB/kilo to 11RMB/kilo. This directly increases the total sales proceeds of walnut. However, the outcome brought us concern instead of happiness, because our walnut wholesale price is not as competitive as those from other regions, and how much can we sell through e-commerce retail? If we just wait for purchase, the day when we can't sell all the walnut will definitely come with local walnut production doubling year after year. The sales pressure will only get worse before it gets better.
Attended Western China International Fair
In September we took villagers from Pianma Township to the 17th WCIF, where products of agriculture, technology, service and manufacture were exhibited. More than 80 countries took part in the fair. We mainly visited the agriculture exhibition building, to learn the experience of product brand, package, promotion, update, breeding new species, etc from farming to livestock husbandry. During the visit, we saw the walnut oil, giant walnuts and sky-high priced potted pepper landscape from other regions. The production of these exhibits is not beyond the capacity of our cooperatives, which effectively broadened villagers' mind and made them understand their distance from modern agriculture.
Package Support
Combining last year's packaging experience, we made some modifications to the appearance and shape of the packaging box. Based on clients' various quantity demands, we made packaging boxes of 1.5kilos, 2.5kilos and 4kilos, 3,000 boxes for each type, which were all provided for the villagers selling walnut on line in Pianma Township, free of charge.
Trademark Registration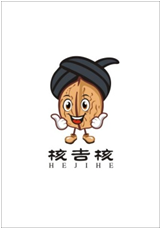 In September, we, together with Daying Village leader Mr. Mu went to Ya'an City Trademark Bureau to consult trademark registration issues. Prior to this, we helped the village find a designing company online to design a trademark (left). In order to cut cost and enable villagers to learn to handle more businesses independently, we went to apply for the registration without an agency. The registration is only available as a result of the express trademark window opened by the National Trademark Bureau after the 4.20 earthquake happened in Ya'an City in 2013.
Marketing Series Training
In October, we invited Mr. Zhang from Dayi to give villagers the second training on marketing, as a continuation of the previous training in August. Villagers summarized the sales experience this year, combining what they had learned the first time and analyzing their strengths and weaknesses. Everyone was hoping to employ all sorts of channels to expand walnut sales, as well as improve their sales techniques through such training. A total of 17 villagers attended the training, 16 of which were male. We looked into the sales status of the 34 villagers who took part in the two trainings (29 males, 5 females). They alone had sold 135,000 kilos of walnuts at an average price of 10yuan/kilo.
Rural Produce Exhibition
In October we assisted Daying Village Committee to complete the plan of the rural produce exhibition. The organization of the exhibition was in the charge of Ms. Wei, accountant of the village. The exhibition, through the celebration of harvest, was aimed to display the diversity and quality of the produce, enliven the community cultural atmosphere and promote community cohesion. The village committee invited other villages from Pianma Township to the exhibition, and they all brought various produce to the competition. The tug-of-war after the competition livened up the whole place, when all contributed fully to the game.
Yi Women's Health Project
Installed Electric Water Heater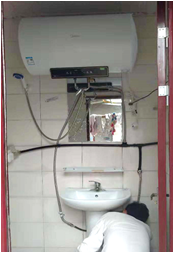 DORS supported 7 households to install an electric water heater. By September, 71 heaters had been installed with DORS support. Plus some heaters were supported by local government, most households in Tazishan and Daping communities are equipped with an electric water heater, ridding the villagers of the inconvenience caused by not being able to take a shower.
Project Final Assessment
The Yi Women's Health Project had its final assessment in October. DORS invited Ms. Peng and Ms. Zhou from Chengdu Huizhi Social Worker Center to give the final assessment from 25th to 28th, both of whom worked as external consultants. They talked with DORS staff, project partners and householders from project community, gaining knowledge of project implementation, effectiveness and influence from different angles. On the whole, the consultants offered positive feedback on project team's steady work attitude and the changes made after the project. In particular, they felt the changes in villagers' sense of well being both inside and outside. Definitely the project has problems, the design, for example, can be further optimized and there is still much room for women's self development. DORS team will continuously reflect on project, carry forward our achievements and improve our performance, trying to enter a new stage.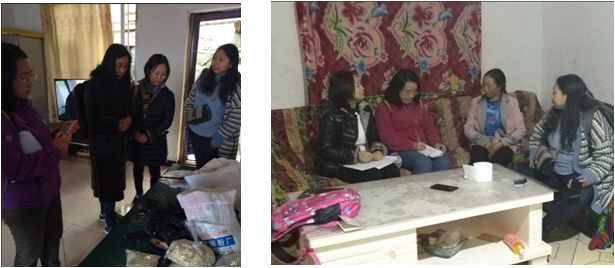 Consultants Talking and Inquiring in Community
Men's Health Training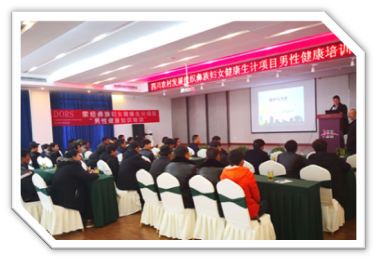 DORS has been doing a great deal of work on women' health training ever since 2016. However, the work on women's side alone can not solve all problems. Men take more initiative when it comes to reproduction, thus it is necessary to train Yi men simultaneously, making them more aware of the knowledge of birth control and reproduction.
On the health side, due to long-term bad health habits and improper diet habits, a large number of men suffer from skin diseases, stomachache, diarrhea, tuberculosis, hepatitis, etc. Aiming at these health problems, DORS invited Doctor Mao from Shimian County Hospital to provide a one-day Men's Health Training to 36 males from Daying and Yingjing communities on November 27th. The men's education was given in the hope of improving men's health condition as well as that of women.
Doctor Mao explained various diseases and showed matching case videos during the training, disseminating correct birth-control methods, trying to make men aware of their mandatory responsibility. Meanwhile, he mainly introduced the causes, routes of infection, relevant policies of certain epidemics. Men were shy about this kind of training, but they were focused and found the training helpful. They are both more familiar with the diseases and recognise the possible improvements in their lives with what they had learned.
Improved Livelihood
Grant Project Progress and Notification
5 new households participated in the grant project in September, with 3 from Daping and 2 Tazishan. By the end of the month, we have supported 55 households from Tazishan and 74 from Daping and granted 303,277RMB and 222,300 respectively.
The last project notification was given on Novermber 17th in both villages, showing the list of beneficiaries and granted amounts since October 2018.
Mandarin Training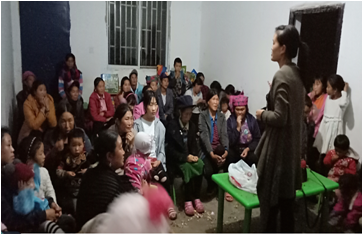 In order to improve Yi women's mandarin communication, we arranged a one-month mandarin training starting at the end of August. Altogether 640 women from Tazishan and 1,128 women from Daping were involved. Two teachers from the Taizishan Kindergarten gave the training centered around villagers daily life.
The daily training was arranged from 7-8:30pm after supper and in principle the trainees must use mandarin during the session. The most compelling part is not the women who already spoke decent mandarin, but those who didn't dare to look you in the eyes or open their mouth could finally talk with you confidently, despite occasional translation help. Learning a language is a long-term process, the mandarin training offered these shy women an opportunity to practice, where their linguistic ability will surely be improved.
Engagement Discussion Meeting
On September 19th and 20th, 2018, DORS project staff took part in the Engagement Discussion Meeting held in Daping and Tazishan communities. 42 people from Daping and 30 from Tazishan showed up at the meeting. Arranged marriage at a young age exists in both communities and this phenomenon has more or less affected most girls and women there.
In order to understand villagers' ideas about this phenomenon, we specially included the topic into the mandarin training. Through relaxing conversation and interaction, only 10% agreed on the idea of arranged marriage at a young age while the rest 90% disagreed. Those who agreed thought early arranged marriage would reduce cost while those who disagreed thought it would force girls to drop out of school. What is worse, family members who are blood relatives may arrange a marriage first but then regret it, causing great damage to both families financially and emotionally. The practice will not disappear overnight. However, through thinking, discussion and education, we believe the arranged marriage at a young age among Yi people will be changed gradually.
Fish-farming Experience Exchange
On November 11th, DORS invited Ms. Peng from Hanyuan County to the Amuweizes fish farm in Daping to exchange experience in fish-farming. Ms. Peng, who has years of experience, enquired about the problems the farmers had encountered and answered them one by one, then she shared her experience of fish farming and management. Mr. Amuweize started raising fish since August 2018, he is still learning. Although no fish has died yet, he is always cautious, hoping to accumulate more experience and expand his business. This is the only fish shop in Daping community, which doesn't only benefit the household with one more income resource, but also unites the community for the convenience it brings.
Training on Bee-keeping
On December 17th, DORS invited Mr. Wei from Hanyuan County to give bee-keeping training for two bee-keeping households in Daping and Tazishan. Mr. Wei visited their houses first and then communicated with the farmers over the problems he discovered. For example, the bee box was placed too high in the shade, the bees seemed rather hungry. It's necessary to feed bees sugar in that season, but not in the way the villagers had done. After taking out the excessive partitions in the bee box, Mr. Wei told the farmers they need to observe the bees' behaviour closely and encouraged them to take good care of the bees as it could be highly profitable. They can contact him if they meet any problems. After the training, Mr. Wei offered the farmers his own partitions and sugar-feeding troughs.
Visited Fair and Communities in Chengdu
During the 6th -7th in December, with support and coordination from Chengdu Huizhi Social Worker Center, DORS staff took 11 project villagers from Daping and Tazishan to Chengdu, visiting two outstanding communities-Cozy Garden and Qingyuan Community, as well as a fair and a vegetable shop, which are closely related to the income generation project.
The Cozy Garden was a typical feature of an old Chengdu community, housing mainly elderly people and migrant workers. After Huizhi got involved, the wisdom and experience of the older residents was incorporated into the plans to create a better community area: the weather walls were decorated with beautiful paintings, the abandoned corners were turned into attractive gardens of flowers and vegetables, comfortable seats were placed at the main entrance for residents to rest. With everyone's effort, an old and cold community area changed into a clean, warm and harmonious one. The villagers were deeply touched by what seniors could do and determined to change their own community area facilities.
The Qingyuan Community is a relatively new community, where there is a canteen for seniors and children, graded pricing is applied where the older and disabled can enjoy more discount. The charity canteen allows young migrant workers to work in other cities without worrying about their parents and children back home. In addition, the community provides various free studying activities and their office is decorated like a warm home.
Chengdu Tasting-Life Agriculture Company was founded in 2017, a company committed to promoting rural industries. All villagers visited one of the company's shops. The shop clerk introduced the company's operation model and plans for future development to us, encouraging all the villagers to take farming seriously and produce quality products. Hopefully we can cooperate in the future.
Villagers attended a fair organized by Huihi Center taking eggs laid by their free-range chickens. Despite slightly higher price than the market price, all the 200 eggs were soon sold out because of their good quality.
After visiting the communities and fair, Ms. Peng and other invited guests hosted a discussion for villagers, aiming to help villagers get a clear picture of their own products and how to sell them more successfully.
To sum up, the visit to Chengdu not only allowed us to feel the warmth and harmony of outstanding urban communities, but also to see the hard work involved, making villagers realize the difference these changes can make.

Visiting the Cozy-Garden Visting Qingquan Community
Yi Women's Health and Livelihood Project Review Meeting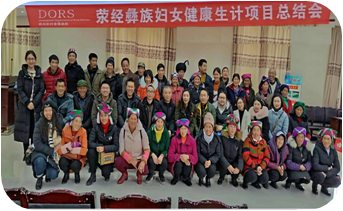 On December 29th, the review meeting of the Yi Women's Health and Livelihood Project was successfully held in Jinghe Resort Village in Yingjing County. Leaders from Yingjing Poverty Alleviation and Migration Office, National Bureau of Religious Affairs, Minjian Township Government, Tianfu Township Government,Mingjian Primary School, Anjing Primary School and town communities.
12 guests and 31 villager representatives attended the meeting. At the meeting, DORS chief director Ms. Guo extended warm greetings and gave sincere thanks to all the guests and villagers. Director of Yingjing PAMO spoke on behalf of the guests, giving thanks to DORS for its efforts in the past 3 years. DORS project staff reviewed the project development and effects in the past 3 years and 9 months. Villager representatives shared their feelings and stories. DORS then invited guests to present rewards to 31 villager representatives and 5 excellent individuals, hoping they would continue and improve the income generation project. Lastly, the guests offered their advice for DORS future projects and expressed the wish that DORS could go on working in Yingjing. The project started in April 2015 and ended in December 2018 and the review meeting set a full stop mark to the project. As the guests expect, DORS is looking forward to continuing to work in Yijing, hoping to see the seed that was planted during the first project will grow and flourish.
Learning/Communication/Contact/Visit
AiDaXun Visited
On November 2nd, 2018, DORS team received AiDaXun social worker team and a group of excellent women cadres from Qianjin and Jiaguan Townships. With DORS project staff's company and introduction, the group visited the Grant and Income Generation Project in Daping and Tazishan communities, the Kindergaton in Tazishan and communicated with Daping leader in his house. Due to a lack of resources, the Grant and Income Generation Project started out struggling in the two communities – it was not easy to get where they are now - which offers some lessons for similar projects. DORS paid a beneficial and inspirational visit to AiDaXun project sites in Qianjin Township in November 2017, which broadened our horizons on income generation projects for Yi women in Yingjing. AiDaXun focuses on education quality and development for women and children in a transforming society so that their self-developing capacity can be improved. At the same time DORS is committed to the comprehensive development of rural Sichuan, implementing village level small-scale integrated projects to achieve sustainable development. The two organisations have some shared missions and we hope the exchange visits will be the start of further cooperation and mutual progress.