Apr / Sep 2020No. 150
30th November 2020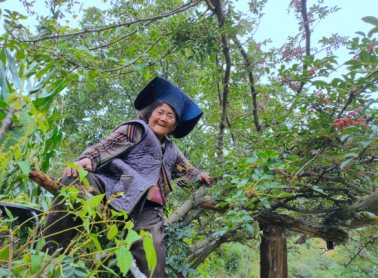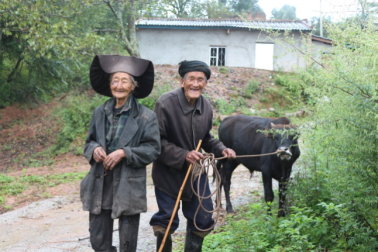 Yi Ethnic Group Villagers
Project Progress
Comprehensive Rural Development Project
Linking a Chengdu social organization with Pianma Jianping Cooperative to help product sales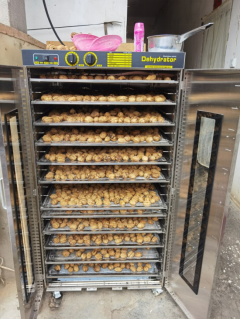 On May 10, 2020, DORS established contact between director Tang Mingshuai of Zhongwang Social Work Service Center in Xindu District, Chengdu and the cooperative in Pianma Township, Hanyuan. They discussed this year´s walnut sales plan and look forward to a long-term cooperation.
Pianma Jianping Cooperative walnut sales work
From July to September 2020, due to the rainy season, roads in Pianma Township were interrupted and mudslides occurred frequently, which made the walnut sales work of the cooperative more difficult. However, the villagers of the cooperative e-commerce group continued to work hard to receive orders and tried their best to deliver walnuts to the consumers. Furthermore, this year the cooperative has selected people who are responsible for sales, laying a foundation for improving its results in this field.
Progress of the Pianma Township Youth Entrepreneurship Project
From June to September 2020, the first batch of 12 youth income-generating projects in Pianma Township progressed smoothly. Among them, Li Wengao's crisp red plum was very successful and sold fruits for more than 10,000 yuan. Also Fan Rujian's honey has already been ordered by consumers. Xu Dengzhi's stone mill met demand, Amuzi's sheep herd is growing, while Yang Guoping's medicinal material is also growing well. The promising development of Li Yulian's Polygonatum Demonstration farm will probably bring 600 acres of Polygonatum to the village to support currently running government projects.
Pianma Daying Village Walnut Project Investigation
From September 3 to 4, 2020, DORS brought together Sichuan Xuping Rabbit Industry Co., Ltd., Sichuan Rural Mei Agricultural Development Co., Ltd. and Sichuan Yujia Zhishang Agricultural Technology Development Co., Ltd. to form a research team. They visited Ya'an Hanyuan Daying Village, Pianma Township, Hanyuan County, and its production and management of the walnut planting base on site. They learned about the production standards, processing methods, output and sales mangement of the cooperative team. Based on this, they issued research reports that will provide an important reference for the village in terms of cooperative work and walnut management and sales.

Walnut Packaging Boxes /Visit to DORS's walnut project introduced by Pianma since 2004 / Commucation seminar
Xidemachang Village and Siguojue Village completed income-generating projects and successfully distributed the final payments
From September 7 to 20, 2020, the project team visited 171 households in Group 3 of Machang Village as well as 133 households in Siguojue Village, and recorded the results and benefits of the livelihood project in detail. Among them, all 133 households in Siguojue Village and 157 of the households in group 3 of Machang Village have raised cattle, horses, sheep, pigs, chickens. Their mills and shops are in good condition. 14 farmers in Group 3 of Machang Village could not continue to participate in project activities due to factors such as relocation or long-term migrant work, while 100% of farmers in Siguojue Village passed the acceptance inspection. Consequently, the project team paid the final round of payments to 290 farmers in the two villages after the two villages passed the inspection. The payments amounted to 59,540 yuan in Siguojue Village and 76,020 yuan in Machang Village.


During the project acceptance process, the villagers happily showed us their achievement of farming.
The project staff collected several impressions:
"Sweet smile like a mother. A woman giving me corn and potatoes, filling my pockets. I can't forget it. She knows that we are going to her home for the visit. Worried about us being hungry after walking a lot of mountain roads, she cooked the food quietly by herself. After the work was completed, when we wanted to leave, she suddenly ran into the house and brought out a large pot of potatoes and corn. Although she knew that we should not eat their food, but she still insisted giving it to us. At that moment, I feel that our relationship is no longer just about serving and being served at work, but like a strong family affection."

Yi Women's Livelihood and Health Project
Yi women's livelihood and health project started smoothly
In March 2020, the Xide Yi Women's Livelihood and Health Project was officially launched. The project includes three project sub-objectives. These are exploring livelihood diversification, women's capacity building/empowerment and development, and improvement of health and hygiene. All contribute to the development of the abilities of community members and especially allow women to participate in their own development.
The baseline survey of Machang Village was successfully completed
In July 2020, 7 people including the DORS chief representative, project manager, and project assistant completed the baseline survey of the 3 groups of the horse factory. The baseline survey uses a combination of participatory community survey assessment and questionnaires as well as second-hand data. In more detail this included semi-structured interviews with village leaders, farmer interviews, farmer survey questionnaires, women's health questionnaires, agricultural season calendars, resource maps, memorabilia, gender Investigation work such as division diagrams, and problem tree and countermeasure tree analysis. The survey data is compiled into a survey report that is discussed and forms the basis for a project plan. The plan will be used for the orderly development of project activities in the next three years as well as for the evaluation of the project outcomes.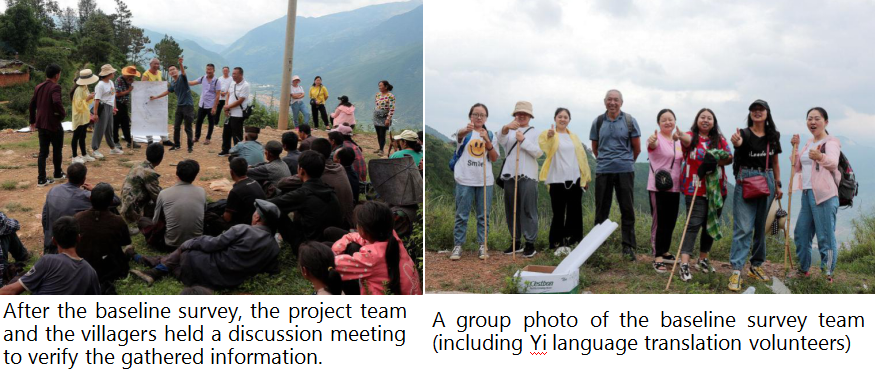 Preliminary formation of 3 groups of women's groups in Xidemachang Village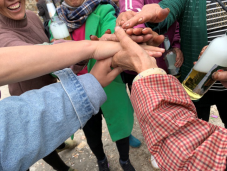 The 3 women's groups in Xidemachang Village were formed by voluntary registration. A total of 12 people participated when the women's group was first established.
The project promotes an atmosphere of mutual help and friendship for women through women's group building, outings and study activities. It aims at increasing women's participation in community public affairs, so that women can live healthy and happy lives and look forward to a bright future.
Stories and people in the village
Excerpted from staff notes: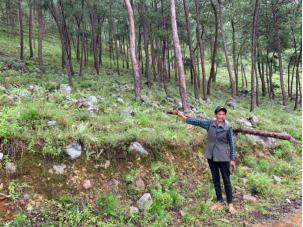 "The person I am going to talk about today is named Adi Wuge. She lives in Yizishi (the name of Machang Village in Xide County). The family raises goats. Adi Wuge is about 50 years old this year. She has dark skin, is very thin and she is healthy. She never went out for migrant work and never entered a school. Therefore, she can't read and write and can only understand a little Mandarin. Her family has 4 children and the eldest son is already married, while the other 3 children are still studying. The family´s source of income is growing crops and raising pigs and sheep. She does the agricultural work at home, while her husband herds the sheep. Especially the goats can be sold for a good price generating several tens of thousands of yuan a year, so the income is quite good. However, the cost of studying for the children is considerable. Anyway, she feels very happy about having a good health and sufficient income and feels no need to compare with others.
During the period, she also took the project team to see the public forest that her family takes responsibility for. It was well guarded. She told us that she would not let other people destroy the woods here. We asked her reasons. Wuge said, this is to protect the villagers who live here. She knows that if one would cut down the trees, there will be mudslides and landslides in the rainy season, that threaten to destroy the homes and the environment thus putting the villagers in danger. She referred to the mudslides and landslides visible on TV this year. She thinks that there are man-made factors involved, which destroy the ecology. Therefore the family protects this piece of forest as a treasure. The stories of Adi Wuge´s family and the idea of a forest for the welfare and security of all villagers she told made me admire her. A person who has never been to a classroom and has not been outside, is so knowledgeable and speaks so convincing."
Taken from the staff article: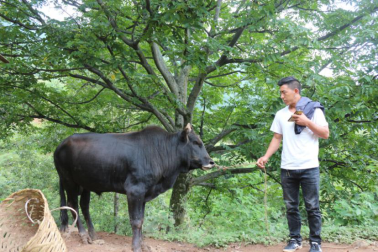 "Aniu Lagu, on the first sight of the name, it is easy to think of an old Yi who is dressed in plain clothes and is diligent. However, one is surprised when coming to the mountains more than 2,000 meters above sea level, away from the hustle and bustle of the city, finding a stylishly dressed man is looking around with a smartphone. The handsome middle-aged person who broadcasts live on his mobile phone signals. This is the daily life of Lagu. However, more important than his looks are his thoughts and actions. Even though he is only 35 years old, he is already the father of six children, the eldest child being already in junior high school. Compared with other families in the village, Aniu Lagu's house is much cleaner. The neighboring house has a multi-functional vegetable garden and orchard growing cabbage, leeks, pumpkins, lentils as well as several apple, pear and plum trees scattered among them. All is surrounded by several pepper trees, whose soon-to-ripen red peppers embellish the whole garden with vitality. Aniu Lagu's ambitions are not limited to the present. In the second half of this year, he plans to establish a cattle farm with two other farmers to use the local rich mountain grass resources and crop straws into fertilizers and increase income.
Perhaps one day, on the live broadcast platform, you will see a handsome Yi guy talking about his indissoluble bond with the cow. Ragu's story has just begun, and our project is about to start. In the next three years, you can take a look at the changes in the lives of hundreds of people in the two Liangshan Yi mountain villages. Let the stories come into your life. Maybe you can learn something for your life, and maybe you will join the struggle. This source of motivation may become the inspirational material that touches your child to study hard."
——Adi Wuge and Aniu Lagu are the beneficiary villagers of the income-generating project of the comprehensive development project.
Interactive visit
From September 20th to 23rd, 2020, Mr. Kang, Ms. Luan, Gao Sifa and Jing Xuefeng from Dayu Public Welfare, accompanied by the chief representative and staff of DORS, went to Pianma Township and Xidesi Guojue Village in Hanyuan.

About us
Since its inception, DORS has always adhered to a participatory approach throughout all projects, focusing on the sustainable development of project villages. DORS works closely with local villagers to create the opportunities and atmosphere for the target group to actively participate in the whole process of the project on the basis of full respect, trust, openness, and transparency. The aim is to allow participants to decide, plan, design, perform and manage the project by themselves. The projects implemented by DORS benefit the entire community and focus especially on women, children, disabled people, poor households and extremely poor households.
In May, August and September 2020, we welcomed three new employees, namely Zhang Xiulei, Yang Zhenli and Ke Xuehui. We look forward to the joining of new partners, who can work with the organization to serve more people in need.