Jun / Aug 2018No. 143
31st August 2018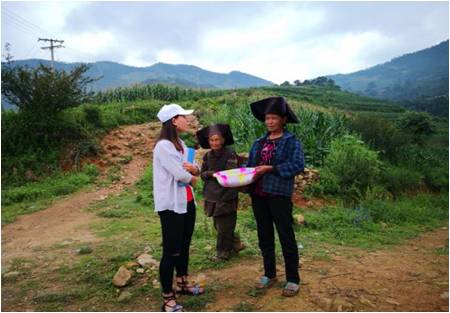 Discussing How to Make Pepper Oil with Villagers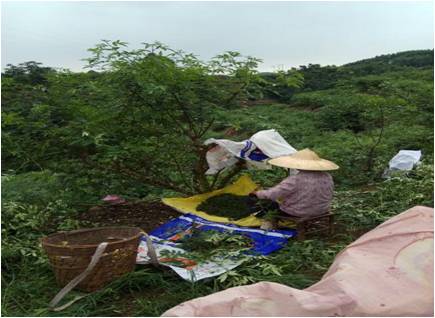 A Villager is Picking Peppers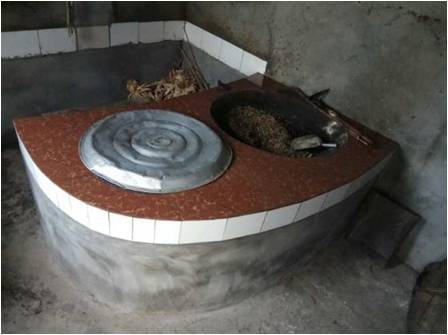 A Round-corner Fuel-efficient Stove
Project Progress
Yi women Health and Income Generation Project in Ying Jing County
Grant for Income Generation Projects
Another 13 stakeholders from 2 communities were benefited from the grant project in June. In total of 72 households benefited from this project. A bookkeeping of one to one personal training was given to the project beneficiary to analyse the effects of the income generation project. As most of villagers are low literacy, the training mainly based on cash flows and cash position.

Training on Keeping Accounts
In July, another 13 households benefited from the grant project in the two communities, of which 6 were from Tazishan and 7 were from Daping. By end of July, a total of 85 households benefited (60 from Tazishan and 25 from Daping) from this project.
On 25-26th July, DORS invited Ms. He to provide Chinese Pastry Training for villagers Ms. Wangxia, Ms.Mushize and Ms.Nixi for two days in Tazishan Village. Ms. Wangxia started her "breakfast shop" in February, 2018 with DORS support. She wanted to improve her skill in making chinese pastry. Ms. Mushize and Ms. Nixi were interested in the cooking. Ms He has been running a "breakfast shop" in Hanyuan for over 10 years, she is good at making the Chinese pastry and willing to train the 3 women according to their needs. All the steps of making pastry were handed out to them and they were supervised them in practice. We looked forward to women's achievement after the training.
Another 39 stakeholders from 2 communities benefited from the grant project in August, among which 12 households were from Tazishan and 27 households were from Daping Village. In total of 124 households benefited from this project by end of August.

Learning Baking
Mandarin Training
As most of Yi villagers daily language is in Yi dialogue, in order to improve Yi Villagers' communication with Han people especially Yi women, DORS arranged a Mandarin Training lesson for the Tashan and Daying communities starting late August. Two teachers from the Tashan kindergarten were invited to provide the training. The training was mainly related to daily communication such as introduction, going to hospital, calculation and DORS income generation project. The training was hold every day from 7pm-9pm and will be last to end of September.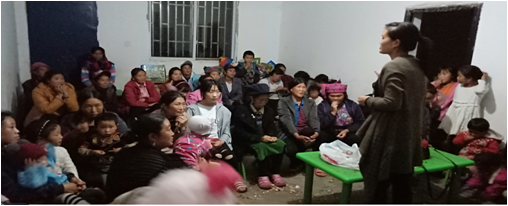 Teacher, Ms. Shi is Teaching Mandarin in Tazishan
Sanitation and Health project
In order to ensure villagers' drinking water quality, the water has been tested. As the manganese levels were excessive in the drinking water in Tashan Hamlet 1, DORS contacted the water purification department to try to find the solution. A set of purification equipment costs about 5,000RMB and the filter needs to be changed every year which, including the maintenance, costs about 1000-2000RMB. After discussion with villagers, they wanted to look for other water sources as they can't afford the maintenance cost.
DORS assisted villagers to install sewage pipes in 4 places for hamlet 2 of Tashan village, in order to alleviate the adverse environmental impacts caused by the nearby discharge of domestic sewage to the surrounding villagers.

(left)Without the sewage pipes,(right) villagers were digging and laying the sewage pipe
The second batch of kitchen indoor sanitation renovation was finished successfully in Daping village. In total of 6 households' stoves, kitchen cabinets and sinks were completed.

Fuel-efficient Stove Wall Cupboard and Washing Basin
Capacity Building
Yi villagers organised their traditional Firebrand Festival spontaneously on 21st June and invited DORS staff to join in the activity. The local government: Poverty Alleviation & Migration Bureau of Yingyjing County, County Religion Bureau, National Security Section of Yingjing County, Minjian Township, Jianle village were also invited to attend the activity. This was the first activity arranged by villagers spontaneously since DORS worked with this community 3 years ago. Villagers prepared order of the agenda such as speeches, thanks letter, dancing, lunch and open communication. DORS and government participants have further communication through this activity, which has a positive impact on future community work cooperation.
Visit to Local Farmhouse Resorts of Zhouping Village
During 14-15th August, in order to improve villagers' income generation by extending the agricultural product marketing channel, DORS staff organised 12 villagers from Tazishan and Daping village to visit Zhouping Village farmhouse resorts which is near the Long Canggou Scenic Area to build up the sale connection system, such as the chicken marketing.
The farmhouse resort is located in the Zhouping hamlet of Fazhan Village of Longgou Town, Yingjing County, where has very good natural eco-environment and many people go there for summer vacation. There are about 30 households operating the farmhouse. We lived in a farmhouse, which is managed by Ms Guo. She shared her experiences on the process of the farmhouse operation. She told us that she almost gave up the business due to lack of money and poor management experience. However, she kept on this operation and now has runs it well. She used to be very shy in public, and now she has conquered it and became very active and talkative. Her experiences encouraged our team of women, as for many of them it was the first time the had taken part in such a visit and they were very shy in public as well. Ms.Guo asked our Yi women about the Agricultural product and Yi traditional decoration. Many of them didn't know how to present their products. Ms. Guo encouraged them to look for the special features of their products and she also told our member that there is a large demand on local chicken.She said she would like to build up the chicken marketing cooperation with Yi villagers although the cost of local chicken is higher compared to the chicken which they purchased from the market. Our Yi team members have broaden their vision and ideas through this visit. All of them appreciated this traning and would change their ways to improve their products and meet the competition.
Walnut Marketing Project for 6 villages of Pianma Township in Hanyuan County
Multimedia and E-commerce Training
In order to promote the walnut sales, we decided to select a village representative to set up an online shop. When the selection criteria was set for the Daying Village, Ms.Wei Shuchun has been selected as the network marketing representatives in the village. DORS project staff assisted her to open an online shop and provided training on the relation to the management, sales, logistics work in DORS office. After the training, she opened her online shop and worked well on the walnut packaging and sales.
DORS invited Hanyuan County local e-commerce expert Mr. Lijie to provide training for Ms. Jiangzhen and Weishuchun on online selling and after-sales skills according to their needs and products. The training covered sale promotion, marketing, logistics and after-sales, how to avoid the risk on the online sales and so on. After the training, they sold about 2500kg walnut through the online shop and received zero bad feedback in 2018. We much appreciated with Mr. Lijie's volunteering to share his experiences.
Walnut Advertisement Filming Promotion
The walnut advertisement film presented the Yi culture and environment in a very friendly way. We uploaded the promotional videos to different free video platforms such as Tencent and Youku, and received over 16,000 video hits and appraisals.
We would like to sincerely thank all the people who were working hard for this film voluntarily, especially the actor Bu Peng (deputy head of Panma Township) and the actress Qiu Xiaoying (interns of Panma Township) and all the villagers who acted as crowd performer. The thanks also went to all village cadres who coordinated in different scenes. With their joint efforts, we had a great success.
Agricultural and Sideline Products Marketing Training
In order to keep up with the new marketing model knowledge, we invited two lecturers from Hanyuan County Yuncang Town and Mr. Zhang Shuping from Dayi Town to give our villagers training on marketing issues. Our lecturer from Dayi was moved by villagers' hard study and active interaction. She said, it is my pleasure to give lesson for you and I would like to provide any help whenever you ask me. 36 villagers attended the training, and have done a great job on walnut sale. They have sold about 29,000 kg walnut in Hanyuan County and collected about 105,600kg walnut to sell to other area with their hard work.

Training on Marketing
Walnut sales——seek association with China Post Group Hanyuan County Office
At the beginning of the sales, we contacted Mr. Wang, vice president of the China Post Group Hanyuan County office, hoping to seek support for postal logistics and promotion. In the following meeting, Mr. Wang said: As a state-owned enterprise, we'd love to contribute to help local people. Therefore, the Post Group specially permitted the Pianma County to deliver their walnuts at the cost price, as well as promoting the walnuts from Pianma County on their official service platform and wechat account. Resulting from the help from the Post Group, this year has seen the walnut sales enter a new stage, with 250 kilos of walnuts sold on the service platform.We very much looking forward to expanding our cooperation next year, to achieve better sales figures with early preparations.
Walnut sales – look for market with villagers
In order to extend the walnut market, we went to surrounding agricultural market of Chengdu and the southwest wholesale market with village cooperative representatives to look for walnut market.
Although there were one or two shops selling walnut, the total amount of walnut was not as much as we expected, lots of walnut from other provinces were selling in local market. Under this condition, we tried to find out the speciality of local walnut and build our own brand to open the market widely at a proper price, and of course it will take time and needs insistence.

Taking Villagers to Chengdu City to Promote Sales
Walnut Sales – Packaging Box and Leaflets
In order to attract consumers' attention to the good quality of Pianma Walnut, we tried to build the local walnut brand through improving the design of the packaging box and advertisement leaflets in consideration of last year's characteristic of selling on the internet and demonstration.
Skill Training
Sichuan Pepper Oil refining:Early July, as our project villagers from Machang and Siguojue villages wanted to learn the skills of Chinese Pepper oil refining, DORS invited the local technician from Xide County to provide the training in middle July. As the Chinese Pepper Oil is the basic seasoning in their daily cooking, all participants were very keen to learn and to practice, so that they can produce oil for themselves for daily use and to send to friends as gifts. We encouraged villagers to learn the refining skills to produce qualified product for sale so as to increase their income.

Making Pepper Oil
Visit the Rattan Farm and Drying Processing Rooms
In June, Dors took representatives of Daying Village Cooperative to Ma Village in Jinjiang
County, Meishan City to learn about growing and managing pepper plants,and how to process pepper oil. We also visited Huangjiagou Pepper Farm and Processing Plant in Ganxiba, near Jiuxiang Town. Villagers learned a lot from the study visit, and the skills they learned can be used in their own pepper planting, and to progress their plan to build a drying processing room.
On their return to Daying Village, the village representative passed on their experiences to the other villagers.

Villagers on Pepper Management Study Tour
Fuel Efficient Stove in Xide County
Siguojue and Machang Village of Xide County of Liangshan Prefecture: In July, we visited the two villages to check the project progress and the project participant name list. A project grant of 119,000 RMB was given to Machang village (for construction 82 stoves) and Siguojue village (for 37 stoves construction) for 119 households. Villagers were satisfied with the stoves quality and its effect, as well as appreciating DORS support for them.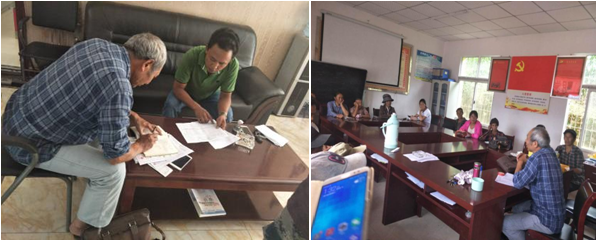 Checking Name List with Machang Village Mr.Bai Explaining Fund Disbursement