Oct / Nov 2017No. 140
30th November 2017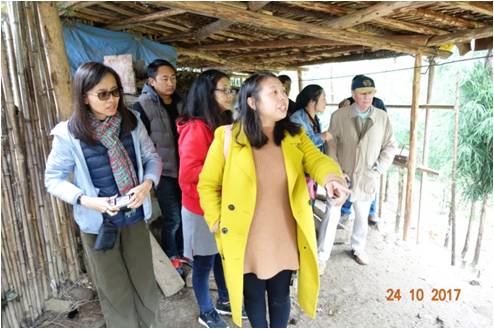 Kadoorie Foundation Visited Project Site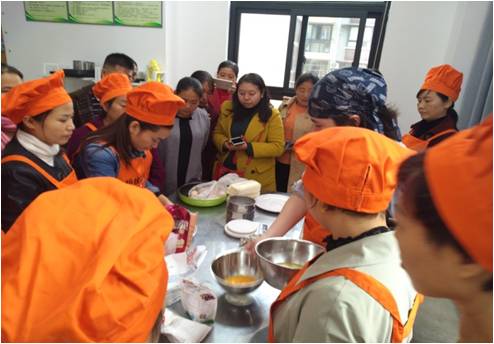 Women Management Team of Yingjing County participated the baking course in Qionglai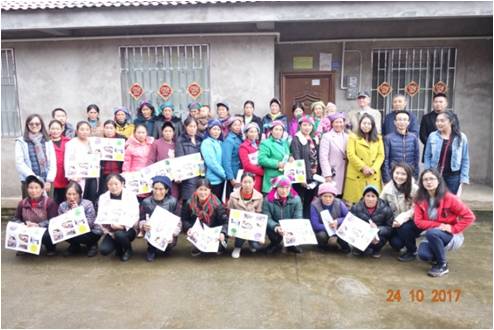 Women Health Training
Project Progress
Health and Income Generation Project
Health Training in Tazishan Community
On October 24, a health knowledge-sharing activity of "Heart and Lung Disease prevention" was launched at Tazishan community, 28 women participated in the activity. As we found that there were some villagers suffering from heart and lung disease during our project implementation. It would be very necessary to improve the awareness of what is heart disease, how to prevent it and the disease-related knowledge. Heart disease is not contagious, while tuberculosis, as one of the lung diseases, is contagious, but it can be cured. Everyone should know its transmission and how to prevent it. Our government provides treatment for free. Therefore we don't have to cause panic if people get tuberculosis. Local CDC provides free examination and treatment.
During the training, we also suggested villagers should have a good diet, proper exercise and a healthy life-style. The activity and training were presented in Yi dialogue and PPT for villagers to easily understand. We also gave them real examples instead of only theory, such as the pictures of people's lungs to compare those who smoke cigarettes with those who do not. Women were surprised by the affect of smoking. Representatives of Kadoorie Charity Foundation, Poverty Alleviation and Resettlement of Yingjing County, and Minjian township witnessed the whole activity and appreciated it.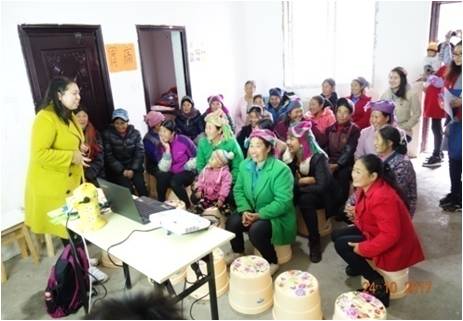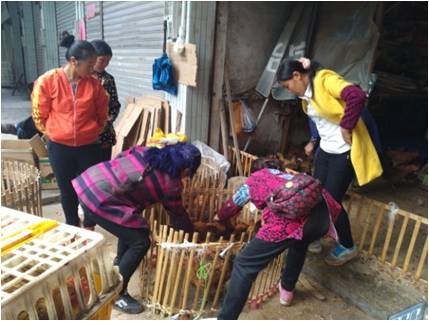 Women Health Training Women Were Selecting Chicks
5 demonstration households (beneficiaries of grant project) of Chicken Raising project purchased chickens
On 18th October, after completing the chicken coop and wire fence building, 5 project demonstration households in Tazishan community and DORS went together to buy chicks. Householders themselves decided where to buy the chicks and after comparisons among 3 sellers, they decided to buy in the Yingjing county. Every beneficiary household selected 50 chicks with 1.5-2kg each, and all the chicks received a vaccine before being delivered to villages.
Village Grocery Shop Opened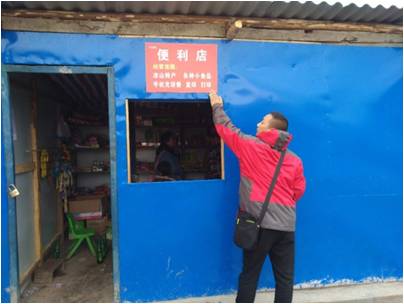 In early October, the grocery shop supported by DORS was opened. According to the owner, it sells about 70-80 RMB per day and the profit is 20 RMB. DORS provided the second grant of 2445 RMB to the household. (see right)
Progress of livestock Project
The livestock project could lead to environmental pollution from its waste if we don't take any measures to prevent it. In order to reduce the pollution and improve villagers' rearing skills, DORS invited Mr. Hujiwei from Yaan Tonggeng Community Development Centre, who is very experienced in livestock raising, to visit our project. Mr. Hu gave us lots of suggestion to improve animal rearing skills.
One of beneficiary householders, Mr. Qiluo, told us his sow finally gave birth to 10 piglets after 5 months raising. He planned to build a new pigpen for the piglets.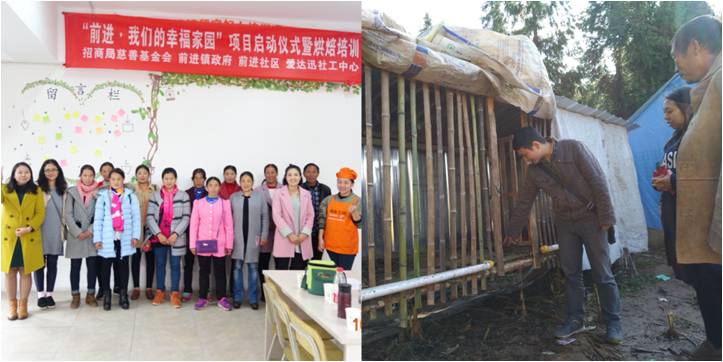 Picture of Qionglai Visit Group Mr. Hu Checked the Chicken Coop
Womens Management Team Visited Qionglai City
On 10th November, DORS organised 10 members of the women's management team from Tashan and Daping communities to visit the project of "Going forward-our happy home garden" in Qionglai Qianjin Town implemented by the Aidaxun social service centre of Chengdu. This project helps women to self-organise and leads other groups in the community to get involved in the community affairs management. This project was running well with the support of Micro grants and lots of women are getting involved in it.
They were doing the baking training carried out by the "Women social workshop centre" when we visited. The project staff welcomed us warmly, showed us around and introduced the project implementation situation. The workshop centre gave us the cookies and cakes they made; they looked nice and tasted good. According to the workshop centre, most of the women are very interested in the training of their workshop, and learned a lot of skills such as baking, cooking and housekeeping and so on. They also arranged women's dancing groups.
In addition, we also visited "AiXunda Children's Activity Center", which is open every Wednesday to Saturday. Children from the community participate in the activities in the center for free, e.g. read books, play with toys and games. Our members were keen on this as they all want to have such a center where their children can play after class and during holiday.
After the tour, we carried out a feedback discussion with our members. All of them thought that it has expanded their views and they have learned a lot. Ms.Yibumuniuge said: 'I also want to learn how to make cakes and cookies then I can open a shop in downtown'. Ms. Muermeyeguo said:'I want to improve my Han dialogue and receive some training so that I can go out to find a job in the city'. All of them wish to have these training sessions to expand their job opportunities. We hope some of the good cases can be copied into our women's projects in the future.
Energy and Environmental Protection Projects
Fuel Efficient Stove Project
During October and November, DORS was working on implementation of the fuel efficient stove projects in Hanyuan and Xide County
Malie Township of Hanyuan County: We inspected 30 built stoves in Xinhua, Xinhe and Sanping Villages in October.
Machang Village and Siguojue Village of Xide County: DORS project staff monitored the 2 villages' fuel efficient stove project progress respectively in late October and early November. Due to the fact that only one trainee had graduated from the training in Machang Village, the progress was slow in this village, DORS has invited the trainer from Hanyuan County to help them. Two trainees from Siguojue Village had graduated from the training to build the stoves, and the progress in this village has gone well. However, as the Yi traditional New Year is in late November, the stove project has been temporarily suspended and will resume in early December.
First visit to the New Village and Project Proposal Discussion: In late October, at the recommendation of the Poverty Alleviation and Resettlement Office (PARO) of Xide County, DORS project officers followed the PARO officer to Hongxing Village of Lianghekou Town and Saluo Village of Guangming Town to access the needs of fuel efficient stoves. Both villages' cadres and villagers were interested in this project.
Early November, DORS and Hongxing Village cadres discussed the stove project implementation action plan, and finished the project baseline study.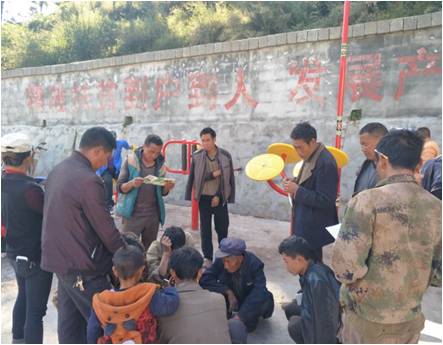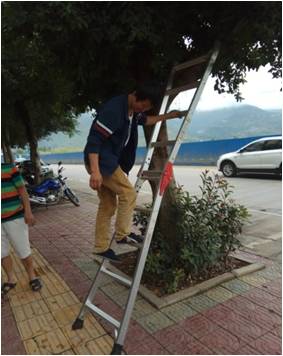 Xide County Hongxing Village Discussed the Stove Project Villager Selected the Ladder
Other Projects
Ladder project for walnut harvest in Daying Village of Pianma Township
In November, for better walnut picking, tree pruning and other management work, villagers proposed to buy rigid ladders. Villagers' representatives and DORS project staff had chosen the supplier after inquiring with different suppliers. This project much more focused on the ladder quality, safety and practicability, so it took more time than our expectation after several rounds of discussion. The project cost a total of 35,120 RMB to support 74 households to buy the ladders, of which farmers were responsible for half the cost of ladder and DORS subsidized the rest.
By the end of November, the ladders have reached Hanyuan County. We will deliver them to the villagers and provide training on how to use them.
Micro loan project for Poverty Alleviation
We have received the loan in total of 31,608 RMB during October and November, the repayment rate was 100%. 2 households received loan of 60,000 RMB from DORS.
Culture construction project
Yi traditional New Year Celebration
In order to enhance community cohesion and improve the relationship with villagers, DORS staff and Tazishan villagers celebrated the festival of Yi traditional New Year on 16th November.
For Yi people, the Yi traditional New Year is a particularly important day, slaughtering of pigs and sheep in all households. All people invited us to have dinner with them. After dinner, we called for all villagers to dance with the Yi dancers. Lots of people joined in and some were wearing their Yi clothes. After the Yi dancing, our school children presented all people with cheerful modern dances such as "little apple" "seventh princess". The celebration ended with the dancing which was received well by all the people. We believed that the two communities are getting better with the good cultural environment.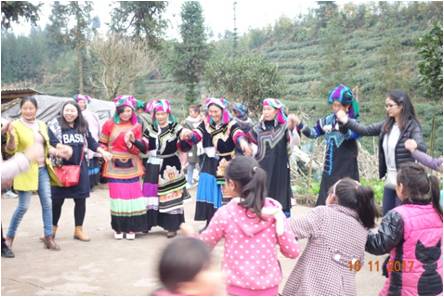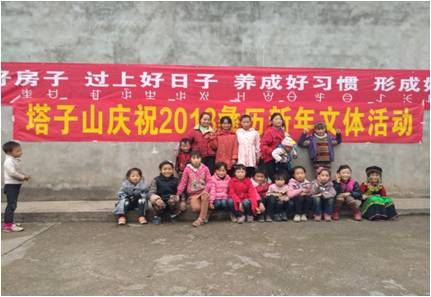 Yi Traditional New Year Celebration in Tazishan Community
Learning/Exchange/Contact/visit
Learning from others
The annual trustees meeting of Poverty Alleviation and Development Association of Sichuan (PADAS): In late October and upon invitation by PADAS, DORS manager Li Maohui attended the 2017 annual trustees meeting & workshop on taking targeted measures for poverty alleviation case editing. At the meeting, many of them mentioned DORS and gave very high appreciation of DORS works. Limaohui also updated the Xide county project progress with Mr. Guotaiquan - the PADAS secretary-general. DORS also invited him to visit DORS project in Xide County.
Eagle Project Middle training: Our two youth staff members, Wangliaolu and Lujiaming attended the Eagle Middle training which was provided by Youcheng Entrepreneurs Poverty Alleviation Foundation in late October. The training covered: project management in social community, township role in development, action investigation proposal, research paper writing and disaster response and risk investigation. DORS Project manager Limaohui also received an invitation to attend the training on "Disaster Response and Risk investigation"
2nd phase PRA training in November: Following the first phase of PRA training in May this year, 5 staff of DORS participated in the second phase of PRA training held in Shifang of Ddeyang city from 3rd to 7th November. 8 senior teachers from Sichuan were invited to provide training in the seminar on the topics of participatory project management cycle, facilitator skills, conflict management, community work and so on; The lectures were interesting, lecturers and participants were very serious during the training, and we received a lot of advice. All of us will go back and use the learned knowledge to work in the field and better work in the social community. This is also our mission. (see picture below)
Kadoorie Charitable Foundation (HK) Visited DORS
On 24th Oct, Kadoorie Charitable Foundation (KCF) Director Christopher Lavender and project manager Polly visited DORS project villages: the Chalin village of Pianma Township of Hanyuan County and Tazishan and Daping villages of Minjian Township of Yingjing County.
Chalin village is one of the projects KCF funded in 2000, it has been 17 years since Christopher first visited Hanyuan. DORS Chief Representative Guoyumei, Project manager Baishihai and Poverty Alleviation and Resettlement officer Mr. Zhang accompanied the visit to the Chalin projects: forestry project, road project, fuel-efficient stove project, biogas project, micro loan for poverty alleviation project and post disaster reconstruction project. During the visit, Christopher also talked to villagers randomly to see the impact of projects. Before leaving, Christopher talked to all of us including villagers: we were hugely encouraged by the impact the projects have had. After 17 years, he felt that all Kadoorie's support had been worth doing.
The Yi women's income generation project at Tazishan and Daping villages in Yingjing County started in March 2015. This was the second time Polly has visited here while it was the first time for Christopher. DORS Guo Yumei, the director of local county Poverty Alleviation & Resettlement Bureau, and the Secretary of Minjian Township Government accompanied the visitors to see projects in the two villages: chicken raising, pig raising, fuel-efficient stoves and kitchen sanitation projects, drinking water projects, kindergartens etc. In addition, a women's health program entitled "Heart Disease and Lung Disease" was held in Tazishan village. After the activity, Christopher, Polly and village women had a face-to-face discussion. All women expressed their views and feelings of the project.
After 2 days visit, we had a project review meeting with KCF and other project representatives. Christopher said: 'I have visited so many different integrated development projects in China over the last 20 years and while the impact in others is also very good I have to say that our projects with DORS are among the very best. The teamwork with the Poverty Alleviation Office, local government and the community is impressive – and it is clear from what was said – and the body language - that DORS is justifiably widely respected. This is in no short measure due to the hard work, compassion and commitment of you and the dedicated staff."
We heartily thanked Christopher and Kadoorie for their support for DORS work.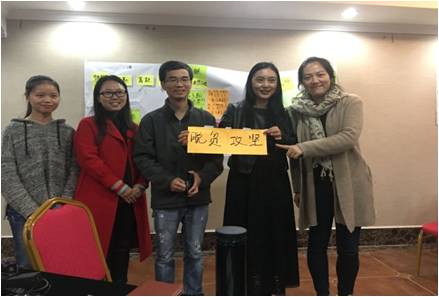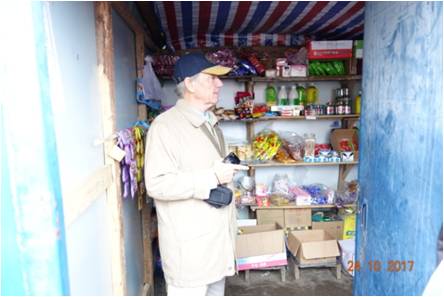 DORS staff participated in the PRA 2nd phase training Christopher visited the grocery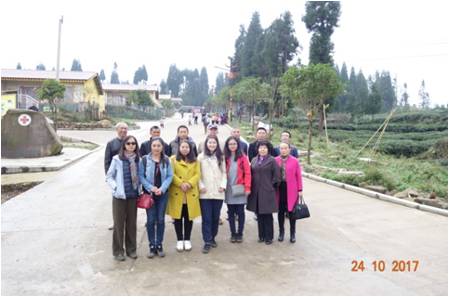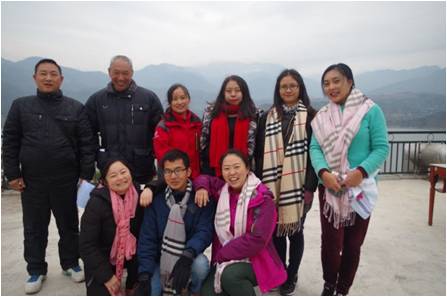 Group picture with KCF DORS Team Building group picture
DORS Team Building
On 23rd November DORS conducted a team building exercise: winter game. Team building is a collective term for various types of activities used to enhance social relations and define roles within teams. After the exercise, we all work together to analyse the SWOT and make a good conclusion. We believed the next team building will do better. (see above)