Jul / Sep 2019No. 147
29th December 2019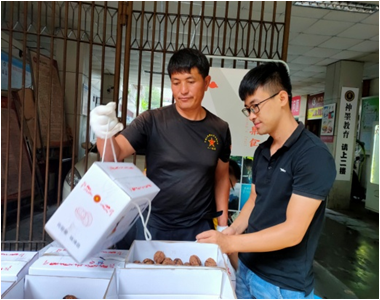 Walnut Sales Exhibition in Nanmenqiao Community in Xindu District
Signing up for the Third Income Generation Project in Machang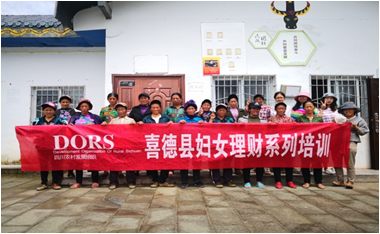 Dors Staff and Trainees after the Finance Management Training
Project Progress
Marketing Project in Piana Town, Hanyuan county
Walnut Management
In August 2019, DORS discussed the necessity and potential training methods for a walnut management technology training with the technical service teams of each village in Pianma Town. One of the reasons for the so far poor management was concluded to be the belief that the investment in training was greater than the benefits. There is already some good practices in walnut management since some families decided to work the business together as a family instead of leaving their homes to work outside the county. These families base their ambitions for higher incomes on walnut farming and put significant effort in it. Everyone agrees that the most important part of technical training is to sort out the consciousness of people. Even though not not all need to join a formal cooperative, it is very useful if there are smaller groups of about 10 like-minded people, discussing and improving their walnut management techniques together. Based on these ideas, we and the village technical service teams carried out 5 walnut pickings with local residents. 92 households participated in the training. In the next step, we will work with these farmers who are committed to a pollution-free management of walnuts to help them improve the quality of walnuts in Pianma Township by funding them to purchase lawn mowers and pruning shears.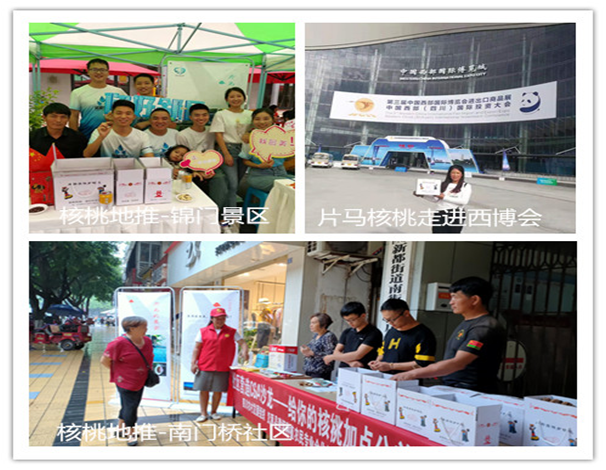 Walnut sales
This year, we continue to use the channels that we established last year to sell walnuts together with villagers. We continue to sell online through Youle, WeChat, Friendship and other channels, while we keep on selling offline as well as through some local communities in Chengdu, wholesale markets and other channels.At the same time, some institutions, companies, and individuals who may have big orders were contacted. In addition to providing packing boxes and promotional materials for walnut sales, the project also provided part of the travel expenses for sales outside the village. We aim to make sure that villagers can participate in the entire process and help in the project. So when we will link and improve all the sales resources they can continue to use these resources to sell walnuts. As of September, the sales of fresh walnuts have come to an end for this year, but we will continue to sell dried walnuts. This year's sales channels and sale show clear improvements compared with last year. By the end of the year, we will be able to share more specific information with you.
In order to promote the sales revenue and the sound development of the cooperative, the project also funds the cooperative so it can purchase equipment for walnut storage, drying rooms, oil presses and fruit selection machines.
Cooperative capacity building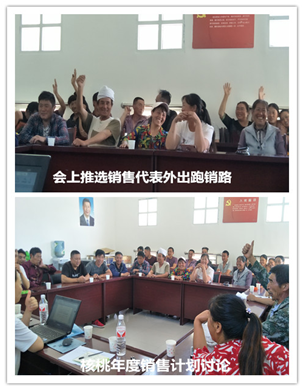 In August, we invited leaders of the local cooperatives in Pianma Township to discuss related issues regarding the selection of sales representatives for cooperatives to go out to sell walnuts and how to find markets. The consultant Li Jie shared his experiences with the supply chain and expanded everyone's thinking. The consultant Wang Zhiwei also put forward his own suggestions and opinions: "I have recently listened to some lessons and shared them with you. For some aspects of the walnut business, specific professional skills of experts are needed. This appears not necessarily practical for you. Instead your strength is the production of good products. How to sell good products at good prices is what people like Li Jie do. Yet, without good products, there is definitely no good price. Our concept of sales consists of both purchases and (re)sales.
When production is well organized and of high quality, then we must take a second step and do a good job in propagating our products and increasingly bring in businessmen. My advice is running in small steps, positioning ourselves as a supplier, a supplier of high-quality products. " After the meeting, everyone had a clearer concept and plan regarding sales strategies and everyone is thinking about it and will work hard for improving walnut sales this year.
Sustainable Livelihood Project in Siguojue Village and Machang Village
Machang Village and Siguojue Village Income-generating Project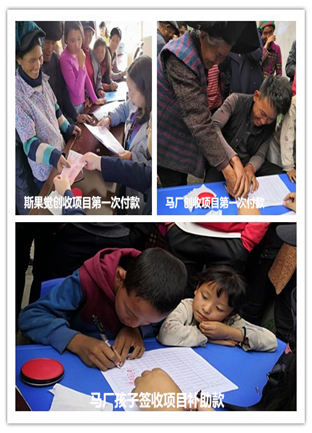 This project aims to fund women's income generation through small-scale planting, farming or small businesses, supplemented by training in breeding-related technologies, health and health knowledge and financial management concepts.
As of the end of September, all three batches of income-generating projects in Machang Village have been checked and accepted and the first round of subsidies by DORS has been paid. Siguoju Village has completed the first and the second batches of checks and then the first round of subsidies are paid by DORS, while the third batch was accepted for registration. Some farmers have not received subsidies because of sickness of the livestock they bought. They also expressed that they understand the project requirements and said that they will buy livestock as soon as possible. Some families also expressed that they will quit this project since the whole family went out to work in a different place.
Of course, there are all kinds of households that do not meet the household separation conditions agreed at the beginning of the project and therefore fail the acceptance. Here we need to spend more time and energy to communicate more with the villagers. When the villagers and village cadres see the DORS personnel patiently visiting households,they can understand and also support our work better. We also continue to receive the good wishes that inspired the beginning of the project, and look forward to the development of this series of projects, which can help the local economic development and environmental health improvement.
Financial management knowledge training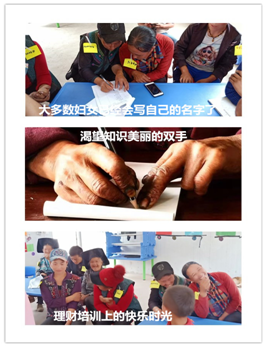 The training of financial management knowledge in both villages is continuing. Although the courses could not be completed in time due to the busy activities of the village facilitators and the busy seasons of the villagers, women who participated in the study still insisted on "using their hands, in other ways in order to learn to write, eager for knowledge after their busy working day". Seeing their gradual accumulation of knowledge and their happy expressions from the heart while studying, we are also very happy to have the opportunity to accompany them to study.
Trials of pumpkin and ice powder
In order to improve and diversify income channels, DORS introduced honey bee squash and ice flour seeds, both of which have relatively high production prices, for trial planting in Xide County and provided villagers with pumpkin and ice flour technical training.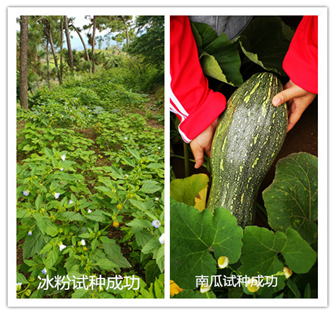 As of September, the planting of pumpkins and ice powder seems to prove to be suitable for local climatic conditions leading to a good harvest. However, because of the higher altitude of Siguojue Village, here the pumpkins tended to rot before they became old. The other village looks more suitable for growing pumpkins. An old mother who tried to plant them in the high altitude village said that she took the young pumpkins and sold them for 2 yuan / jin, while an older pumpkin can sell for 6-10 yuan. Despite some initial problems, this years farmers could sell at least 2000 kilos of pumpkins.