Dec 2015/ Jan 2016No. 131
31st January 2016
Project Progress
Yi Women Health and Livelihood Project
Improving Community Water Supply
At the invitation of Minjian township governor Mr. Ni, DORS technician Mr. Bai examined the former water supply system twice in December and January. He believed the water shortage could be caused by several reasons: 1] Air or rubbles or other stuff stuck in the pipe have jammed the water flow. 2] Pipes are not properly connected which reduces pipes' bore size. 3] Daping community is in the vicinity of the water tank that the elevation differences are insufficient to pump water into the community when households from lower elevation are supplied. 4] As it was Spring Festival time, many migrant workers had come back to the community which increased water consumption dramatically. The expert from Yinjing county water bureau agreed with Mr. Bai after his field survey.
With the help from Yingjing county water bureau, the Minjian township government repaired and improved all the water supply systems in Daping community. They added 2 new water sources, optimizing the outlet pipe layout of the detritus pit at each point, evacuating air from the pipe. The total amount of water supply had increased after the maintenance yet still failed to meet current demand. We discussed a new plan with Mr. Ni: 1] Add one new water source from a 100-meter-away river full of water. 2] Replace all the interfaces in the supply system to reach its full capacity. 3] Build an independent water supply system for Daping community.
Livelihood - Chicken Raising
DORS finished the baseline study in Tashan and Daping communities in December before devising the chicken raising project plan for women. The study shows 42% of the households in the communities raise chickens, out of which 93% are indigenous chickens brought from Liangshan. Chicks are hatched from eggs reserved by villagers. Currently each household keeps 15 chickens on average for private consumption or religious rituals, only 3 households keep more than 50 chickens for sale. 92% of the raisers purchase corn to feed chickens as they don't possess any land. The price of the chicken could reach 90yuan/kilo and is well received, but the heavy cost of the corn has taken much of the profit. Also, the project seems unable to benefit all households due to field limitation. A possible solution is to reduce the corn cost through wholesale purchase and also to provide skill training, making several households with field, experience and interest, a pilot project.
Livelihood - Yi Embroidery
DORS deliberately studied the Yi embroidery market, hoping to increase income resources for villagers. We found Liangshan Nuosu Culture Investment Ltd on the internet. This is a company committed to employment support and training and the development of Yi embroidery production. It's main products and training includes traditional Yi garments (casual, festival and wedding occasions), handicrafts (Yi style notebooks and jewelry), traditional lacquerwork training, etc. We plan to visit the company and study its products and training.
Capacity Building - Villagers Visited Project Village In Hanyuan County
In January 4 villager representatives from Tashan and Daping communities attended the Rural Entrepreneur Training Initiation meeting in Hanyuan county, during which they visited DORS project villages in Hanyuan county, taking part in the experience-sharing meeting of the micro loan project.
Micro Loan Project
Progress on Loan Disbursement and Repayment
After the disbursement of the first batch of loans, DORS immediately started home visit investigation, loan application review and disbursement of the second batch. The disbursement of the first batch ended in January, a total of 642,000yuan in loans was lent to 29 families from 4 villages, and 52% of the families were Yi people. Most loans were used for crop farming or livestock breeding. A few families used it for opening a small shop or other businesses. Loans were repaid by month or season. By January 29th DORS had received 81,754yuan of repayment and 4831yuan of management fees.
After the first seasonal repayment, DORS held a meeting for all borrowing families in Daying village. They voluntarily told their entrepreneurship stories, sharing their experiences and previous distress, inspiring everyone to use each and every penny well.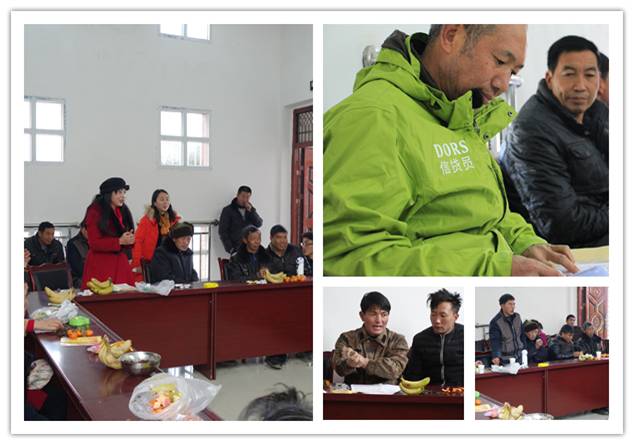 Rural Entrepreneur Training Initiation Meeting
In order to help debtor families to manage their projects, Mercy Corps had applied to Master Card for the Rural Entrepreneur Training Fund. This project also provided a training opportunity for ethnic groups in other counties of Ya'an city. Mercy Corps and DORS initiated the project in Hanyuan county. In January. villager representatives from Yingjing and Hanyuan county attended the initiation, and participants of microloan projects shared their entrepreneurship stories at the meeting.
Rural Energy Project
Fuel Efficient Stove
Based on villagers' needs, DORS proposed a Fuel Efficient Stove project to a philanthropist from Hong Kong and signed a project agreement in January. The project will fund 500 fuel efficient stoves in an impoverished rural mountainous area in Sichuan province, making a contribution to soil and water reservation, mudslide reduction, childrens' and womens' health protection and womens' labour reduction.

Learning/Exchanging/Connection/Visit
First Visit To Project Site In Xide County, Liangshan Prefecture
DORS planned to extend its work to Xide county in Liangshang prefecture. Having contacted Xide County Poverty Alleviation and Immigration Bureau, DORS visited the 3 villages the bureau had suggested. The visit was to obtain more information needed to finish the project proposal. We want to express our deep gratitude to the Xide County Poverty Alleviation and Immigration Bureau for their warm reception and the whole visit.
Project Director of Mercy Corps (China) Elena Buryan Visited DORS
At the end of January, Elena Buryan visited DORS office in Hanyuan county. DORS vice director made a presentation to her of DORS work in Sichuan province. On a field trip to Daying village, she was also shown the results of years of DORS work there.
News And Information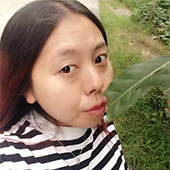 DORS welcomed a new staff member, Shenji, a Hanyuan local girl of Yi ethnicity, who graduated from Liangshan Health School, majoring in nursing. She had worked as a nurse and now, as a new staff member with DORS, she wants to help lift our villages out of poverty through her efforts and study. She is mainly responsible for the Yi womens' health and livelihood project in Yingjing county.