Oct/ Nov 2014No124
1st December 2014
Sustainable income Generation Projects:
Daying Village and Ranmo Village Moyu Crop Project Evaluation

In July, rainstorms continued to hit the Ya'an County causing serious mud slides and collapse of land: most of roads were blocked. We had to postpone the Moyu Crop project assessment to October in Daying village and Ramon village for DORS staff safety concern. Every village project was evaluated by a group of people consist of villagers from another project villages and DORS staff, which aimed to provide a platform for villagers to learn about the experience from others as well as how DORS assess the project by the cross check. Daying and Ranmo Village Moyu Crop project evaluations were done in this way, one of project village cadres told us: although villages are not far away from each other, we seldom communicated with other project villages. This is a good opportunity for us to learn from each other, we hope DORS give us more opportunities to participate in the evaluation work in the future.
DORS paid for the Moyu crop project funds to the 4 villages in Pianma Township after the assessment. We also appreciated the work our villagers have done to accelerate the project progress. (Left picture: Project participant showed the harvest Moyu fruit; Right picture: A management team member was checking the size of Moyu crop field in Ranmo village.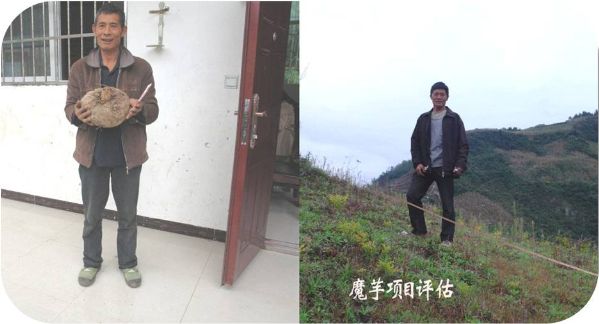 Post earthquake Reconstruction Project:
Activities of the "Colorful Childhood-The Innovative Micro Fund" in Minjian Central Primary School

In October, an activities proposal was submitted to DORS from Minjian Central Primary School. The proposal was prepared by 5 teachers and had been revised according to the requirements. We appreciated our teachers' conscientiousness and support for DORS work, besides that, we were also impressed by their devotion to the education and their affection for the children.
In November, together with Minjian Central Primary School, the project activities were selected according to the school condition and needs. We paid for the activities fund, and the activities are in preparation progress now. We are looking forwards to the performance in the end of the semester.
Educational Activities in Tashan Community (Ⅲ)
—Yi culture promotion

DORS conducted the third round of community activities in Tashan of which the topic was" Yi culture promotion".
We offered the children the opportunity to explore the most pressing issues of Yi culture of our time through the Yi dancing, building structure, special clothes, unique crafts and customs . We discussed the legends and the culture of the "Yi Torch Festival", and then the children showed which was their favourite festival by drawing pictures on the paper. Most of the pictures were of Yi housing, dancing and food to demonstrate children' love and expectation of their ethnic culture. Every child was keen to present us with their work. The activity ended up with children singing the local "Toasting Song" happily.We look forward to seeing people in Tashan community dressing up in Yi clothes to dance and sing around the bonfire to celebrate the Yi festivial.
We were impressed by the children also we only provided them the platform. We witnessed their laughter and efforts in this activity, which also inspired us to have a joyful attitude. For sure, the children have learned a lot and will promote the Yi culture in the future and they will work well with Yi people in the future, which is also one of our objectives in this project.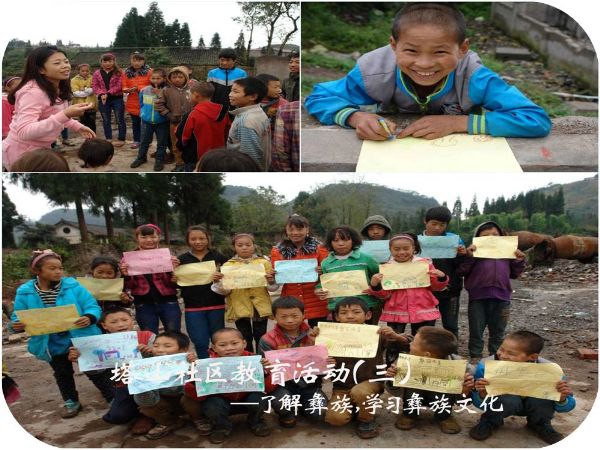 Educational Activities in Tashan Community(Ⅳ)
—My tea plantation and me

We launched the fourth round of activities which took place on November 30th,and brought together children from Tashan community to participate in the programme. The theme of the activity focussed on tea plantations and tea culture, and was designed to teach children about the production of tea on tea plantation. They also learned how tea relates to their lives and how different types of tea are distinguished by certain human characteristics.
We brought the children to a tea plantation and let them observe the tea and the surrounding environment carefully. All children felt tea leaves with hands , smelt tea flowers close to their noses. They told us the tea bushes look like large umbrella. They loved the tea plantations and would like to live here. These Yi children live in remote mountainous area and help parents to pick tea buds at an early age,and they have learned hardship in life. In children's opinions, their lives are closely related to tea plantations. They know that tea plantations generate income for families, picking tea buds is a kind of practice to make their fingers flexible, they are proud of living on the tea plantation. They also showed us their tea picking skills. We took pictures of them there, and wished them good luck.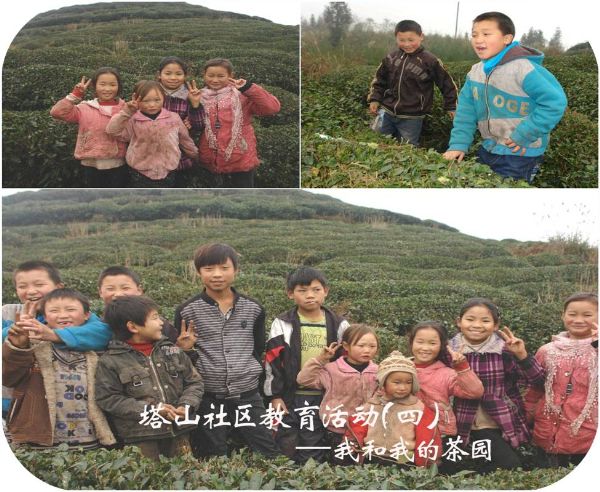 Rural Energy Project:

In October, DORS received a proposal from Malie Township government.to build fuel efficient stoves in Sanping Village. We decided to conduct a pilot project in Sanping village after discussion. The baseline study was finished in November, at the same time, DORS held discussions with the village committee and participants to get more information. DORS project officer Mr. Bai explained the project process, materials and techniques needed and general safety knowledge in detail to villagers. Together with the Sanping village management team, DORS planned to start the project before winter season.
For this rural energy project in November, DORS evaluated all the 6 built tanks of the first batch bio gas project, 10 stoves of second batch of fuel efficient stove project in Jiatuo village. 25 fuel efficient stoves in Wanping village and 10 in Chalin village, as well as 23 stoves in Wanlin village and 21 in Huodi village. All villagers are satisfied with the stoves.
Project Progress

save time, labor and energy, protect environment and improve health

Project Name

Village Name

No. of Contract

Finished

Unfinished

Evaluated

Notes

Fuel efficient stove

Sanping

4

0

4

0

under construction

Shanshu

44

0

44

0

under construction

Heai

16

16

0

0

evaluated

Wanjia

39

17

22

0

under construction

Hengshan

6

6

0

0

evaluated

Huodi

21

21

0

0

evaluated

Huodi
2nd batch

25

21

4

0

under construction

Wanlin

23

23

0

0

evaluated

Shiquan

8

8

0

0

evaluated

Jiatuo

10

10

0

0

evaluated

Pianma

8

8

0

0

Await evaluation

Fuyin

31

31

0

0

evaluated

Wanping

25

25

0

0

evaluated

Chalin

10

10

0

0

evaluated

Ranmo

46

45

1

0

Await evaluation

Daying

38

38

0

0

evaluated

Bio gas tank

Heai

2

2

0

0

evaluated

Wanlin

1

1

0

0

evaluated

Wanjia

42

14

28

0

under construction

Huodi

25

25

0

0

Await generating gas and evaluation

Jiatuo

6

6

0

0

evaluated

Jiatuo
2nd batch

5

5

0

0

Await generating gas and evaluation
Learning/Exchange/Visiting:
Misereor Project Officers Visited Project Villages in Hanyuan County

We were happy to receive project officers from Misereor Development Foundation (MDF) who visited DORS in late October. During the visit, DORS accompanied them to Huodi, Hengshan and Wanlin villages in Nimei township, to check the progress of the integrated development project as well as review the project effectiveness funded by them. In their simple words the villagers told them about the changes that had been made in their lives due to the projects. Misereor project officers were content with the project effectiveness and gave some suggestions for future projects. They highly appreciated DORS work, especially the DORS' financial management to keep clear records of every expenditure.
DORS would also like to express their gratitude to Misereor for their long term trust and support for DORS, and for their help for the disadvantaged groups and charities in China.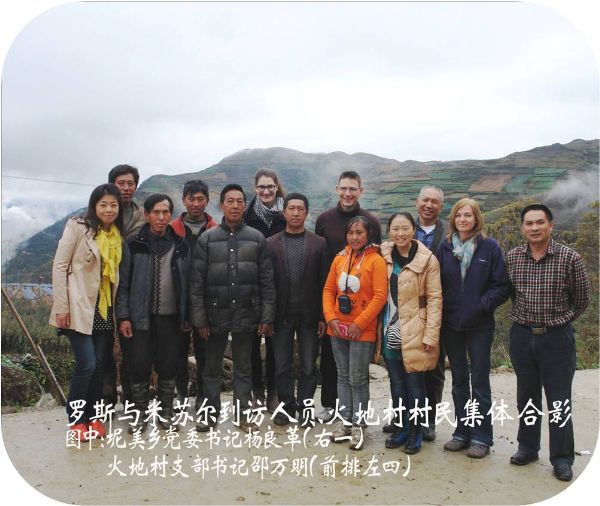 Renewed cooperation agreement with Poverty Alleviation and Immigration Bureau of Sichuan Province (PAIBS)

In October, DORS renewed the cooperation agreement with PAIBS, the partnership will be lasted for 17 years. We are happy to continue to work with PAIBS of which not only help DORS to raise fund but also meaning a confirm and encouragement to DORS 17-year work. We expect both sides to strengthen the cooperation to work closely for the poverty alleviation in Sichuan province.

DORS Visited the Poverty Alleviation Association of Sichuan (PAAS)

In October, DORS director Rose and project manager Li Maohui visited Poverty Alleviation Association of Sichuan . We would like to thank them for their consistent concern and support.

DORS Visited Poverty Alleviation and Immigration Bureau of Yaan City

DORS director Rose, project manager Li Maohui and administrative assistant Sang Linzhi visited Poverty Alleviation and Immigration Bureau in Yaan City on October 29th, 2014. The bureau director Fang Yixiu introduced Rose to all the staff and appreciated her contribution to poverty alleviation in Yaan City. Besides that, Director Fang also expected DORS to keep in contact with the city bureau and invited Rose to visit China more. He asked for DORS newsletters and they will put them onto the bureau's website.

DORS Visited Hanyuan County Government

On 31st October, DORS director Rose and project manager Li Maohui visited Hanyuan County government. The county leader Mr. Xugangping, vice government leaders Ms. Pu Danhui who is in charge of agriculture and Mr. Xin Shuncai who is in charge of ethnic minority work, and the vice-director of the county poverty alleviation and immigration bureau attended the meeting.
Mr. Xu welcomed DORS and Rose, and expressed his appreciation to Rose's work to China and DORS' work to Sichuan. Li Maohui first presented DORS current projects to all governors, and Rose introduced DORS' future work plan, and told them that DORS wants to receive more support from the local government, especially the government counterpart funds to the new projects. Ms. Pu said, the objective of DORS and local government on poverty alleviation is the same, building an effective communicating mechanism between DORS and local government is necessary and the PAIB can and will work with DORS to implement some project in the future. Mr. Xin was very interested in DORS' work on ethnic groups in Hanyuan, he said DORS' working methods and effectiveness of project are good for local government to learn, he hopes DORS to work more for the minority people in the future. To finish, Mr. Xu told DORS that local government will provide support for DORS' work and hopes DORS can cultivate more rural development talents for local area.
Afterwards, the government officers visited DORS office and offered suggestions on future work.
We want to thank governments of all levels for their concern and support as well as those who accompany us to work on the poverty alleviation.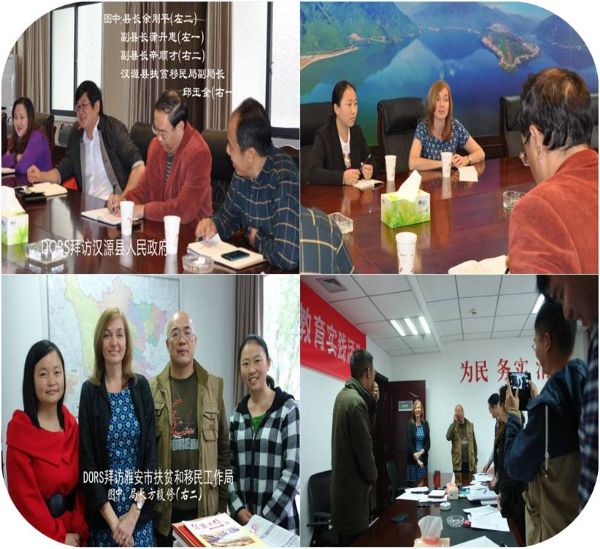 Inside DORS:
DORS Director Rose Acock Visited China

In October, DORS director Rose visited Hanyuan again, and worked with DORS staff to review the strategic plan set up last year. They also drew up a new strategic plan and working plan for the coming year. Rose and DORS key members visited some of government officers from different departments related to our work in provincial, municipal and county levels, to introduce DORS work and exchange ideas with them. During her stay in Hanyuan County, Rose went to previous project villages and particularly paid a visit to our new project sites in Yingjing County, the Tashan and Daping Yi people community. She gave us a lot of advice on the education project in Yingjing county.
News and Information:

With winter season coming, we wish you happy holiday and a good harvest by end of the year.