Dec / May 2017No. 137
31st May 2017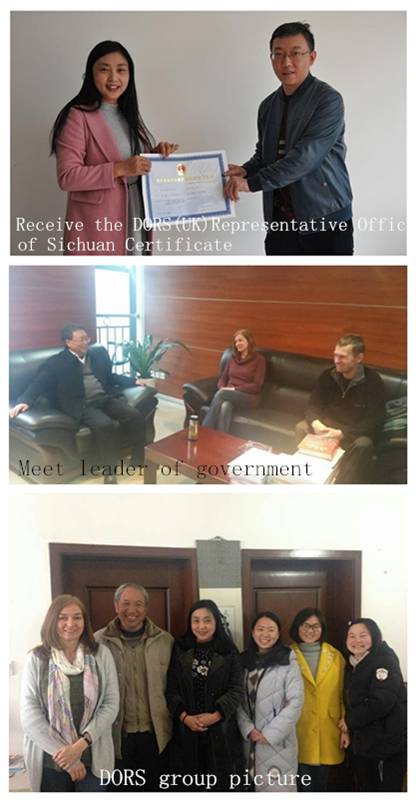 Organisation Status
Receiving the certificate of DORS (UK) Representative Office of Sichuan
Since the "Law of the People ' s Republic of China on Administration of Activities of Overseas Nongovernmental Organizations in the Mainland of China" was efective, DORS carried out all activities and registered according to the law and its procedures. With the support from Poverty Alleviation & Migration Bureau of Sichuan Province, it became to DORS' competent authority to supervise DORS implement projects in Sichuan. In March 2017, DORS applied for a representative office in Sichuan and this was finally approved by the Public Security Bureau of Sichuan Province on 1st April 2017 and received the register certificate, the full name is:Development Organisation of Rural SIchuan (UK) representative office of Sichuan. Only 2 institutions received the cetificate in the first batch application. As one of the first batch institutions receiving certificate, DORS Social credit Code is G1510000MCW0420509. This is also a recognition for DORS work, which is also a new milestone for DORS.
On April 1, 2017, The Overseas' NGO Management Office of Public Security Bureau of SIchuan arranged a small ceremony in the centre of Division of Exist & Entry Administration Department of Chengdu for the first 2 institutions which were registered in Sichuan. The 2 institutions (including DORS) received the registration certificate and representative documents in the ceremony.
The certificate means the government's trust, DORS will carry out activities in accordance with the law strictly, and keep on its mission on poverty alleviation, providing the professional service to villagers in poverty areas. Hopefully the villagers of remote mountainous areas will have great changes with the support from government and other social institutions.
DORS strategy planning meeting
In late February, Rose visited China again to work on the issue of DORS representative office establishment. Thanks to her for her great contribution so that DORS can successfully receive the certificate! She also assisted us in drawing up a DORS' 3 years' strategy planning and had a deep discusion about DORS vision, mission and organisation's value and the current projects situation.
On 2nd March, Mr. Wang Sitie, director of Project Centre of Sichuan province and Poverty Alleviation & Migration Bureau of Sichuan Province met Rose and DORS staff in Chengdu.
Mr. Wang said, 'It has been over 20 years since DORS was set up in 1996, Ms. Rose leads DORS to work in Hanyuan county and is dedicated to Sichuan's poverty allevation. We thank you for your great contribution.'
Rose said: "China's work on poverty alleviation has great meaning to the world and DORS team has the willingness to participate in the poverty alleviation work. We hope to provide our help to people in need. On behalf of our team. Thank you for all the support that has been provided to DORS from your side.
Energy and Environment Protection Project
Fuel Efficient stove Project
The construction of the first batch of 4 demonstration fuel efficient stoves was completed in Xinhua Village of Malie Township and we will continue to provide more stoves according to villagers' requirements. 14 stoves were completed in Sanping village and a stove builder was trained in this project.
Micro credit for poverty alleviation project
In January, DORS held an annual meeting on micro credit for poverty alleviation for 2016 in Pianma Township of Hanyuan County. The aim of the annual meeting was to conclude the project, share project experiences and to promote the micro credit policy. Most of the loanees participated in this project, and shared their happiness on the changes they had from this project. They all hoped to hear that this project would contiue in Hanyuan county and would have more chances to receive training on finance, management and marketing issues.
Villagers need lots of cash during Spring Festival compared to other seasons. Therefore, it was also the difficult time for villagers to pay back our loan. Most of villagers would go out to cities and towns to find a temporary job so that to get some money to repay our loan. We are working on helping villagers find more income resources in the village
By the end of May 2017, DORS has delivered 68 loans of RMB1787000 to villagers, and received principal of RMB1498000.
Micro Credit project case sharing
Mr Ping and Mr Gang are brothers whose father passed away and mother is mentally ill. The brothers had taken care of their mother since they were young. Mr. Ping's wife left him due to the poor condition of the family. He married again in 2015. Mr. Gang hasn't married due to the poor condition as well.
In October 2015, Mr.Ping wanted to expand this beef cattle raising after attending the training arranged by DORS. He approached DORS and applied for a loan. After household investigation, credit evaluation and team agreement, he received a loan of RMB 30000 from DORS for his project
Mr.Gang is Mr. Ping's young brother, who sold fruit and vegetables in Hanyuan and Ganluo Counties. He also wanted to expand his business through increasing transportation and wanted to change his motorbike for a small van. When Mr. Ping heard that his young brother was bothered by lack of money to expand his business, he recommended DORS to him. His brother came to DORS office with Mr.Ping to complete the loan application information. With Mr.Ping's guarantee, Mr.Gang also received a loan of RMB 3000 from DORS to expand his business.
Mr.Ping used the loan to raise cattle, but due to it taking too long to get the money back from cattle, he decided to change his business to transportation. He is now working in his uncle's project to transport construction materials.
In February 2017 we went to vist Mr.Ping, but he was not at home. His wife told us that he is doing very well in working on construction materials transportation. He has earned RMB60000 last year although he only got RMB10000 due to the project hasn't finished. Mr.Ping is working in Suxiong county. His wife told us ' No one would lend us money due to our income situation and we also have a mother with mental disease. We couldn't buy the van without DORS loan. Now, we have the third child, I have to stay at home to take care of 3 kids and my mother, the whole family is relying on my husband.'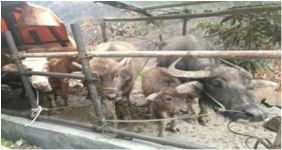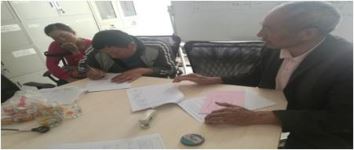 cattle bought using loan sigining application form for micro loan
Sustainable Income generation Project
Chicken demonstration project in Yingjing County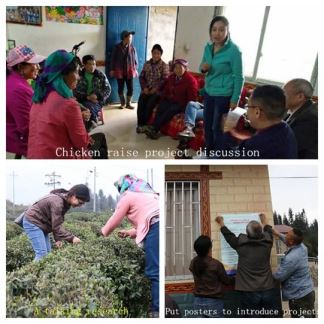 The chicken rearing project was completed and Dors has conducted the evaluation. All participants could earn at least 300 RMB, and the best one earned 824 RMB from 20 chickens. All of them also have 2-3 chickens for self-consumption. For local women, this project not only can earn some money for daily use but also provide nutrition for family health. 2 participants continued to raise chicken by using the money earned from the project. Mr. Li said ' I prefer to raise roosters which can earn more money by selling, the hens can't have good price in the market.' You can see that all participants gained experiences from this project . Villagers of Daping and Tazishan had different ways to raise chicken. Villagers of Tazishan preferred to raise chickens around their house as the tea garden is far from where they live and may require a lot of time to take care of chickens in the tea garden.
Yingjing County grant project
In order to best use available resources around the tea garden to improve women's livelihood, we have developed some small and easy projects together with women, which are planting, livestock raising and small business. DORS will provide cash for free to help villagers in need in Daping and Tashan village to implement the project. The procedures of the grant project are: project mobilization, attending income generation training, application, project evaluation, and project starting. Each household has equal opportunity to apply for the project, the grant amounts to 70% of total project budget. The proportion will change for the poor household (higher than 70%), but the ceiling is 5000 RMB. The income generation training covered: project advantages/disadvantage and opportunities/challenges analysis and cost accounting etc. Households should know how to do the cost balance for their own project after the training.
In April, We posted 6 posts about grant project in Daping and Tazishan communities. We have received some application after the mobilization. Most of the applicants from Daping village want to raise chicken, and the local government also agreed with it. DORS discussed with local government about how to work together to reduce project risk to support villagers.
The first batch of 5 villagers proposed to use the grant to raise pigs for their income generation project, among which 4 wanted to raise sows for breeding, and the other one wanted to raise pig for selling. After discussing with these 5 villagers in details, a final decision of supporting them to raise sows was made. In May, DORS went to the village again to work with them to analyze the risk and management restriction and draw up a regulation for this project. A team of these 5 villagers was set up to help each other and share information.
Health Project
Yingjing Health Education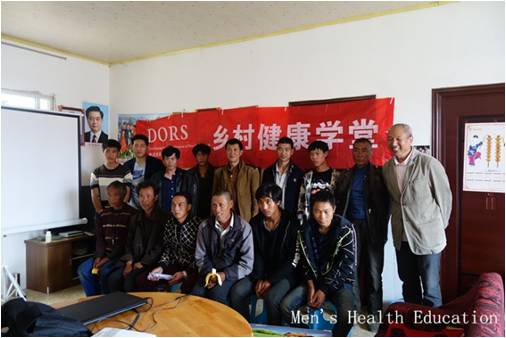 In order to improve villagers' health awareness we had delivered about 100 health posters in Daping and Tazishan villages.
DORS organised 2 activities for men's health in Tashan and Daping Communities in April. The events covered the AIS prevention, how to use condom (to raise the awareness of the importance of contraception ) and how to prevent some normal diseases in daily life such as hepatitis.
Lots of men went to town to look for jobs during this season, but most of villagers at home participated in the activity. Most young men understood and know the importance of contraception, but some older men were still averse to using condoms.
Learning/Communication/Connection/Visiting
Participatory Rural Appraisal (PRA)Training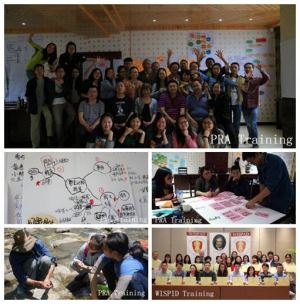 In May, DORS staff attended a 7 days training on PRA in the Nature Reserve of Tangjiahe of Sichuan, which was initiated, funded, coordinated and organized by the PRA working institution in Sichuan province. 5 Senior trainers first provided the PRA project evaluation and tools training, and then all participants practised by using the tools. The training helped us improve our skills for our works. DORS also has the potential to improve its work. The training also reminded us that a professional team is very important for our project stakeholders.
Wilberforce International School of Poverty Alleviation and Development (WISPAD) Training. In April,4 staff from DORS attended two weeks training which was organised by WISPAD about the organisation stratigic planning, project management and project accessment. Over ten institutions from different fields joined in this training, each of them analised the current strength and disadvange of their institution and shared their views on how to improve it. DORS staff caught the meaning of the institution strategy and how to build up the strategy through the training. The training also showed all the participants how to manage projects systematically, how to better control the problem during project management and so on.