Oct / Dec 2019No. 148
31st December 2019

Youth Entrepreneurship Project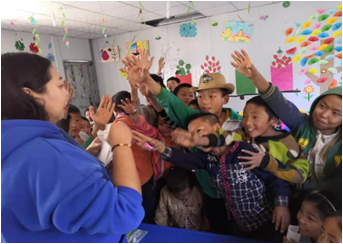 Health Training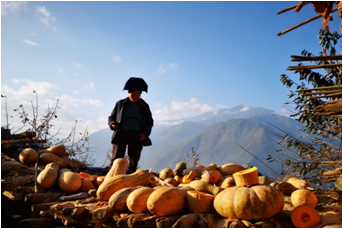 Harvest Pumpkins
Project Progress
Marketing Project in Pianma Town, Hanyuan countyMarketing Project in Pianma Town, Hanyuan county
Walnut Sales
The sales of fresh walnuts came to an end at the beginning of October, but the sales of dry walnuts and walnut oil continue. Compared to last year the sales channels and volume have both increased, improvements are summarized below:
• Taking part in 3 promotion activities in Chengdu, selling a total of 1430kgs of walnuts on site at an average price of 16 yuan/kg, with a profit of 6 yuan/kg.
• Selling 3150kg of walnuts through e-commerce channels such as Youle Platform, Wechat, etc, averaging 12yuan/kg.
• Parties involved in cooperative exchange meeting and e-commerce training have sold 100,000kg of walnuts by means of introducing travelling merchants from outside the village at an average price of 4-12yuan/kg.
• Providing 320 1.5kg,1760 2.5kg, 2480 4kg walnut packing boxes for villagers who took part in the e-commerce training.
• Opening two shops on two nationwide e-commerce platforms.
• Participating in the Western Exposition, enabling the walnuts from Pianma to enter a bigger market. Previously we merely watch products of other participants, this year we had our own products exhibited at the Expo which received favourable comments from consumers.
• Continuous support from China Post with preferential postage.
• Continuous support for advertising, printing brochures and copies of trademark, etc.
• Gaining permission to use the trademark from June 21st,2019 to June 20th, 2029.
•Carrying out a training on logistics, packaging, quality control requirements and concept of crowdfunding.
Oil Press and Walnut Selecting Machines
In the light of project application submitted by the village, we adjusted the project budget after getting approval from all parties, so that the project component meets villagers' needs. Therefore, more fund is available to support the purchase of walnut preliminary processing machinery.
In August, 2019, Jianping Cooperative finished the inquiry into oil press and walnut selecting machine. The cooperative signed the purchase agreement with DORS after the signing of project agreement, and discussed with all cooperative members the issues about raising money to build an equipment house and labor contribution. Jianping Cooperative set off to build the equipment house in October and every member voluntarily contributed labor to the construction before the house was completed in December and put in use. The oil press house is accessible to other villagers from Pianma village, charging 1 yuan for processing 0.5kg of walnuts.
Cooperative Capacity Building
The Jianping cooperative has gradually developed in a healthy way after a year of assistance, hence it has been invited to attend various activities and training by local government. The name of the director, Li Wengao, has appeared many times in the headline of local wechat accounts as the spokesman of walnut. The government also introduced all kinds of sales channels to the cooperative, asking it to prepare high quality walnuts for high end clients. The cooperative has sold more than 3700kgs of high quality walnuts this year, which is quite an achievement for a newly-founded cooperative to have such execution of wholesales.
Pianma Township Youth Entrepreneurship Project
In order to support the Youth Entrepreneurship Project in Pianma Township, keep young talents in the township and develop regional economy, DORS set up this project to partly fund entrepreneurship projects conducted by youths from Pianma who have the intention of starting up a business or already have their business in progress, free of charge. After putting up posters in villages, advertising and mobilizing and providing trainings, etc, we have received 61 project applications. DORS staff visited all the 61 applicants to investigate. We also invited 5 individuals from a third party as consultants and local government to assess the feasibility, creativity, sustainability and public welfare of the projects. The first assessment approved 12 projects, each of which will receive about 10,000yuan. The entrepreneurship consultant also made comments on all the projects, helping villagers become clear about the strengths and weaknesses of their projects and enabling them to find the most suitable projects.
We suspended the approval of pig raising projects as a result of swine fever, but we saved 8 places for them. After that we visited the households and had discussions with them, monitored the process and evaluated the outcome of the projects before fund was disbursed based on the progress of each project.
In December, we invited Zhang Shuping from Dayi and Wang Zhiwei, director of the Shimian Pingyang Orange Cooperative to join DORS staff as consultants to perform the second entrepreneurship project assessment. After considering all aspects and taking a vote, a shortlist of 10 projects were selected from 49 projects. Contract will be signed after visit to each household and then their projects will officially start.
After the second assessment, the selected households of the two assessments were given training on entrepreneurship. Zhang Shuping shared with participants his experience in setting up a business, lecturing the concept of common prosperity, clear thoughts, precise targeting and analyzing the problems arising during the process. Zhang noted in the training, " The best way to express gratitude is to help a suffering family. When you receive help from others, you learn to be grateful, summarize and grow, and in turn you will help others. It's fortunate for you to have an organisation to support you, which is not available in many other places. The reason why I accepted the invitation to come here at the cost of delaying the signing of a large contract is the solid work and credibility of DORS, which enjoys the reputation in the industry for reasonable project design, fair assessing standards, sustainability and considering the feelings of participants. In the meanwhile, the villagers in Pianma display a positive attitude and the willingness to move forward. I enjoy coming here because of these two aspects." In late December, villagers shared their project progress and experience at the second fund disbursing meeting, as well as the difficulties they came across. A villager mentioned a single mother with two daughters in the village is struggling to lead a better life, another villager present called for everyone to donate some clothes and money to the daughters, every villager had agreed to donate 10yuan each month for a year. It was not long before the project team greeted the family with their first 14 donations(including the ones from Zhang and DORS). We are glad to see the help receivers become help givers, which is exactly what we have been advocating, passing on the love will bring warmth and harmony to the community. DORS has been committed to helping the most disadvantaged group at the project site, which makes meaning and value of our existence.
Machang Village and Siguojue Village Income-generating Project
The project is aimed to fund women to generate income through small scale cultivating, breeding or business. Meanwhile, assistance is provided in the form of training on relevant techniques, health and hygiene knowledge and money management.

First Disbursement Third Project Examination
By December, 2019, the third batch of income-generating projects of 133 households from Machang and Siguojue villages had been completed and examined, after which the first disbursement was made.
As a consequence of the swine fever, we have been concerned about the pigs raised by the villagers. We also try to improve villagers skills and awareness to prevent diseases by training and home tutoring. Despite the efforts, a small portion of funded pigs in Machan died from various summer diseases. However, the price for piglets rose considerably due to the impact of swine fever. An unweaned piglet weighing less than 10kg was worth over 1000yuan, compared to 300huan before. The grandmas from Siguojue and wives from Machang were happy to tell us someone's piglets had been sold for a good price.
Trials of pumpkin and ice powder
DORS introduced a species of pumpkin and ice powder seed to Xide County as a trial project to increase income channels, and both plants enjoy high yield and selling price. In the meanwhile, we provided technique trainings on the plants. From October to December, we made inquiries in many ways about pumpkin purchasers, hoping to find reliable business partners and preparing for the promotion and sales of pumpkin next year.
Human Waste, Waste Water and Garbage Management Training
We conducted two garbage classification activities in two villages in December, allowing participants to understand the fundamental approaches to garbage classification. Later we will discuss whether to build simple waste storage areas, drainage ditches and manure pits.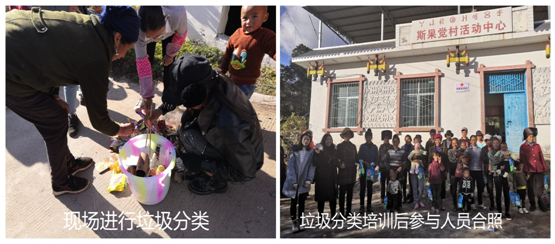 Garbage Classification on Site Photo after the Training
Learning / Communication / Contact / Visiting
No content in this period.