Aug / Sep 2013 No. 117
30th September 2013
Project Progress
Infrastructure Projects:
Daying Village Drinking Water Project implementation plan and maintenance regulation discussion
In the early September, DORS staff went to Daying Village to discuss the drinking water project implementation plan with households of Hamlet2 -Hamlet7. Prior to this, DORS had conducted the baseline study and villagers' need assessment, and checked the project design based on the existing constraints. We then made specific action plan according to each hamlet's situation. To ensure the project sustainability, we established a project management team for each hamlet, and assisted them to draw up a project management & maintenance regulation. In Mid September, DORS visited Daying village again and selected several parts of the pipeline to check whether it matched the standard. We required them to put any incorrect figures right immediately. Due to our hard work over the last 17 years, our projects are running well and we are sure that all villagers are benefitting from them.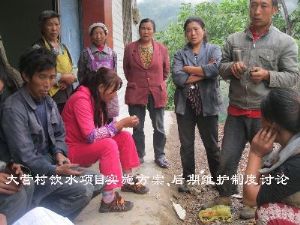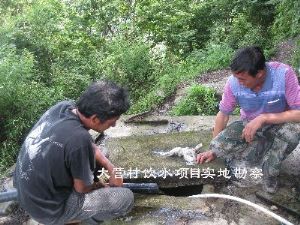 Hengshan Village Court Yard for Yi Minority Cultural Activity
This village is separated into 3 hamlets, all villagers are Yi minority people except 2 households. For Yi minority, the traditional culture is to get together to celebrate weddings, and other festivals, In some cases, it would be hundreds of people gathering in the open space to have dinner or to dance. During rain and winter season, the area gets dirty and unhygienic and causes traffic problems. Villagers wanted to build a court yard for cultural activity, so they approached DORS and asked them to support them. After DORS' meeting, DORS approved the proposal and provided funding for 3 court yards in 3 hamlets.
Project Progress: Villagers have cleaned the space, concrete surface is under construction
Project Period: 15th June 2013--- 25th December 2013
Funding:DORS provided a ceiling fund of 9360RMB for project materials
Assessment criteria:3 court yards with each size at least of 120 m2; the surface is at least of 0.12m thickness of concrete by using cement and sandstone with 1:7; the surface should be flat.
Hengshan Village Tiller Project Follow-Up
The project was implemented in March, apart from DORS' support, local government also promised to provide subsidies to villagers for purchasing tiller in the agreement we signed with Nimei Township. In September, all villagers have received the subsidies from local government, the subsidies were: 1600RMB for each normal tiller and1800RMB for each tiller with large engine. DORS then paid the remainder of the money of 6000RMB for 6 tillers to the supplier according to the contract.
Reconstruct House for Underprivileged Households Project
Hengshan Village: In August, DORS conducted a mid-term assessment for the house reconstruction project in Hengshan Village, 18 households participated in the project. Villagers are aware of the significance of the house quality from DORS previous construction training. They realised that the good materials and construction structure are indispensible to earthquake resistance. This project commenced after the earthquake happened in April, while the materials such as bricks are still in large demand in the market, it takes some time to get enough supplies. Villagers have built the ring beam and now are waiting for bricks to continue the work.
Wanlin Village: Nimei Township Government sent a proposal to DORS applying for assisting two households of Wanlin Village to rebuild their houses. The two households lacked labor force and were living under the local lowest life standard. After investigation, DORS decided to support them.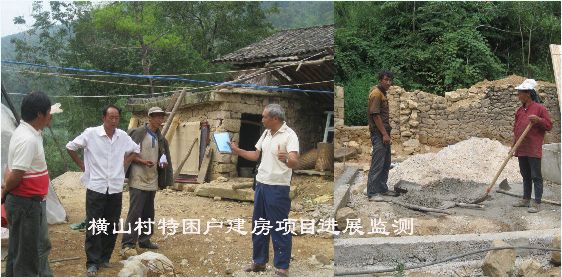 Post Earthquake Reconstruction Project:
Post Earthquake Reconstruction Project in Tashan and Daping Yi Minority Settlements in Yijing County
DORS analyzed all information collected from the baseline study in Tashan and Daping Yi Minority Settlements, then summarized all information into a detailed baseline study report. A preliminary project scheme was drawn up after an internal discussion by DORS
Sustainable Income Generation Project:
Moyu Crop management training for 4 villages in Pianma Township
In Mid September, DORS staff went to 4 villages and provided technique training for project participants respectively. The training was covered by using PPT, video, pictures and games to teach villagers how to select seed, transport and cultivate, etc. Villagers are ready to increase cultivation size.
By end of the training, we had a feedback with trainees. They said the training was easy to understand and they like the way we trained. They also suggested DORS to organise more training according to moyu crop growth in different seasons.
Education Project:
Tuition Grant for AY 2013
In August, DORS staff visited some students' (DORS funded last year) homes to evaluate their financial situation and also collected some new students' information for the coming semester regarding tuition fees support. In September, DORS confirmed with the students whether they will continue to go to school. After the assessment, 83 students have been selected, and the tuition fees have been given to students for them to pay for school. We will follow up this project and do hope the students have a good stay in school. For details, please see the table below )
Grade

Number of Student funded

(boy)

Number of Student funded

(girl)

Tuition fee funded(RMB)

Primary school

18

24

16400

Middle school

4

8

9600

High school

8

6

22400

College

8

7

30030

In Total

38

45

78430
Provide Scholarships for students in Shiquan Village
For most students, when they graduate from primary school, they will go to middle school to continue their study. However, in remote rural areas, children may stop going to school after primary school. In order to encourage rural students to continue their study, DORS offered scholarships especially for students who graduated from Shiquan village primary school in September, to support them to continue study in higher school. The scholarship in total of 4250rmb were given to 1 student from college, 2 from high school, 9 from middle school. The student from college is the first one going to university in Shiquan Village, the whole village people are proud of her. According to DORS Scholarship requirement, she fit the standard and received RMB 1150 to subsidize her school fees.
New Projects:
Rural Energy Project
DORS launched the third round of Rural Energy project in September, which is funded by the same donor. DORS project officer Mr. Baishihai conducted a preliminary need assessment in Hanyuan and Yijing Counties, we will soon implement this project. Here we would like to express our appreciation to our donor, who has been supporting DORS for 6 years. We thank them for their support for Sichuan rural development.
Project Objective:There is lack of energy resources in mountainous areas in Sichuan Province. They can only rely on the firewood for daily energy consumption as they can't afford the coal and natural gas. In addition, in order to reduce the firewood consumption from the forestry, in the last 2 round of rural energy project, villagers have been aware of the advantages of the fuel-efficient stove. Villagers present all showed great interest in the biogas and fuel-efficient stove projects.
Project Period:Nov, 2013—Oct, 2015
Project Scale:400 fuel-efficient stoves, 150 biogases
Project site: Hanyuan county and Yijing County of Yaan City, Sichuan Province
"Loan for people to set up their business" Project Funded by Poverty Alleviation and Development Association of Sichuan(PADAS)
In August, DORS and PADAS reached an agreement to implement a project of "loan for people to set up their business". This is the first project where DORS is working with PADAS since the two parties signed the partnership agreement. PADAS provides funding and DORS is responsible for implementation.
Project Objective:to support people to establish their business so as to provide more job opportunities for locals and to increase their income.
Target Participants:Hanyuan local residents including villagers, who want to and have the potential to set up their own business.
Project period:3 years, starting from 1st Dec 2013 to 30th Nov 2016
Total Funding:100,000rmb
Project Management: the funding is only used for loan, and the beneficiaries shall be selected according to required standard.
Learning/Exchanging/Visit
DORS staff Pu Haoyue attended a NGOs experience exchange workshop in the beautiful city of Xining, Qinghai Province. The topic of this workshop was the sustainable development of NGO, which was to provide a platform for all parties which has partnership with GFC to share their experiences and knowledge, therefore to reach a win-win development. The workshop was funded by GFC and organised by Qinghai Tibetan Research Institute.
News and Information
In order to further better manage and implement the rural integrated project, DORS is recruiting an experienced project consultant, who will be responsible for Integrated project overall plan, agricultural products marketing and to conduct project management training, interested parties, please send your resume to info@dors.org.uk