Aug / Sep 2017No. 139
30th September 2017

Villagers Picking Walnuts

Health Training for Tazishan

Commencement of the Second Batch of Fuel Efficient Stove Project in Machang Village
Project Progress
Walnut Project of Pianma Township of Hanyuan County
Walnuts online and offline sales
Walnut production as an income generation project in Pianma Township has been supported by DORS for years. Most of walnuts in the village were sold by the middlemen, the profit was very low to villagers as the price was very low for villagers. In order to increase villagers' income through increasing the walnut price, DORS tried to assist villagers to sell the walnut to the customers directly instead of selling to middlemen.
From early August to late September, DORS helped Pianma township 6 villages to sell walnuts through online and offline e-commerce way. DORS continued to work with local Sihai company this year. DORS provide the promotion fee and the company was responsible for promoting and receiving orders, and villagers provide walnuts according to the orders. By end of September, villagers had sold a total of 401kg online. DORS staff also assisted villagers to sell 375kg walnuts in 3 communities in Chengdu. In addition, YTO express and EMS in Hanyuan County also supported this project with providing preferential price to villagers. A total of 469 packages were sold through the YTO Express and EMS. This was the first attempt of the walnut marketing by DORS and villagers. Together with villagers, DORS will explore how to better connect villagers to the market in the future.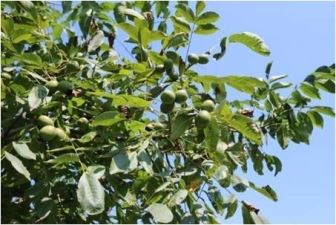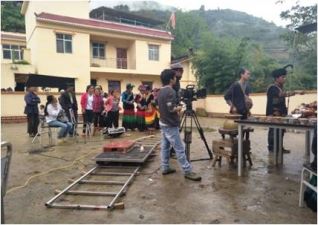 Walnut of Pian Ma Yi Township Filming for Walnut Campaign
Filming for walnut campaign and advertising
DORS supported Pianma Township villagers to cultivate walnuts since 2000. 17 years later, it has become large-scale walnut farming in Pianma Township, which leads to the price getting lower and the profit reduction in recent years. Under this situation, DORS tried to help villagers build their own walnut brand to promote the product and enlarge the selling channels through walnut filming
By the end of August, after nearly a month of nationwide recruitment, Changsha Qiyu Media Co. was finally selected by DORS among the six bidding companies to make films of the walnut promotion and advertising. Between 15th and 20th September, a 6-day's filming was conducted in Pianma Township of Hanyuan County, which was mainly focusing on the good taste of the local walnut and the special Yi culture, so as to catch more people's attention. Pianma Township government and villages gave the filming lots of support, and over 150 people participated in the film making.
E-commerce Training for Pianma Township of Hanyuan County
In early September, Hanyuan Post Office contacted DORS for cooperation on poverty alleviation for local villagers. On 13th September, DORS and "Youle" E-commerce platform subsidiary to Hanyuan Post Office provided an E-commerce training session for 7 villagers who were interested in E-commerce. The training covered: how to register the Wechat shop and upload the product information, such as product introduction and price, and how to run the Wechat shop and so on. During the training, staff from the Post Office also taught villagers how to pack and what to pay attention to during the packing, where to send and which post offices provide the cooperation fee.
Rope Safety Project of Pianma Township
In order to reduce the risks during picking walnut off the tree, DORS staff and villagers purchased the safety ropes together. In late September, two staff from DORS trained 60 village team leaders of 6 villages on how to use the rope. The trained villagers will go back to the villages and train others. In total 700 villagers benefited from this project.

E-commercial Training Safety Rope Delivery
Women Health and Income Generation Project in Yingjing County
Project Progress of Income Generation Project
l. Income Generation Project beneficiaries Selection of Tazishan Community
On 11th August, together with local government officers and village representatives, DORS staff carried out the second round of grant beneficiaries selection activity in Tazishan Community. 6 households beneficiaries were selected according to the criteria. Among them 5 households are going to raise chickens, and another household wants to open a grocery store. All the 6 households signed the agreement with DORS, and showed all of us their project sites.
II. The effect of environment protection Policy on the income generation project
Due to the enhancement of environment protection policy, the original income generation project was suspended in mid-August. Together with township cadres and Tazishan villagers, DORS discussed how to solve the project problems according to the current Yi women's situation. All of them agreed to adjust the project to raise chickens, and the pigs and cattle will resume when it is allowed to raise in a proper way in the village.
III. Grocery Store in Tazishan Community
DORS signed a grant project agreement with Ms. Diluomeerbo on 6th September, which was to support her running a grocery store in the village. She wanted to sell some traditional food and provide some convenience services such as helping villagers to pay for electricity fees and cell phone fee . By 20th September, the store has built and DORS has delivered the first grant of RMB 2445 to her.
IV. Ms. Shiyemurizuo received the grant for pigsty construction
The household of Ms. Shiyemurizuo finished the pigsty construction on 21st September, which was the first one among the five households to be completed and inspected by DORS. She received the grant of RMB 1500.

Ms. Deluomeerbo and Her Grocery Store The Newly Built Pigsty
V. Provided chicken coop and wire fence for villagers in Tazishan Chicken Project
This project was affected by the Environment Protection Policy. With DORS and chicken raising team members' endeavors, 5 chicken coops were built. Representatives from 5 households and DORS staff together went for the wire fence pricing and purchasing. Hopefully, the wire fence will be set up before October, and get the chicks back for villagers.


Chicken Coop Wire Fence
Pig Raising Training
I. Pig rearing trainer brought into village
DORS invited Mr. Weichunfu who is very experienced in the pig raising from Daying Village of Pianma Township to train other villagers. After visiting households' pigsties and asking about their raising situation, Mr. Wei and the 5 households sat together and shared his experiences on pig sty construction, cleaning and pig management and so on. He also answered households' questions. Mr. Weichunfu was very poor years ago, and now he has raised 280 pigs in his 3 storey piggery building and earned over 200,000 RMB a year. He can feed a pig within 2 minutes only and the villagers were inspired by his experience.
II. Going out to learn from others
5 households of the pig raising community from Tazishan went with DORS to visit Mr. Weichunfu's pig farm in Daying village of Pianma Township on 5th September. Householders visited his 3 storey piggery building and another new sty. Mr. Weichunfu's success encouraged villagers. Mr. Weichunfu said: "All pigs are my treasures, I treat them as my children". All pigs are clean and the sty has good ventilation and sewage, and the troughs are very well designed. All of these things are good for households to learn. Householders also asked some questions about problems they faced such as how to know the sow's fertility cycle and so on. Mr. Wei answered all questions as he could and encouraged villagers to overcome all difficulties.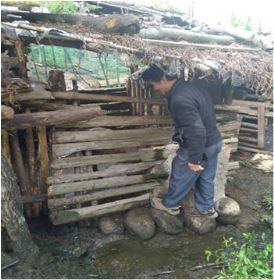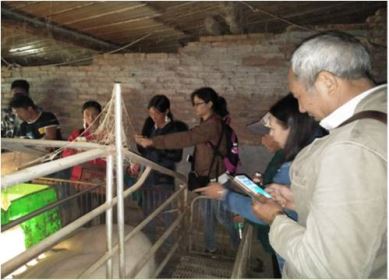 Inspected Household Azhi's Pigsty Visited Mr. Weichunfu's Piggery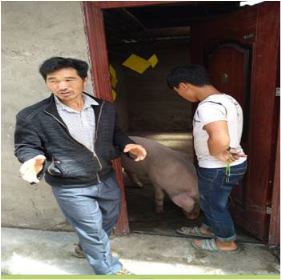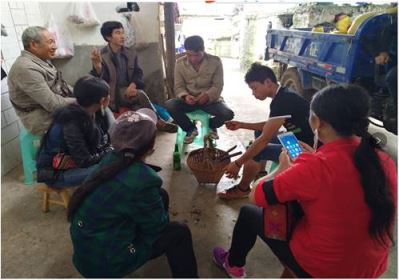 Inspected Sow's Growing Situation Mr. Wei Chunfu Answered Villagers' Question on Pig Raising
Tazishan and Daping villages Health Training
In Tazishan and Daping communities, it is common to find that children having rice mixing with boiling water, or rice with cooked potatoes as their lunch or dinner. It is also common that the food for several months old children having salt in it. For adults, bacon and pickled cabbage as the main dishes are also in a high frequency in daily life. There is room for them to improve their diet such as having more fresh vegetable in their daily consumption, as they only need to cultivate the vegetable around their house. On 23th August, DORS conducted a health training session on the topic of "proper diet for good health" in Daping village. 25 villagers participated in the training. DORS project assistant Ms. Shenji provided the training with Yi dialogue. She presented villagers with the food pyramid, describing what is a nutritional balance and how to introduce it into the daily consumption.
On 20th September, a topic on "stomach problems and diarrhea" was carried out to present the health knowledge in Tazishan village. 23 villagers attended the training. As we know, it is very common that villagers have stomach ache and diarrhea in the 2 villages, DORS had conducted the same training in 2006. In order to enhance villagers' awareness to prevent it, this was the second time DORS conducted this training in the 2 villages. In this training, Ms. Shenji presented to villagers simple and easy to understand pictures to explain the causes of the diseases and how to prevent it in Yi dialogue. She also convinced villagers to change their former eating habits and replace them with a healthy diet to prevent the disease such as stomach problems and diarrhea.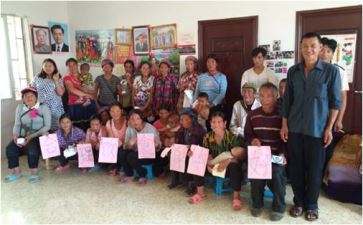 Daping Village Health Training Food Pyramid
Mutual help team of pig raising and chicken raising in Tazishan
In order to improve mutual-help team members' ability on animal husbandry management, DORS organised them together and provided a capacity building training on 21st September.
On pig raising: DORS technician Mr. Baishihai went to Taizishan to inspect the pigsties and the pig manure utilization of the 5 households. One of their problems was that they didn't have septic tanks to collect the pig manure. Mr. Bai showed them how to design the pigsty with consideration of the septic tanks in a proper location so that the pig manure can be used as the crops fertilizer without any pollution. The mutual-help team members also shared their experiences on sow raising. 3 sows of 3 households are pregnant, and one household's sow is ready to breed. Only one household's sow still needs to improve its raising management.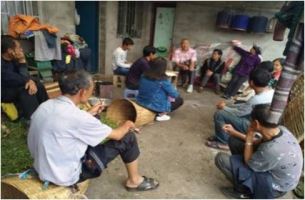 On chicken raising: the mutual-help team of the chicken raising is now set up, the capacity building focused on chicks purchase preparation, where to put the chicken coop. As the weather is getting cold, it is very important to have warmer conditions for the chicks. Team members also shared their experiences with each other. (see picture right)
Energy Project
Evaluation for the First Batch and Commencement of the Second Batch Fuel Efficient Stove Projects in 2 Villages of Xide County
The first batch of 10 stoves were inspected in Machang Village in September, and villagers and village cadres were satisfied with it. With the good demonstration effects, villagers were very interested to participate in this project when we start the second batch of stove projects. 110 households applied for this project.
We had monitored the progress of first batch of stoves project in September and a total of 50 stoves were completed. Two trained villagers were very serious to conduct the construction work according to the technical requirement. Those who used the stoves were satisfied with the project, they all said: it reduced by half the amount of firewood needed compared to the previous stove. In line with the villagers' requirements, we commenced the second batch of 41 fuel efficient stove in the village.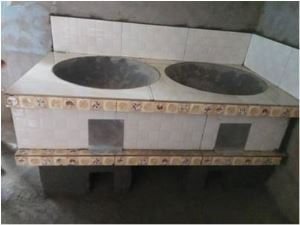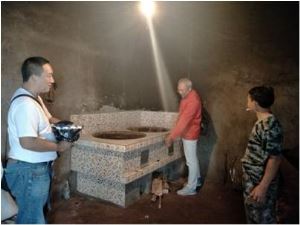 Villager' the new stove in Siguojue Village Fuel efficient stove inspection
Learning/Communication/Contact/Visit
Chengdu Shuguang Community Development Capacity-Building training
On 28th and 29th August 2017, Chengdu Shuguang Community Development Capacity-Building Center commenced the first phase training. Over 30 people from 18 organisations attended this activity. One of DORS staff participated in this training. The training's theme was "social organisation's development strategy" , Shuguang invited Prof.lizongmin, who has extensive experience in rural development and Ms.Tantieling, a teacher from Shuguang to provide the training. The training covered the sections of "from idea to project proposal" "the key links and element of project management" , "multi-perspective project evaluation". In addition to the lectures, the training also used participatory discussions to encourage participators to stimulate their thinking in a pleasant and friendly environment and share their knowledge and experience.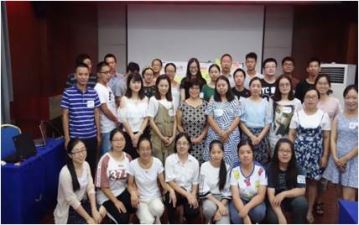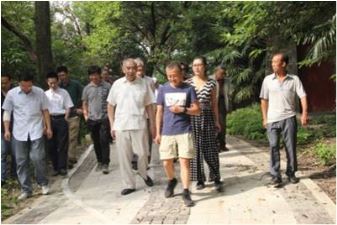 Picture During Training Guo Yumei Visited Purple Mountain Observatory of Nanjing
DORS chief representative attended the symposium at Purple Mountain Observatory in Nanjing
In mid-September, Guo Yumei, the chief representative of the Sichuan Representative Office of DORS(UK), and Mr. Zhang Guoping, the Poverty Alleviation and Immigration Bureau of Hanyuan County, and Li Liangxue, Secretary of Shiquan Village of Hanyuan County were invited to attend the 80th birthday symposium of Mr. Xiong Darun (Academician of Purple Mountain Observatory). Mr. Xiong introduced DORS and its work to all his friends coming from astronomy field at the symposium. All his friends know about DORS and are willing to help villagers in the poverty area through DORS.
Thanks to Mr. Xiong and his friends of astronomy for helping Shiquan village since 2004. Mr. Xiong has a very strong interest in our villagers in poverty areas and he is taking action to fullfil his promise. Shiquan village is very lucky to be funded by Mr. Xiong since 2004 and has received over 250,000 RMB from the project by end of 2012.
Under the support from Mr. Xiong Darun, an academician from Nanjing Astronomical Observatory, and Professor Deng Li-cai from Beijing Astronomical Observatory, lots of their friends also gave DORS donation for projects.
Here we would like to introduce Shiquan Village project: As one of DORS project villages, Shiquan village received lots of support from different people. Mr. Xiong Darun and Denglicai and their friends' donation, Mr. Zhangguoping from County Poverty Alleviation & Migration Bureau also provided assistance during project implementation, Mr. Lixueliang the village secretary dedicated to the village affairs, teachers from Shiquan School and DORS staff and so on. Without all of them, we couldn't finish our projects in the village.
We wished Mr.Xiong a happy birthday and good health!
Good News: DORS Purchased a New Vehicle in September!