Jun / Jul 2013 No. 116
30th July 2013
Project Progress
First Visit and Baseline Study for Tashan and Daping Yi Minority Settlements in Minjian Yi Minority Township, Yingjing County
Yingjing County is located in the southwest of Yaan City, which was hit by the earthquake on 20th April. With the reconstruction efforts from local government, the County has renewed its master plan. As Dors has been working for rural development for decades, we were introduced to Yingjing County by Ya'an Civil Affairs Bureau, to target its reconstruction work at two Yi minority settlements.
Tashan and Daping Yi minority settlements are respectively situated in the east and west part of the Tazishan Tea Farm. People have lived here for many years although they were originally from other areas. There are 113 households and 578 people living in Tashan settlement and 90 households of 462 people in Daping, all residents mainly live on picking tea leaves from the tea farm, and doing part-time work to supplement this. Without any other income resources, life is tough here.
Together with local government leaders, DORS staff first visited Yinjing in mid June. Although we have worked in rural Sichuan mountain areas for years, we still could not believe what we saw : most families are crowded in a small house (around 15-20 m2) with 7-8 people living together. There is no drinking water supply in the village, people have to carry water from 2 km away. People are extremely poor here.
DORS held a meeting to discuss what we can do for the settlements base on the information we collected when back from Yingjing County, and then we drew up a baseline study guideline and some questionnaires. In order to conceive a comprehensive action plan for the settlement, we invited an expert from Sichuan Agricultural University to help us work on the baseline study in late July. After 3 days working in the field, we have collected the population, geography, natural resource, education and economical information data from the settlement. A draft of project planning has been drawn up together with local governments, which includes drinking water supply, education, fuel-efficient stove, capacity building projects. The final version will come out soon.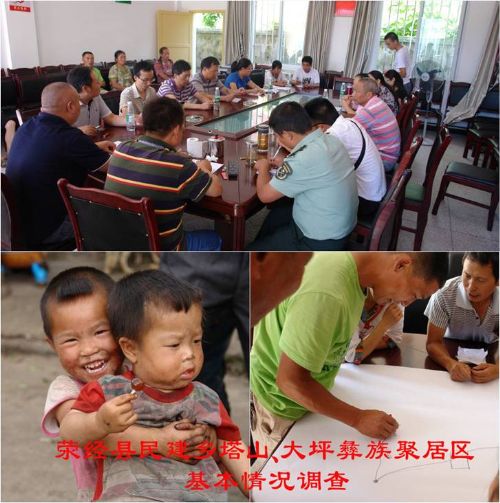 A topic of "Youth Communication" workshop for students
DORS organised a two-day workshop for youths on 18th July. Most of the participants were high school graduates and college students, who were supported by DORS on their education, the rest are friends they invited. During the workshop, they set up a team named "C+Power", meaning that they will fill the gap of the C with their capability to create an "O", which is also referred to a solid circle, meaning of unite. Their slogan is: Never ever give up your dream even though you are from a rural area. The topic of the workshop is "Youth Communication" . The idea is to provide a mutual communication platform for the young people to get more communicational skills before they go to university or work. The workshop included ice-breaking, group discussion, role play, case study and so on. Participants raised their questions on their daily study and work in the university and society, which is also helping others to learn from them. During the conclusion, all participants expressed their interests and what they have gained from the workshop.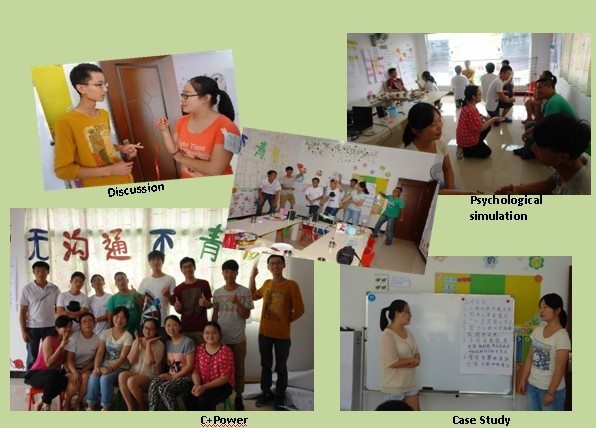 Hengshan Village Post Earthquake Reconstruction Initiative
Hengshan Village was hit by the 4.20 earthquake pn 20th April 2013. 18 households need to rebuild their houses. According to our investigation, people here lack construction techniques. if they want to build their house by themselves, so we decided to organise a training on construction skills from them.
On June 29, DORS invited a local senior engineer to the village to teach people some basic construction skills.
Except for government's support for the house reconstruction, DORS will provide each family with 1500 RMB to buy wood used as ring beam to tie together the walls of masonry for added earthquake resistance. The total is 27000 RMB for 18 households.
Support Wanlin and Huodi Villages to buy Brick Making Machine and Cement Mixer
Local government has drawn up a reconstruction plan for all affected villages. All villages have reconstruction work in progress. However, rebuilding so many houses in a short period leads to a shortage of construction materials and the price of materials go up quickly, especially for bricks. In order to reduce the cost, Wanlin and Huodi villagers decided to approach DORS and applied for support to buy brick making machine and cement mixer for each village, so that they can make cement bricks by themselves.
After investigation, DORS approved the application and prepared an agreement for each village. After signing the agreement, a team was set up and made responsible for buying the machine and establishing the management and maintenance regulation. The total funding is listed in the table below:
| | | | |
| --- | --- | --- | --- |
| Item | Price(RMB) | Quantity | Total(RMB) |
| Brick Making Machine | 2500 | 2 | 5000 |
| Cement Mixer | 2250 | 2 | 4500 |
| Transportation Fee | 100/village | 2 | 200 |
| In total | | | 9700 |
Training on Grinder Use in Hengshan Village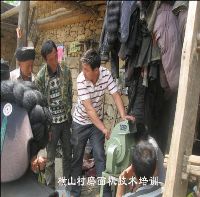 On June 17, the supplier sent grinders to Hengshan village. All villagers were waiting to receive the machine.
We asked the supplier to train villagers on how to use the machine safely. He assembled a grinder in front of villagers, explained the structure of the machine, and then demonstrated how to operate and maintain the machine to villagers.
Integrated Project in Daying, Ranmo, Wanping and Chalin Villages of Pianma township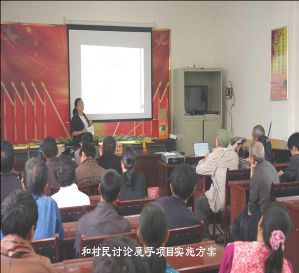 DORS staff visited the above villages in mid June, and after presenting the Moyu crop project to villagers briefly introduced the Moyu planting techniques to them.
At the same time, DORS staff presented the concepts of rural cooperative association to villagers using PPT. Rural cooperative is a new collaboration among villages in China. However, in the mountainous villages the concept is still new and unfamiliar. We hope villagers can understand the advantages and what they can benefit from rural cooperative through our PPT presentation.
Learning/Exchanging/Connection/Visit
Showyou Organisation is a charitable organisation currently working in Sichuan Province and they visited DORS few years ago. They worked on the relief work immediately when Lushan earthquake happened. On July 9, Showyou Orgnisation visited DORS again in Hanyuan. We exchanged working experiences and discussed the possibility of future cooperation.
News and Information
Lots of southern cities of China suffered from rainstorm this summer. In mid July a rainstorm hit Sichuan and lasted a few days, which resulted in worst flooding in Ya'an in 50 years. We hereby remind people to pay attention to the weather watch before travelling to Ya'an region. We hope all people affected by the earthquake will gradually resume normal life.