Apr/ May2014No. 121
31st May 2014
Post Earthquake Reconstruction Project
Tashan Community Education Activity
On 20th April, which was one year on since the Lushan earthquake happened, DORS staff went to the second community of Tashan to prepare for the education activity. The topic of the activity was "Clear the rubbish and refuse to eat junk food", which was aimed at enhancing children's awareness of the harmful effects of junk food. We were also encouraging them to protect their environment, so that they can practice good habits in their daily life.
In the first part of the activity, we explained to the children about the purpose of the activity, requirement of cleaning their environment, safety out of doors and school discipline. The second part was to divide all participants into 2 groups, girls' group and boys' group. Each group selected a team leader to be responsible for writing down where to collect the waste and how to sort it. All the children were happy to run out along the road to look for all kinds of rubbish, such as used paper, empty bottles and bags. After one hour's work, they had picked up all the rubbish from every corner. Tashan Hamlet 2 has been changed to a clean community. After the cleaning activity, we taught them how to sort the waste and identify what was harmful and then we showed them some of the junk food made by the small underground workshops which are not healthy. At last, we discussed the activity with the children.
DORS hopes to provide a communication platform through these education activities for children to create friendship and improve their ownership and the sense of belonging to the society, therefore to learn cooperation, communication, united and grateful in their future life.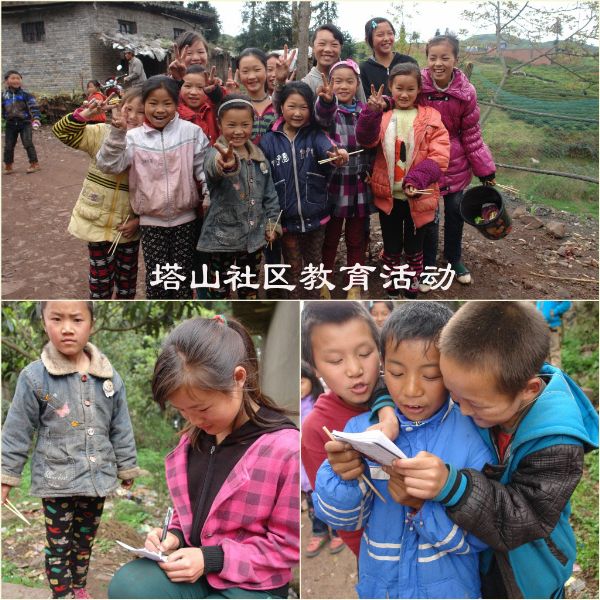 "Colorful childhood – Micro creative fund" project in Daping Village Primary School and Minjian Central Primary School
In March, the "Classroom Activity of Spring 2014" was commenced. The classroom activity was named as "Colorful Childhood – Micro Creative Fund", which is hope to provide a colorful childhood and a healthy life for the children after the earthquake happened last year.
In April, together with two teachers from Daping Village Primary School, DORS assisted them to improve the application and discussed all activities. An agreement was signed with each of them, then the funding was given to the teachers. The teachers have spent lots of time to prepare for the application and the activity to ensure that all children will not only gain fun but also knowledge from it.
DORS also received some applications from Minjian Central Primary School in April. In order to ensure all activities are more practical, DORS has gone through all the applications and given the feedback to the teachers. We are now waiting for the improved applications and will implement them in due course.
Education Projects:
"Colorful childhood – Micro creative fund" project in Pianma Central Primary School, Wanping Village Primary School and Nimei Township Central Primary School
In April, the "Colorful childhood - Micro Creative Fund"project was commenced in 3 schools of Hanyuan County.
DORS and the 3 schools together selected the application in May. In late May, DORS received the project reports and pictures from 5 teachers of PianMa central primary school. Every teacher designed the activities according to their class and students situation and the activities included an opera show, hand work, a sports match, a debating competition and so on. It not only colored students' life outside the classroom but also increased their co-operation ability. Teachers expressed their thanks to DORS for supporting this project which helped them in the classroom. They have never received this sort of funding before. In their evaluation report, it showed that this project was very successful in helping children to recover from the effects of the earthquake disaster, which was the most important issue when DORS designed this project.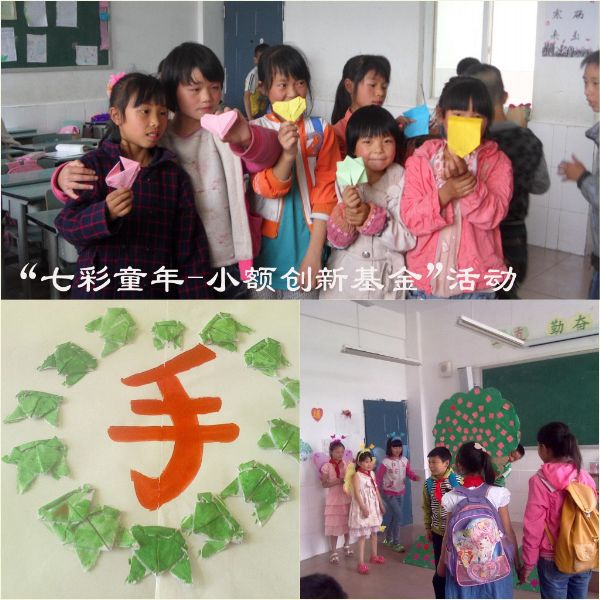 The 2014 Summer Holiday Reunion Activities
Arranging for students to have a reunion during every summer holiday to share their life and experiences in the high school or in the university is one of activities which DORS prepared for children. This year will be the third year. In order to encourage children to participate and enjoy it, DORS calls for project proposal from students. We now have received 2 proposals and look forwards to receiving more. We thank them for their participation.
Sustainable Income Generation projects:
Moyu Crop Project in 4 villages of PianMa Township
In late May, DORS staff searched for the Moyu crop planting and processing factories near Hanyuan on the internet. We found some and tried to get contact with them. We hope to visit them so that we can learn more about the cultivation and management experience and therefore to enhance villagers' confidence in this project. After contact with some plantations, we were allowed to visit their factories. In order to fully use the opportunity, DORS plans to select the 2 most suitable factories to visit first, and then arrange villagers to visit one. DORS are collecting information at this stage.
Rural Energy Project
Lots of houses were demolished due to last year's earthquake, most of the stoves have been removed in the post earthquake reconstruction to build new houses for villagers in PianMa township. PianMa township government and villagers approached DORS and applied for the fuel-efficient stove project. After the investigation, in May, we decided to launch the project to implement 158 stoves for the Pianma Township villages.
Energy Project progress

Save time and labor, Energy conservation,Environment Protection and keep people healthy

Projects

Villages

No. of Contract

Completed

Unfinished

Evaluated

Remarks

Fuel Efficient Stove Project

HeAi

16

14

2

0

Under construction

Henshan

6

6

0

0

Await evaluation

Huodi

21

6

15

0

Under construction

WanLin

23

16

7

0

Under construction

Shiquan

8

8

0

0

Await evaluation

Jiatuo

22

20

2

0

Under construction

PianMa

8

2

6

0

Under construction

Fuying

31

17

14

0

Under construction

WanPing

25

14

11

0

Under construction

Chalin

10

5

5

0

Under construction

Ranmo

46

11

35

0

Under construction

Daying

38

11

27

0

Under construction

Biogas

Heai

2

2

0

0

Waiting for gas production and evaluation

WanLin

1

1

0

0

Waiting for gas production and evaluation

Jiatuo

6

6

0

0

Waiting for gas production and evaluation
DORS News and Information
With the summer season coming, all flowers are blooming in the mountains and lots of fruit is ready to pick and eat. Come to Hanyuan to enjoy the fruits and flowers. Summer is also a raining season in Hanyuan, DORS wishes you a safe journey through life and happiness everyday.