Aug/ Sep 2014No. 123
1st October 2014
Sustainable Income Generation Development Project
Villagers from Shiquan and Ranmo Villages Visited Japanese Horseradish (Wasabi) Cultivation Development Co. of Erlangshan in Tianquan County
Striving for sustainable income generation for villagers is the long-term goal for rural development, DORS has been always seeking ways to achieve this. In June 2014, DORS' project consultant Mr. Liao, visited several villages, and strongly recommended Japanese horseradish (wasabi) cultivation for DORS' project villages. As is well known, wasabi is a popular condiment in Japan and also in Chinese restaurants, its root is used as a spice and has an extremely strong flavour. It has large market potential in China. We planned to organise some interested households to visit, and we had an outline of this project and then conducted a pilot project in the villages.
After some research and contact with some companies, DORS decided to arrange a tour to the Japanese Horseradish (Wasabi) Cultivation Development Co. of Erlangshan. The company received us warmly and explained the crop cultivation requirement, growth period and the selling chain to households, and also answered some of villagers' questions patiently. In the next step, DORS will continue contact with the company to get more information regarding the marketing and cultivation issues according to villagers' demands. A detailed pilot project plan will be drawn up in the coming months.
Education Project
Tuition Fees support of 2014
In August, DORS' staff member Jing Mei, who is in charge of the education project, conducted telephone interviews with 25 students of Pian Ma, Yongli, Nimei and other townships of Hanyuan County. This was to update their information which included family income, their study progress at school and so on. Every student we supported comes from a poor family, but all of them are keen to go to school. After discussion, 83 students were selected to receive the tuition fees support from DORS. DORS hopes all students have a positive attitude to life and hope that they will no be affected by their family's economic condition.
Grade Levels

Students Supported ( Female No.)

Students Supported

( Male No.)

Total Tuition Fees Supported (RMB)

Primary school

18

13

12400

Junior High school

19

9

22400

Senior High school

6

6

19200

Undergraduate level

3

8

22000

Graduated level

1

3000

In Total

47

36

73000
Primary School activities of 2014
DORS has supported 12 classes of Nimei Township Central Primary School, Pianma Township Central Primary School and Wanping Primary School to organise the school activities. 413 students have benefited from this programme.
"Youths should have their own personality" a topic of 2014 Students Summer re-union
Every student enjoys summer holiday; it not only a vacation when you can relax but also do everything you like. DORS' students summer re-union of 2014 took place in August. This is the third year DORS arranged the activity, and the project had some differences this year. The project activity plan was made by students and we invited the participants (DORS supported students) to host the activity as we wanted to provide a platform to inspire students' capability and creativity. They designed the activity according to their discussion and cooperation. The topic of the activity was "Youth should have their own personality", which was designed by themselves to illustrate the youth personality of pursuing their dreams.
The re-union activity was launched on 17th August, a warm welcome speech was given by DORS then all the activities were organised by students. The activities included ice breaking games, handmade work and discussion. Ice breaking games serve as a way to bring people together in a fun and creative way. All students were getting to know each other and loosen the tension after this activity. The next activity was handmade work done by each team within 20 mins, and then it was presented to all participants. This activity was not only promoting students' creativity and cooperation, but also to improve their presentation skill in a team's way. In the last section of the discussion, students talked about their life in school and shared their experiences in study.
DORS hopes this programme will bring them a different perspective, and keep a positive, grateful attitude in the future.
Feedbacks from students……
This programme is meaningful to us and DORS staff were very kind to us. Everyone was very enthusiastic and all activities were organised well. We thank them for their efforts and wish DORS good luck in the future.
—One of DORS supported Student
I would like to thank DORS for providing this opportunity for me. It is a life treasure for us – I gained a lot of experience and guidance to work on a whole project, from the beginning of designing a project activities, to implement, and conclude it.
—One of DORS supported Student
From my point of view, DORS is not only an organization, but also a big family, people are very kind and willing to help others. I will work hard to learn more in the university and that I can find a good job and pay back something to society, and give my little contribution to help others.
—One of non-DORS supported Student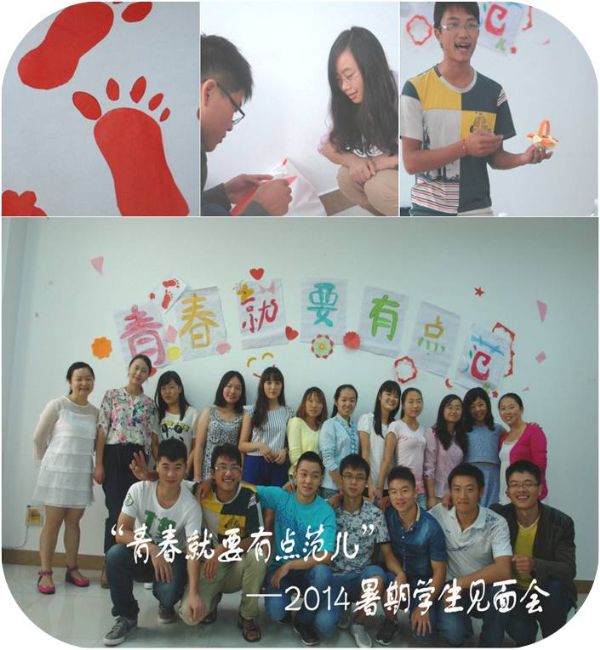 Rural Energy Projects
•Energy Project is in progress: DORS staff have checked all the built stoves in Shiquan, He'Ai, and Hengshan Villages in September, all stoves were built according to the requirement. Villagers were satisfied with the built stoves. By now, the fuel-efficient stoves project has covered all villages of Nimei township.
• In September, DORS evaluated the three biogas projects in Wanlin and He'ai Villages. The three projects have generated enough gas for villagers' daily cooking. Villages told us that this project is very good, which can save their cooking time and labor collecting firewood. We are happy that this project is a significant milestone in saving energy in the mountainous area.
• DORS also signed a contract with Wanjia Village to build 39 fuel-efficient stoves and 42 Biogases for villagers. The management team has finished price comparisons. With winter season coming, villagers are trying to transport all materials as soon as possible so that they can start the construction work before the weather gets too cold.
Energy Project Progress

Save time and labor, Energy conservation, Environment protection and keep people healthy

Projects

Project located village

No. of Contracts signed

Construction completed

In Progress

Evaluation Completed

Notes

Fuel-efficient Stove Project

Shanshu

44

0

44

0

Under Construction

He'Ai

16

16

0

0

Evaluated

Hengshan

6

6

0

0

Evaluated

Huodi

21

20

1

0

Under Construction

Wanlin

23

21

2

0

Under Construction

Shiquan

8

8

0

0

Evaluated

Jiatuo

10

4

6

0

Under Construction

Jiatuo

8

5

3

0

Under Construction

Pian'Ma

31

31

0

0

Under Construction

Fuyin

25

25

0

0

Under Construction

Wanping

10

9

1

0

Under Construction

Chalin

46

31

15

0

Under Construction

Ranmo

38

20

18

0

Under Construction

Biogas Project

Daying

2

2

0

0

Evaluated

He'Ai

1

1

0

0

Evaluated

Wanlin

6

6

0

0

Waiting for generating gas and Project Evaluation
Learning / Visiting / Exchange
In September, DORS' staff Baishi Hai and Chen Jianhua, Guofu Peng from RanMo Village participated in the training of how to take nice digital photographs in villages which was arranged by UNESCO (United Nations Educational Scientific and Cultural Organization). This training was aimed to help local NGOs staff to better record how the Ya'an city recovered and what changes caused by the earthquake by using photography. DORS staff have learned how to take a photo from different perspective and present the "good story" from the picture in DORS project villages.
In September, DORS Jingmei Wang and Lingzhi attended a training of video editing, funded by One Foundation Ya'an Project. Thanks Ya'an rural Photography Association for providing this opportunity to improve grass root NGOs' photography taking skills which is very useful to our project work.
Donation information
In August, DORS received a donation of RMB3000 from Ms. Wang Honghong. We thank her for her kindness and long-term support for rural Sichuan development.
DORS News and Information
The good news is, a new member joined DORS in October; she is Hongxia Duan, and she comes from Suining City of Sichuan who graduated from the Law Faculty of Judicial Police Vocational College of Sichuan. She has great interest in NGO work and wishes to make a contribution to rural development. We welcomed her to begin her career with DORS and wish her a nice stay with us..
The winter season will have arrived when you receive this newsletter. We send a kind reminder for all of you to keep warm and have a happy winter.