Feb/ Mar 2014No. 120
31st March 2014
Infrastructure Project
Final Evaluation for Drinking Water Supply Project in Daying Village of Pianma Township
Accessing clean drinking water is one of the major issues in local area. During 2013, with support from DORS and the township government, villagers provided labor to improve their drinking water supply system, which included laying a main pipe line, tank construction and piping supply connecting households to the main supply. DORS monitored this project in March. We spot checked the length and depth of the pipeline, the volume and the quality of the tank. A questionnaire on water quality, water discharge pressure, water charging fees, maintenance, participation and the satisfaction was then designed to evaluate the project effectiveness and efficiency with township cadres and villagers. Everybody was satisfied with the project. All participants have a strong sense of ownership of this project this project. Some of them said they had laid down a burden when the project was finished.
Some parts of the water supply system still need to be improved based on our requirement from the evaluation, villagers are improving it accordingly. We also learned from the evaluation that identifying the target group specific needs and scope of capability according to the local situation which can lead to improved efficiency of villagers in carrying out the project.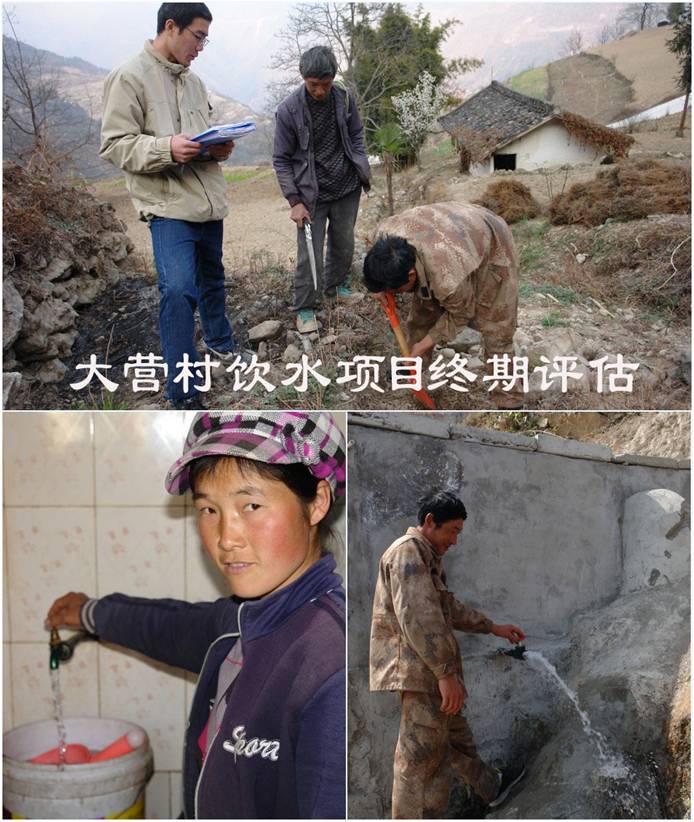 Sustainable Income Generatio Project
Loans for small business development – mid-term review
DORS monitored this project in March. According to our assessment, the loan helps our target group. All borrowers used the principle to start their businesses, which are running well. They expressed their thanks to DORS and donor for their trust and encouragement. They also promised that they will work hard and pay back the loan on time.
Moyu Crop Project Management – Training Needs Assessment
DORS introduced the Moyu crop cultivation project in Pianma Township in 2010. So far, this project is running well, participants will harvest in a few months if good management methods are followed. In order to control crop disease DORS has arranged a series of technical management training sessions and offered brochures to the villagers. The training included a lecture from an expert, DORS staff instruction, VCD and distribution of books. Every training session was arranged according to the crop growth period, so that villagers could learn and practice in the field to better manage their crop. In the middle of March, DORS conducted a training need assessment investigation in Daying Village in order to know what and how to provide a training that our stake holders are interested and which is easy to learn.
Post-disaster Reconstruction Project
Education Activities in Tashan Community
In March the yellow rape flower blossoms in full throughout Yingjing County. It has been one year now since the earthquake struck in Tashan. After detailed preparation DORS launched our first education activity to help children deal with the psychological impact of the earthquake, to help them to love their hometown and inspire their imagination. The topic was "Know about your village"
The first section of the activity is to encourage children to get to know each other. 23 children introduced themselves to all the others. After this section, they set up their own team and called it "power team", and a team leader and vice leader were selected to coordinate their activities. The second section is to describe their living environment with one word or sentence by themselves. The third section is to draw their own village with paint brush and color paper. The fourth section is to show them around their village to increase their social responsibility. This programme was very successful; children were very keen to join in all the activities. The whole activity ended in a local "toasting song". We wish all the children happiness in their future life.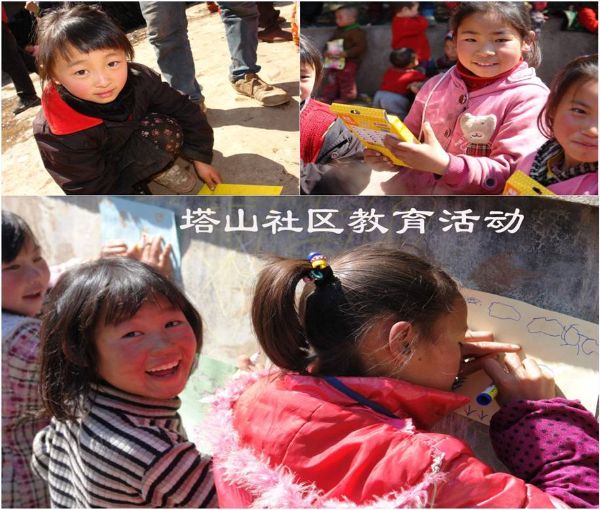 Classroom activities for Minjian Village Central Primary School
and Daping Village Primary School
The classroom activities were based on making the classes fun and exciting, and keep students hooked on to learning. Teachers can make use of these activities to ensure that students have a great time while learning and practicing important scholastic skills. In order to encourage rural teachers to create their teaching ideas and light up their enthusiasm working in rural area, we set up this' Classroom Activities Project for Minjian Centre Primary School and Daping Village Primary School. Classroom activities are designed to facilitate maximum learning and comprehension, and call for students to utilize the skills they've learnt to solve real-life problems.
DORS staff explained the project purpose and application procedure to the above two schools in early March, and received 2 proposals from 2 teachers from Daping Village Primary School in late March.
Education Project
Nutritious Lunches for Shiquan Village Primary School
When DORS conducted the need assessment investigation in the Shiquan Village Primary School, we were told that the nutritious lunches for the school children have been suspended due to lack of financial support. The situation reverted to previous times; children have to eat cold food for lunch. Mr. Dai from the school approached DORS and asked for support to help children to have warm food during winter season. After discussion in DORS' meeting, we decided to fund the project to resume the nutritious lunches for children.
In order to ensure the food safety, DORS signed a project agreement with Shiquan Village Primary School to emphasize the need for good hygiene in the preparation of the food. A food quality and hygienic guidance was attached to the agreement. Now the children receive warm and nutritious food for their lunch. We wish them a happy and healthy time in the school.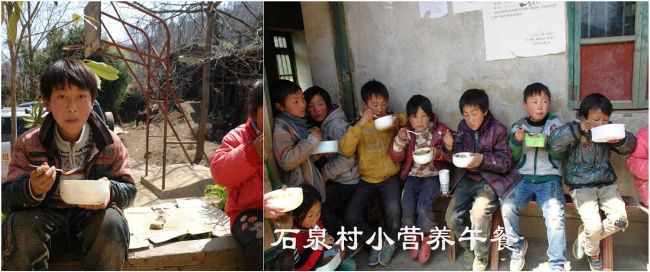 Rural Energy Project
Donor visit:
DORS received a third round energy project support from a long-term donor in September 2013. Our project donor visited DORS on 25th March 2014. During the visit, DORS accompanied them to the project site –Tashan Community - to look at the current situation. Beside that, we also went to Shiquan village and introduced them to the integrated education project there. We spent a wonderful afternoon with 20 children in the school. Afterwards, we went to Hengshan village and Huodi village to check the fuel-efficient stoves project. Most of Yi villagers couldn't express very well their feelings in Mandarin Chinese (they speak the Yi language), but their gratitude was shown on their faces. Thanks to our donor for their support over the last six years.
Project progress:
Jiatuo Village baseline study for the rural energy project was finished in February. In March, DORS project staff, procurement team and village management team members procured the materials according to the regulation which was drawn up in January. Afterwards, Jiatuo village signed the agreement with DORS for the fuel-efficient stove project and biogas demonstration project. We also signed the project agreements with other villages of Nimei Township.
The fuel-efficient stoves construction commenced in March.
Project Progress

Save time and labor, protect our environment by saving energy and keep healthy

Project

Project Village

No. of Agreement signed

Under construction

Completed

Evaluated

Remarks

Fuel-efficient Stove

He'ai village

16

0

0

0

Materials have been prepared, ready to construct.

Hengshan

village

6

0

0

0

Materials have been prepared, ready to construct.

Huodi

village

21

0

0

0

Materials have been prepared, ready to construct.

Wanlin

village

23

0

0

0

Materials have been prepared, ready to construct.

Shiquan

Village

8

0

0

0

Due to the road blocked, await materials transport to village

Jiatuo village

22

13

12

0

Under construction

Biogas

He'ai

Village

2

0

0

0

Materials have been prepared, ready to construct.

Wanlin

village

1

0

0

0

Materials have been prepared, ready to construct.

Jiatuo village

6

3

0

0

Under construction
Learning/Exchange/visit
In March, DORS Deputy Director Guo Yumei attended an executive council meeting of 2014 arranged by DORS strategy partner Sichuan Poverty Alleviation Development Association. Both parties exchanged information and shared achievement in the meeting. We hope to enhance the cooperation and interaction with each other to improve the development of public welfare.
DORS News and Information
DORS' volunteer Mr. Libo has finished his one year training position and left DORS in late March. We thank him for his hard work in assisting DORS on project management, translation and administrative work. We all wish him a happy and prosperous future, and will always welcome him back to visit DORS.
Spring has arrived in Hanyuan and the blossom is out. We welcome you to visit.