Oct / Nov 2016No. 136
30th November 2016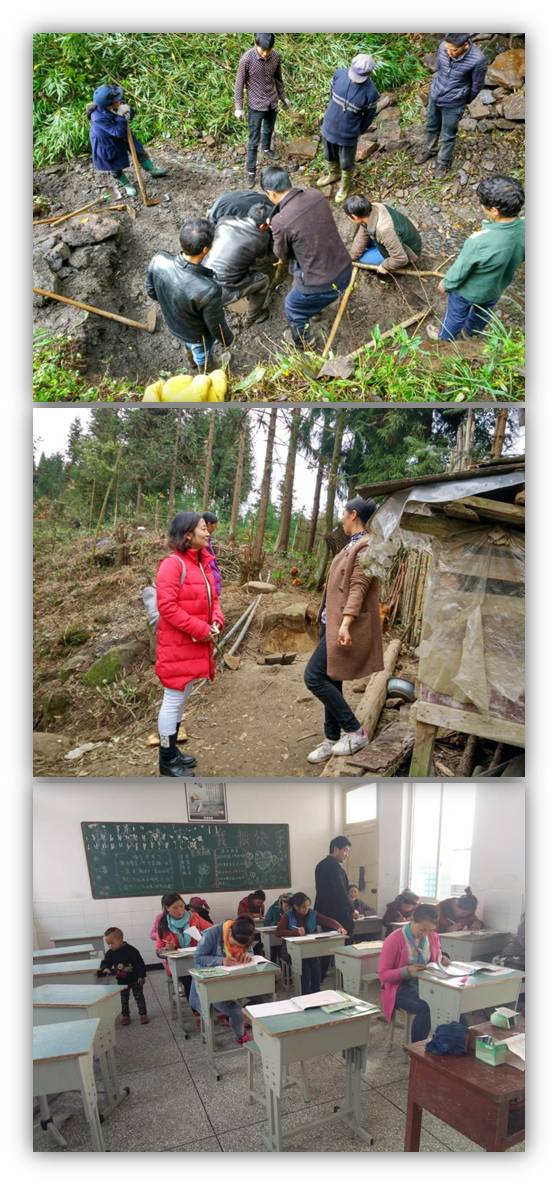 Project Progress
Micro Loan Project
Summary on Micro Loan Projects in Hanyuan countySummary on Micro Loan Projects in Hanyuan county
Up to November 30, 2016, DORS has provided a total of 62 loans, amounting to 1,602,000rmb. The total return of loans is 1,071,000rmb, total management fees received is 55,383rmb, expense for in-house survey, loan disbursement and collection and project assessment, etc is 37,767.5rmb. Currently the returning rate is 100%.
As the project assessment conducted in September 2016 suggests, 25 of the 40 borrowers visited have started making a profit, while the other 11 are still investing and 4 have suffered a loss. 39 borrowers (97.5% of the borrowers visited) find DORS loans helpful and speak highly of the loan project in terms of door-to-door service, warm attitudes, timely disbursement, reasonable management fee and always solving problems from borrowers' perspective, etc. Other comments include: the loan could meet urgent financial need to start up projects, reducing enterprising burden and allowing them to seize business opportunities and make money. "The loan used for the irrigation system in my peach orchard helps to save labor cost, and I don't have to own anyone" The loan enables the wholesale of fodder which reduces cost, making it unnecessary to borrow money from bank or usury.
Borrowers also proposed some suggestions for the Loan Project, such as extending the return cycle and increasing the loan amount. We have been discussing how to adjust the loan project plan since the assessment, hoping to better serve more remote villagers who want to start their own businesses.
Training on Income Generation from loans in Yingjing county
On 7th and 8th November 2016, 19 females and 3 males took part in the training on income generation from loans. The training covered how to analyze a small livelihood project that suits women, how to do a SWAT analysis, supply chains and cost analysis, as well as DORS' Micro Loan Project policies. Mr. Yang from Tazishan kindergarten translated the whole training, considering the participants' literacy and numeracy. The cost calculation part was briefly presented, with the focus of the training on encouraging women to explore their own projects and credibility and integrity. After the training, 5 women wanted to sign up and submitted their project proposals, which were put on paper by staff at the training, as most women couldn't write but offered their ideas. DORS staff investigated the prospective households on November 28th, loans will soon be granted after qualification examination.

Livelihood Project
Progress on Chicken Raising in Tea Plantation in Yingjing County
By 20th October, the 6 pilot households from Daping and Tazishan communities had finished building their chicken houses, fences and tents. Chicks were bought on 25thOctober. As the very cold weather in winter is too harsh for chicks, they are mainly kept in chicken houses with short breaks in the tea plantation when there is sunlight. Time in the plantation will gradually increase as they grow bigger. Generally speaking, chicks are in good condition so far, hopefully they can thrive and bring hope to these impoverished households.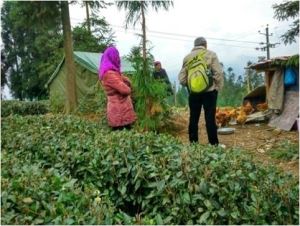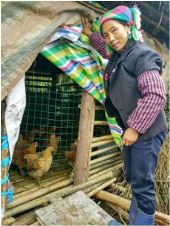 Chicken House and Tent Chicken House and Chicks
Drinking Water Project completed in Daping
The drinking water project in Daping settlement was initiated on 26th October 2016 and running water had reached the settlement by 13th November. DORS provided construction materials for the project while villagers contributed labor for materials transportation, ditch digging and refilling. DORS technician Mr. Bai devised the project plan and provided technical support throughout the construction. 6 members of the management team worked proactively, both as individual laborers and as a close team, giving the project a smooth finish. The drinking water system solved the water shortage in Daping settlement for 83 households. The Daping settlement chief Mr. Li said joyfully: "We will celebrate a happy New Year with sufficient water to fill the tank to the brim".

Health Project
Mid-term evaluation of the Womens' Health Education Project in Minjian township, Yingjing County
On 10-13 November, DORS hired consultants Ms. Peng Jingping and Ms. Zhou Qilin from Chengdu to conduct the mid-term evaluation of the Womens' Health Education Project. During the evaluation, the consultants interviewed a group of beneficieries from the project site. The evaluation combined semi-structured interviews, group interviews and personal interviews, substantially assessing the effect of the project through questions, cross validation, satisfaction tests, oral tests and field investigation. The evaluation includes:
1.Project execution progress
2.The effectiveness of project means and goals, the goal achievement and its impact
3.The coordination level in DORS team and between DORS team and beneficiary group .
4.Suggestions for subsequent work.
The feedback of the mid-term evaluation will play a significant role for the latter part of the project.
Interview with Women Group
Education Project
Progress on Literacy Class in Tazishan
Three activities had been carried out in October and November, 2 in Dapingshan community and 1 in Tazishan community. Mr. Yang started teaching with the basic strokes of Chinese characters. The women students learned attentively, they had already set themselves on "studying mode".
Learning/Communicating/Contact/Visiting
Training on HR Cost Management
DORS administration director Sang Lingzhi attended training on organization quality improvement held by Chengdu SME Service Centre on 15 November, which focused on interpretation of insurance law and policies in terms of HR cost management.
The training was primarily hosted by Mr. Chen Dong, chief of the Social Insurance Administration Bureau, who first analyzed the importance to purchase social insurance. Then he shared his interpretation of some hot issues with us, such as policies concerning social insurance subsidy, regulations about how to transfer social insurance and claim endowment insurance, etc. Afterwards, he answered questions posed by participants.
The most significant inspiration from the training is that our work can benefit more from a detailed interpretation of relevant policies and regulations.